This bumpdate marks the end of the second trimester. Whew! What happened to the last 13 weeks? Seriously. And I believe that life is going to get even busier. Fall festivals, family visits, Thanksgiving, holiday parties, Christmas, New Years, and then … baby girl, you will be here!
You are growing bigger by the day. In fact, you now weigh about 2 pounds. And your movement has become much more significant and noticeable. I can feel kicks and punches and your head and your rump. Along with these new movements has also come aches and pains and cramps in my lower abdomen.  But I will take any amount of discomfort to know that you are thriving.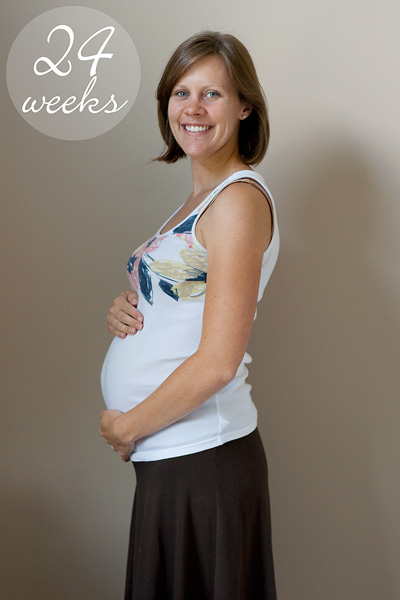 I got a nasty cold this month that turned into a sinus infection. And so I must apologize for the constant coughing and sneezing. Every night I used the netty pot, at least 25 tissues, vapor rub, and aquafor on my sore nose and lips. Thank goodness that is behind us. Although, we did get to enjoy quite a few chocolate peanut butter milkshakes. Thank you, Daddy.
Speaking of my sweet tooth, I have my glucose test next week. Hopefully those milkshakes + Sam's birthday cupcakes don't skew the results. I will also start the see the doctor every two weeks after next week's appointment. Hard to believe we're here already!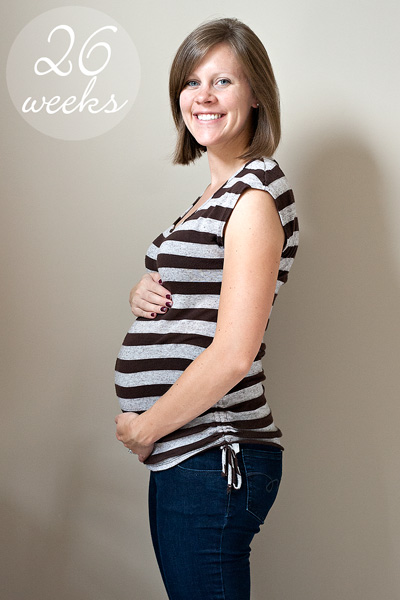 I know that you and my belly still have a lot of growing to do. But, wow, simple tasks are already becoming difficult. Like painting my toenails and tying my shoes. My back hurts if I sit on the floor for too long, and I'm constantly bumping my belly against the kitchen sink and Sam's changing table. Of course, we have so much to look forward to! A nursery to paint and decorate. Pretty pink clothes to wash. Baby gear to pull out of storage. 26 weeks down, and only 13 more to go!