'Tis the season for holiday gift guides! First up, a few things that Sam has and loves. Then a few things that he will likely find under the Christmas tree this year.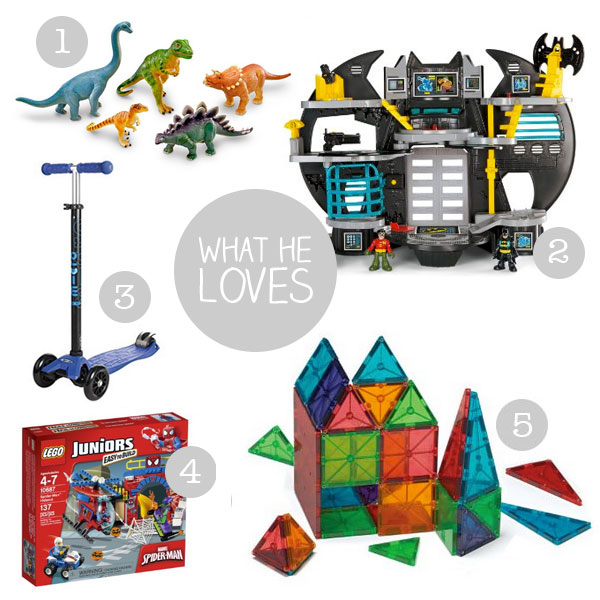 (1) Dinosaurs: These jumbo dinosaurs from Learning Resources have been a favorite for almost two years. They are durable enough for battling and still nice enough to display on the bookshelves in our playroom.
(2) Imaginext Batcave: Sam's third birthday was superhero-themed, and I'm happy to report that he plays with these toys as much now as he did then. Some of his sets (Gotham City Jail and Joker's Fun House) are hand-me-downs and are still in fantastic shape.
(3) Micro Maxi Scooter: This was Sam's big birthday gift this year, and it was a huge hit. I highly recommend the maxi version rather than the mini, if your child is at least 4 years old. This will grow with Sam for at least the next 6 years.
(4) LEGO Juniors: I don't know a 4-year-old that doesn't love LEGOs. We have several of the Junior sets, which are easy enough for him to help assemble, and not too intricate that I cry if he wrecks them to build his own version.
(5) Magna-Tiles: This set was an investment last Christmas, but well worth the price tag. They are still played with by both kids almost daily. There are several other brands of magnetic blocks on the market, but I can't speak highly enough about this one.
(1) Star Wars Millennium Falcon: Since Sam has the entire Imaginext line of superheroes, we figured it was time to introduce him to Star Wars. I think Nick will love this battle ship as much as Sam does.
(2) Walkie-Talkies: This might be the top item on Sam's wish list this year. Again, equally exciting for both father and son.
(3) Science Lab Set: Sam has been requesting to do "science projects" for weeks. We've been filling glass vases and tupperware containers with water and vinegar and baking soda, and we figured it was time to upgrade to his first official lab set. He's also getting the microscope.
(4) Spider-Man Gloves: The Spider-Man obsession is real. Sam wears his Halloween costume at least every other day, and this will be the perfect accessory to add to it.
(5) Books: We read several books every night before bed, and Sam has recently showed interest in "reading" the level 1 reader books. We suspect he will be even more interested if the books are about superheroes.
(6) Mailbox: We pretend to stamp and address and send mail to friends and family almost daily, so this will further encourage that pretend play. I know Nora will love it, too.
More Gift Guides:
Gift Guide for 3-Year-Old Boys
Gift Guide for Toddler Boys
Gift Guide for 1-Year-Old Boys (part 1)
Gift Guide for 1-Year-Old Boys (part 2)
Gift Guide for 1-Year-Old Girls
Favorite Toys at Ten Months
(All links are Amazon affiliate links.)