Fall weather is here. And we enjoyed every moment of its arrival last weekend. Crunchy leaves, clear skies, crisp air. Market stands selling squash and pumpkin whoopie pies and hot apple cider. Football. Blue jeans and hoodies. And soup.
This soup was inspired by the lentil and sausage soup I make every fall. I didn't have the ingredients on hand for that particular soup, though, so I improvised. And, honestly, I prefer this version over the original.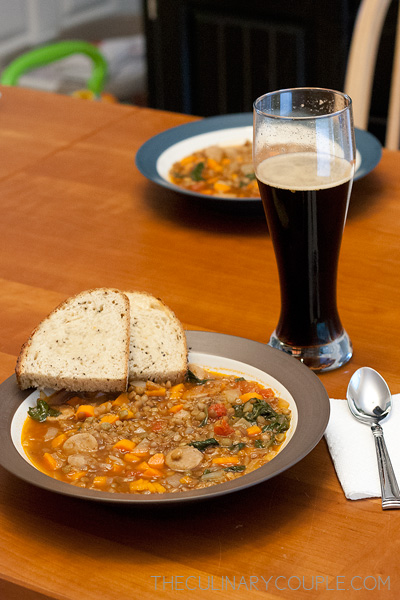 That's the best thing about soup, right? Brown some meat, toss in a variety of vegetables, some tomatoes, a couple cups of stock, and season. Then simmer. And it's almost always perfectly satisfying.
Cheers to fall!
Lentil Soup with Chicken Apple Sausage
Serves 6.
Ingredients
1 1/2 cups lentils
2 Tbsp extra-virgin olive oil
1 lb chicken apple sausage (fully cooked)
1 large white onion, chopped
4 cloves garlic, minced
4 cups beef stock
5 carrots, chopped
1 Tbsp thyme
1 tsp cinnamon
2 cups spinach
Salt and pepper, to taste
Directions
Boil water in a medium saucepan. Rinse lentils in cold water and add to boiling water. Stir lentils and cook over medium heat, about 15 minutes.
Heat oil in a Dutch oven or stock pot. Slice sausages and add to pot. Add onions and garlic, saute for 5 minutes.
Add lentils and 1/2 cup of the cooking water. Then add stock.
Add carrots, thyme, cinnamon, salt, and pepper. Stir well. Simmer for 25 minutes.
Add spinach. Adjust seasonings, if necessary. Cook another 10 minutes. Serve with crusty bread.