Meatloaf is a big hit in our house, and this recipe is a healthy adaptation of the traditional one made by our mothers. Not that there's anything wrong with the comforting combination of ground beef and ketchup! But, in my opinion, this version is more flavorful — with lean ground turkey, sweet Italian sausage, and Italian seasoned breadcrumbs — and more nutritious — with shredded zucchini and carrots.
It's easy for Sam to eat and filling, too.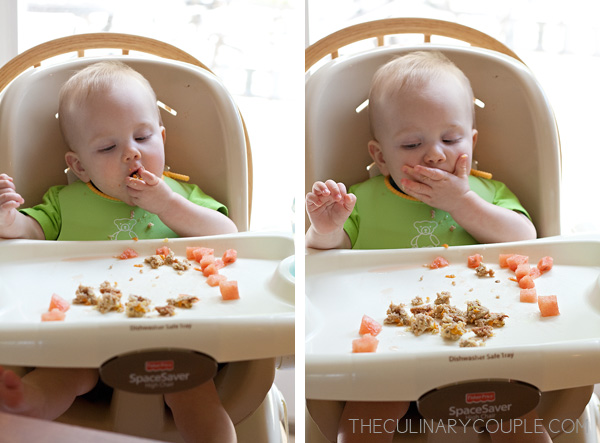 Check out yesterday's linkup at A Healthy Slice of Life for more Munchkin Meals!
Turkey Meatloaf
Makes 4 servings.
Ingredients
1 lb lean ground turkey
4 oz sweet Italian sausage (removed from its casing)
1 onion, finely chopped
2 carrots, shredded
1 zucchini, shredded
1 cup Italian seasoned breadcrumbs
1 tsp dried mixed herbs of your choice (i.e. oregano, parsley, thyme)
freshly ground pepper
1 egg, beaten
Directions
Preheat the oven to 350°F. Lightly grease a loaf pan. (You could also use a muffin tin for individual servings and freeze leftovers.)
Combine all ingredients in a large bowl. Mix well with your hands.
Transfer the mixture to the prepared loaf pan, and press down well.
Bake for about 1 hour, or until the loaf begins to pull away from the sides of the pan.