I typically gravitate towards chocolate when it comes to dessert. But sweltering summer days call for light and refreshing desserts. These lemon bars are just that. They're a little sweet and a little tangy and when topped with local berries and dusted with powdered sugar, they're the perfect punctuation to a summer meal.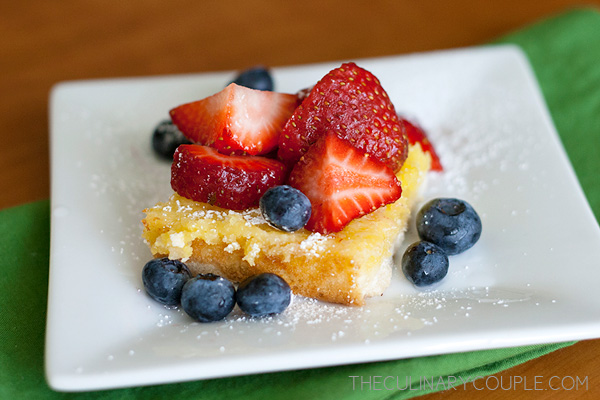 Light Lemon Bars
Makes 16 bars.
Ingredients
For the Crust
1/4 cup granulated sugar
3 tablespoons butter, softened
1 cup all-purpose flour
For the Topping
3 large eggs
3/4 cup granulated sugar
2 teaspoons grated lemon rind
1/3 cup fresh lemon juice
3 tablespoons all-purpose flour
1/2 teaspoon baking powder
1/8 teaspoon salt
2 teaspoons powdered sugar
local berries
Directions
Preheat the oven to 350°F.
For the crust: Beat together 1/4 cup sugar and butter at medium speed until creamy. Gradually add flour to sugar mixture, beating at low speed until the mixture is crumbly. Gently press crust into the bottom of an 8-inch square baking pan. Bake for 15 minutes. Cool on wire rack.
For the topping: Beat eggs at medium speed until foamy. Add 3/4 cup sugar and the next 5 ingredients (through salt); beat until combined. Pour mixture over partially baked crust. Bake for 20 to 25 minutes, or until set. Cool on wire rack.
Cut and serve with local berries and powdered sugar.
(Adapted from Cooking Light)