Are you a fan of cilantro? Because I know not everyone is. We, however are proud members of Team Cilantro. We add bunches of it to Asian dishes and Mexican dishes and often use it to garnish salads and salsas.
For this dish, cilantro is present in both the black bean patties and the sweet potato salad. (So if you're anti-cilantro, I suggest you skip this one.)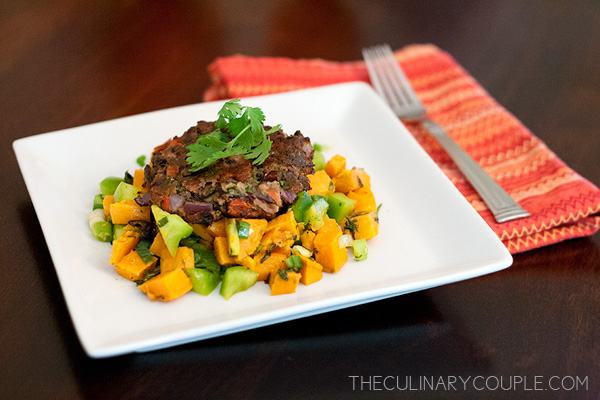 Black Bean Patties
Serves 6.
Ingredients
1 can black beans
1 yellow pepper, chopped
1 white onion, diced
2 garlic cloves, crushed
1 tomato, chopped
3 tablespoons fresh chopped cilantro
3 tablespoons all-purpose flour
2 eggs
Salt and pepper to taste
Extra-virgin olive oil (for frying)
Directions
Combine all ingredients in a large bowl; stir well. Season with salt and pepper.
Add 3 tablespoons of olive oil to a large skillet set over medium heat. When the oil gets hot, add spoonfuls of the black bean mixture. Fry on one side until golden brown and crispy, about 3 minutes. Flip over and fry for an additional 3 minutes. Remove and drain on a paper towel. Season with more salt and pepper. Serve over sweet potato salad.
(Adapted from Mia's Domain)
Sweet Potato Salad
Ingredients
2 large sweet potatoes, peeled and diced
1 red bell pepper, chopped
1 jalapeno, seeded and diced
3 scallions, thinly sliced
1 tablespoon fresh chopped cilantro
1/2 lime, juiced
Extra-virgin olive oil (for roasting)
Salt and pepper to taste
Directions
Preheat the oven to 400°F. Scatter the sweet potatoes onto a roasting pan, drizzle with olive oil, and season with salt and pepper. Roast in the oven for 20-30 minutes until slightly crispy.
Toss roasted potatoes with red bell pepper, jalapeno, scallions, and cilantro. Finish with lime juice and another drizzle of olive oil. Season with salt and pepper and serve with black bean patties.
(Adapted from Peace, Love, Good Food)