Memorial Day marks the unofficial start to summer. Though temperatures in Pennsylvania have been in the 90s for at least a week already. The heat was not at all conducive to weeding and mulching our new flower beds, but it was the perfect excuse to make a cool treat.
This recipe is a Wiley family favorite, and Nick's mother shared it with me years ago. Fudgy brownies + vanilla ice cream + salty peanuts + chocolate sauce = your new favorite summer dessert!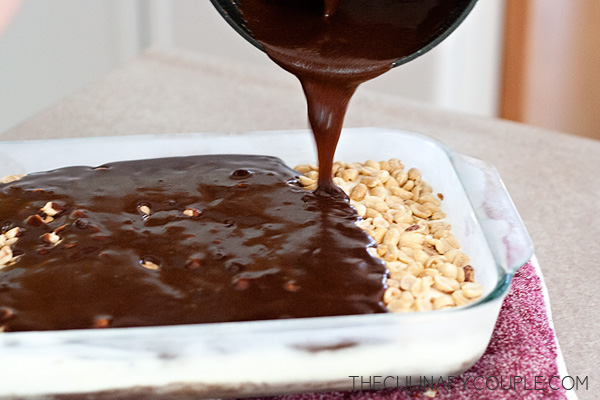 I made it on Saturday to take to a picnic, and we had literally licked the dish clean by Sunday afternoon. Welcome, summer!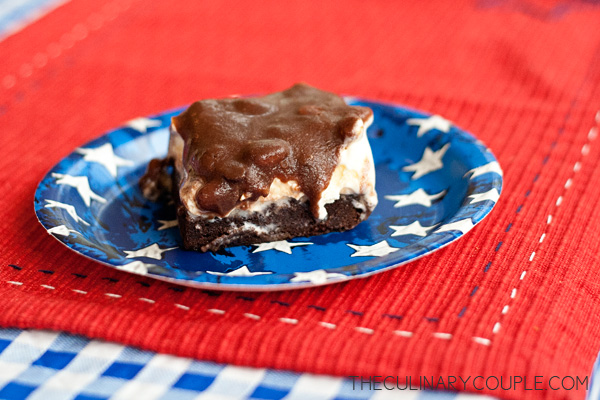 Frozen Brownie Sundae
Serves 16.
Ingredients for Brownies
21 oz package family-size fudge brownie mix
1/2 cup hot water
1/2 cup oil
1 egg
Ingredients for Filling
1/2 gallon vanilla ice cream, slightly softened
1 1/2 cups lightly salted roasted peanuts
Ingredients for Topping
2 cups confectioners sugar
2/3 cup semi-sweet chocolate chips
1 cup evaporated milk
1/2 cup unsalted butter
1 tsp vanilla
Directions
Preheat the oven to 350°F. Grease the bottom of a 9×13 pan.
In a large bowl, combine the brownie ingredients and beat about 50 strokes by hand. Spread into the prepared pan. Bake for 30-35 minutes until a toothpick inserted in the center comes out clean. Cool completely.
Spread softened ice cream evenly over cooled brownies. Top with peanuts, and place in the freezer until firm.
To make the topping, combine confectioners sugar, chocolate chips, evaporated milk, and unsalted butter in a medium saucepan set over medium-high heat. Bring to a boil; cook for 8 minutes, stirring constantly. Remove from heat, and add vanilla. Let the mixture cool for 1 hour.
Pour the chocolate topping over peanuts, and freeze until firm. Remove from the freezer about 5 minutes before serving. Cut, serve, and enjoy!