So continues the ending quest to satisfy my sweet tooth with treats that don't involve cups of sugar, sticks of butter, and scoops of ice cream. How about chewy granola bars with almonds, pecans, oats, sesame seeds, dried cherries, and dark chocolate chips?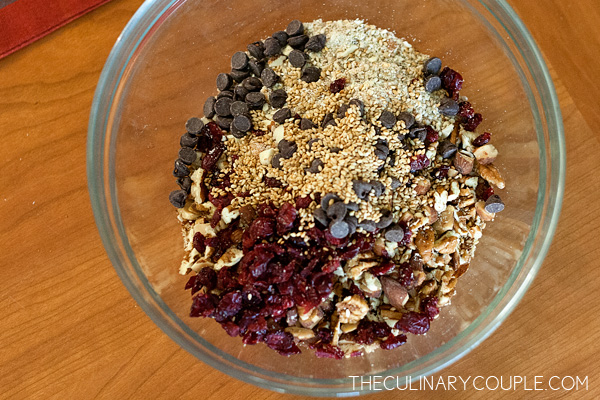 Combine all of the above, then heat honey, coconut oil, salt, vanilla extract, almond extract, and a dash of cinnamon in a saucepan.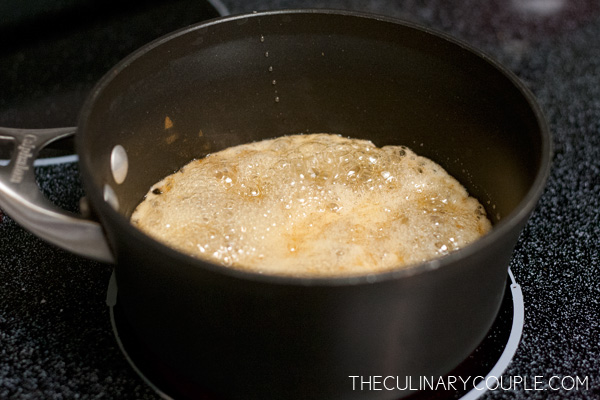 Pour the bubbling liquid over the nut mixture and coat thoroughly. Then press the granola into a square pan lined with parchment paper. Refrigerate for at least four hours …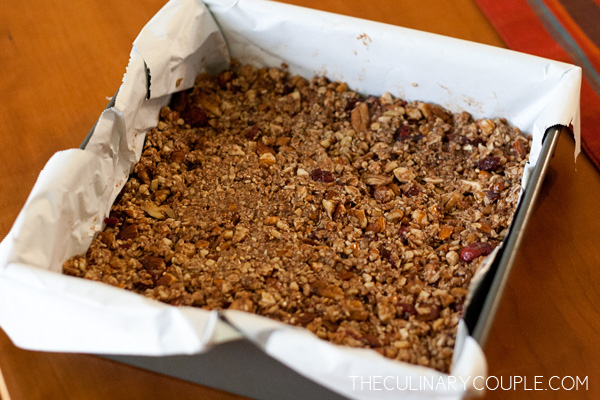 … and voila! A delicious snack that doesn't leave you feeling guilty. Go ahead. Go back for seconds.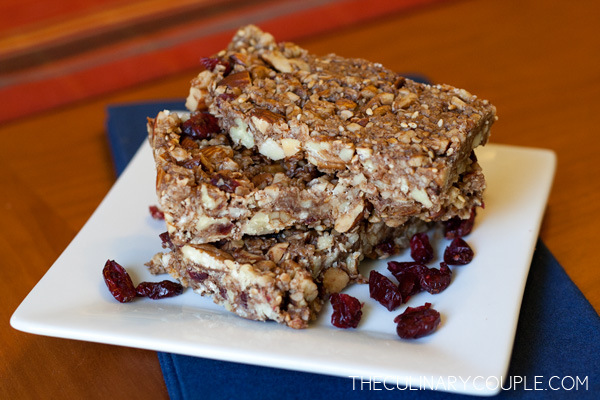 Chewy Chocolate Cherry Granola Bars
Makes 12 bars.
Ingredients
1 cup whole almonds
1 cup pecan halves
1 cup old fashioned oats
1 cup dark chocolate chips
1 cup dried cherries, chopped
2 tablespoons sesame seeds
1/4 cup + 2 tablespoons honey
3 tablespoons coconut oil
1/2 teaspoon salt
1/4 teaspoon vanilla extract
1/4 teaspoon almond extract
dash of cinnamon
Directions
Add 1/2 cup each of almonds, pecans, and old fashioned oats to a food processor. Process until fine, then pour into a large bowl. Roughly chop the remaining pecans and almonds, and add them to the bowl. Add remaining old fashioned oats, chocolate chips, cherries, and sesame seeds; mix well and set aside.
In a small saucepan set over medium heat, combine honey, coconut oil, salt, vanilla and almond extracts, and cinnamon. Stir until the mixture melts, then foams, then cook for 15 seconds longer. Pour over nut mixture and mix thoroughly to coat all of the ingredients.
Line 8×8 pan with enough saran wrap or parchment paper to let it hang over the sides, then spread the granola into it. Press very, very firmly with your hands or something with a flat bottom (may need to spray it with non-stick spray.) Wrap the overhanging saran wrap or parchment paper up over the sides and refrigerate until firm, about 4 hours.
Using a sharp knife, cut chilled granola into bars. Wrap individually in saran wrap and store in the refrigerator or freezer.
(Adapted from Iowa Girl Eats)