Sam's four-month checkup (in January) was met with much anticipation. Because we knew it was time to talk food! For a couple who loves food as much as we do, we were excited to introduce it to our baby boy. We didn't know what our doctor would recommend for this first stage of eating, but we were pleasantly surprised by her progressive philosophy.
(Before I continue, a disclaimer: This strategy is not necessarily supported by all pediatricians, and it's important to have a conversation with your doctor before introducing food into your baby's diet.)
According to our doctor, most babies are developmentally ready to learn to eat between four and six months. And Sam was certainly ready! For at least two weeks prior to his doctor's visit, he had started to show real interest in our meals. When seated in my lap, he would follow the fork from my plate to my mouth. And he even opened his mouth as if to say, "Give me a bite, Momma!"
And so as soon as we got the official go-ahead, we assembled the high chair, washed the spoons, and got Sam ready for his first bite … of avocado!
We started with avocado because we had a ripe one in the fruit basket. And it required no preparation other than mashing. No, we didn't start with rice cereal, although that's what our parents first gave to us, and it's what many parents today first give to their children. But … our doc said that traditional routine has proven to be unnecessary. Also unnecessary? Introducing one food at a time, in a specific order, and leaving several days between new foods. (Still necessary, though: no peanut butter or honey.)
The next night? Sweet potatoes. Another simple food to prepare. Just peel, cube, steam, and mash. We also soon added apples, pears, and bananas to Sam's diet.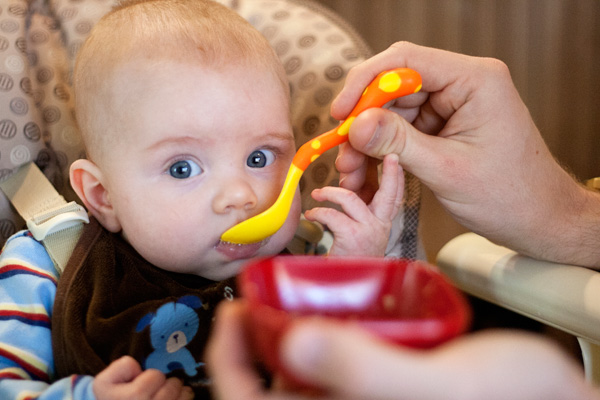 So how did Sam do during those first few days? Well, it took a few tries before he actually kept the food in his mouth. But he quickly outgrew the tongue thrust reflex. And, not surprisingly, it took his little digestive system about three days to adjust to the new solids entering his body.
Mealtime in the Wiley house is so much fun now! Sam loves having his own seat at the table, and eagerly anticipates the variety of bites that we're offering to him. He's getting about five tablespoons of food per day. Also, thankfully, he's still a breastfeeding champ. A typical day looks like this:
7am: nurse
10am: fruit (bananas, apples, pears, peaches, plums), then nurse
1pm: nurse
4pm: nurse
6pm: fruit + vegetable (sweet potatoes, carrots, parsnips, butternut squash, peas, broccoli)
7pm: nurse
4am: nurse
It should come as no surprise to you that we're making all of Sam's food. And it's incredibly simple! Sure, the Babycooks looks cool, but you really only need a steam basket and a food processor or blender.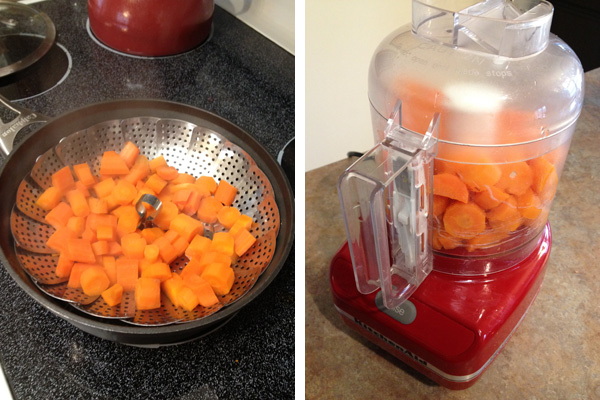 We buy organic fruits and vegetables, when possible. Then wash, peel, and cube.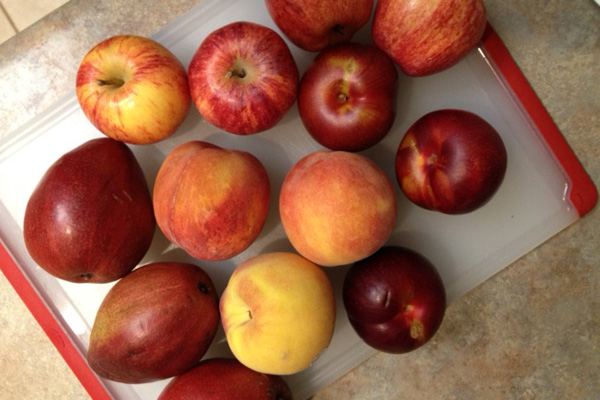 After steaming (cook time depends on the food, i.e. about 7 minutes for apples and about 15 minutes for carrots) and pureeing, spoon into an ice cube tray and freeze. (I made roughly 60 servings in about two hours.) The next day, pop out the cubes and store in a labeled bag in the freezer. Easy, right?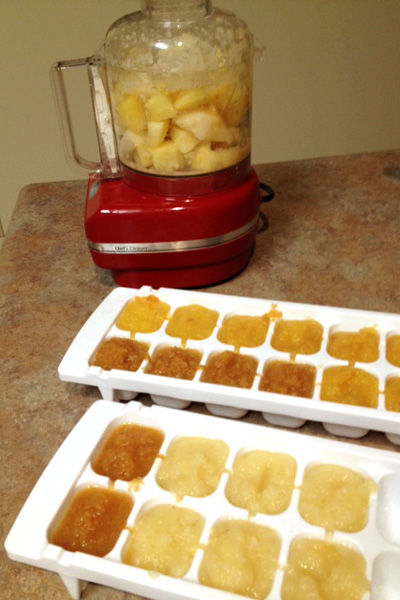 Some of Sam's favorites are combination cubes: apples + pears, peaches + cinnamon, carrots + parsnips. (Start Fresh by Tyler Florence has lots of great combination suggestions.)
We also just recently started to offer a sippy cup of water following each meal. He chews on it more than he drinks from it, but it's a start.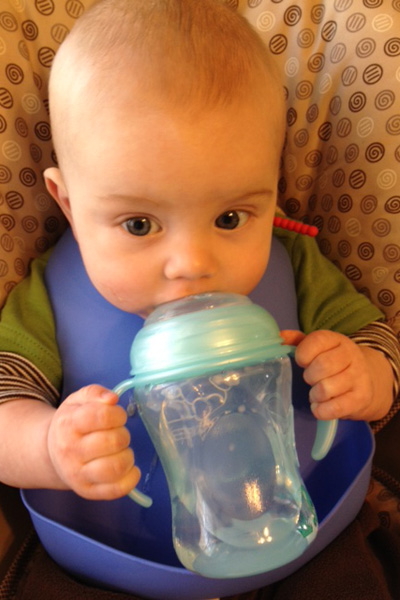 We're fortunate that our boy is such a healthy eater. In fact, he gets angry if we don't feed him fast enough! Of course, we're not surprised that he inherited our appetites.
The plan is to continue with purees until Sam turns six months old, then we're going to start to follow the Baby Led Weaning approach. I'm confident that he'll adjust well as he's already tasted a wide range of foods and always reaches for our plates despite having a mini meal of his own.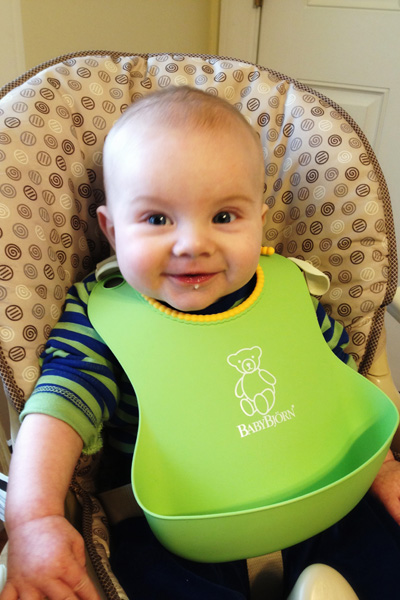 Finally, a few products that we've found to be helpful:
Fisher-Price Space Saver High Chair: compact and convenient, easy to clean, three height adjustments and three recline positions, converts into toddler booster seat
Munchkin Soft-Tip Spoons: BPA free, dishwasher safe, small for baby's mouth and soft for baby's gums
Nuby No Spill Convert-A-Cup: four stages, handles and soft silicone spout
BabyBjorn Bib: soft and flexible, deep pocket catches spills, adjustable strap grows with baby, easy to clean