Every year on Christmas Eve, my sister-in-law Megan makes French onion soup. We were fortunate enough to partake in this annual family tradition during our trip to Huntsville, Alabama this past year. Her "tried and true" French onion soup recipe was passed along to her by her mother, and she was kind enough to share the recipe with us.
It's easy to make and ideal for a cold winter night. Megan recommends that you make it a day in advance because it's better on the second day.
Start by slicing and sauteing five onions. (Fun fact: Onions make me cry, but not Emily. We only recently learned that this is because she wears contacts, which create a barrier between her eyes and the potent onions.)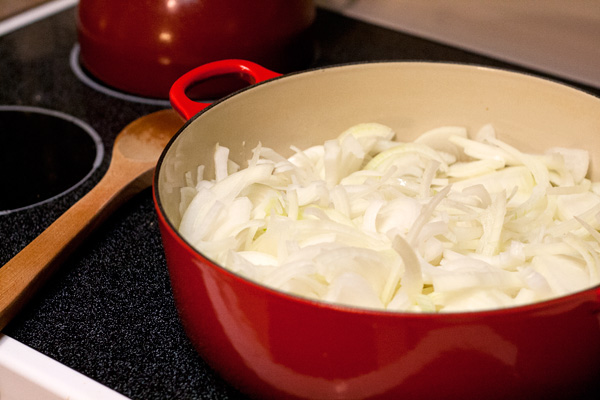 After about 20 minutes, the onions become soft and sweet. Then add flour and stock, and stir constantly. Season with pepper, and simmer for 30 minutes. At this point, you can let it cool and place it in the refrigerator overnight.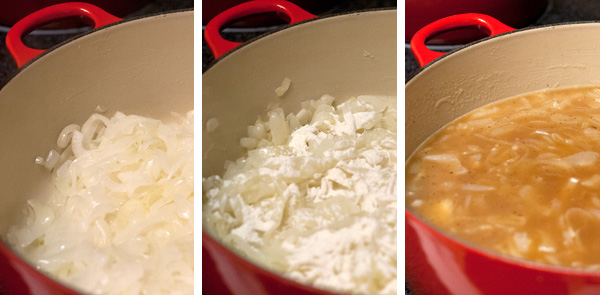 Re-heat the soup on the stove top the next day, then ladle it into oven-safe crocks. Add cubed and toasted bread and lots of cheese.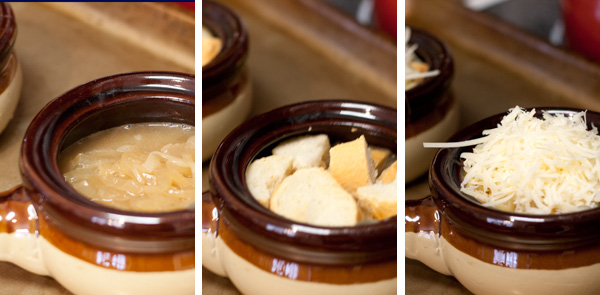 Broil 1 to 2 minutes until cheese is golden and bubbly.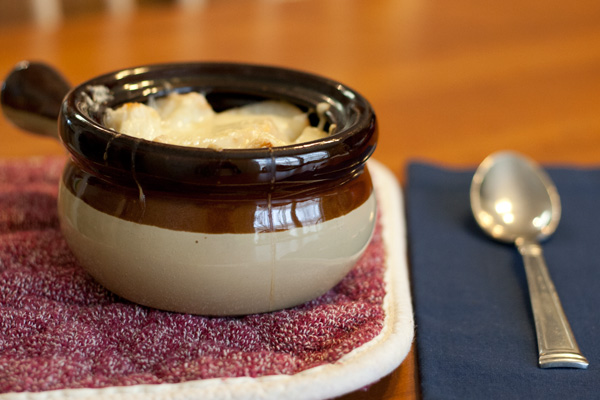 Instead of broiling, you could add the toasted bread and shredded cheese to the bottom of a bowl and ladle the hot soup on top. Or, if you are daring enough, use a kitchen torch to melt the cheese.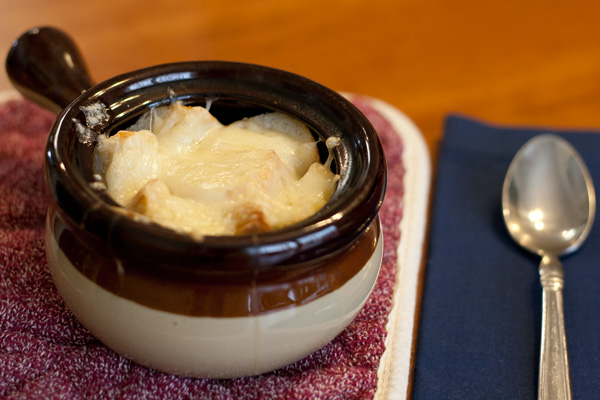 What fun food traditions does your family have?
French Onion Soup
Serves 8.
Ingredients
1/3 cup butter
5 onions, thinly sliced
2 Tbsp flour
7 cups beef stock (or 3 cans beef consume + 2 cans water)
1/2 tsp pepper
French bread, cubed and toasted
Swiss or Gruyere cheese, shredded
Parmesan cheese, shredded
Directions
Set a large stock pot or Dutch oven over medium heat. Melt butter. Add onion and saute, stirring frequently, for 15 to 20 minutes. Add flour and mix until smooth. Add beef stock gradually, stirring constantly. Season with pepper. Cover and cook over low heat for 30 minutes.
Ladle soup into oven-safe crocks. Place toasted bread and shredded cheeses on top. Broil until cheese is bubbly, 1 to 2 minutes.
(Adapted from Megan Wiley)