Now that I'm home with Sam during the day, I struggle to find lunch ideas that are simple but still exciting. Because let's face it — some days I barely have time for a ham sandwich and a handful of grapes, and there's nothing exciting about that. But I've found that if I plan ahead — i.e. make a batch of this Thai chicken salad on Sunday — lunch is something I look forward to. I can assemble it quickly and sit down to savor it while the little guy is napping.
This wrap is full of flavor and packed with enough protein and veggies to keep me satisfied until dinner.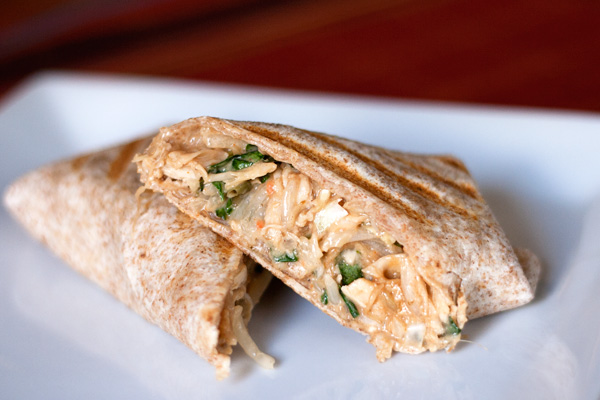 Do you have any easy and fulfilling lunch ideas to share?
Thai Chicken Wrap
Makes 6 wraps.
Ingredients for Salad
1 lb chicken breast tenders
1 Tbsp olive oil
Salt and pepper
2 cups fresh bean sprouts
1 cup coleslaw mix
3 scallions, chopped
12 basil leaves, chopped
6 whole wheat tortilla wraps
Ingredients for Peanut Sauce
1/4 cup room temperature peanut butter
2 Tbsp soy sauce
1 Tbsp rice wine vinegar
2 tsp sugar
1/4 tsp cayenne pepper
2 Tbsp canola oil
Directions
Heat olive oil in a skillet over medium-high heat. Sprinkle salt and pepper onto chicken and cook about 4 minutes per side. Slice cooked chicken on an angle.
In a large bowl, combine sprouts, coleslaw, scallions, and basil. Set aside.
In a small bowl, whisk together peanut butter, soy sauce, vinegar, sugar, and cayenne. Stream in canola oil.
Add chicken to veggies and pour peanut sauce on top. Toss to combine.
Pile chicken salad onto tortillas, wrap tightly, and warm using a panini press or griddler.