I covered mostly big ticket items in my favorite finds for newborns post. But there are so many more products that we fell in love with during the first three months of little Peanut's life.
Let's start with sleep. We started swaddling Sam when he turned two weeks old. We probably should have started sooner, though, because he loved it! We used the Summer Infant SwaddleMe until he grew out of it at about two months. Then we switched to the Halo SleepSack. Both products are great and kept Sam snuggly warm while also preventing him from waking up during his inevitable startles.
We moved Sam from our bedside to his crib at seven weeks. This transition was made much easier for Mommy and Daddy thanks to our digital video monitor. We chose the Baby Touch Digital Color model from Summer Infant. It allows you to scan the room and zoom in on your sweet sleeping (hopefully) babe. It also includes a talk back feature, which Nick loves to use. He often checks on me from downstairs while I'm nursing Sam, or he'll just freak me out with his best Darth Vader voice. But, in all seriousness, I don't know how our parents survived without the digital video monitor.
Onto eating. Sam was exclusively breastfed for the first three weeks. At that point, we attempted to introduce the bottle (with breastmilk), but he wanted nothing to do with it. We tried several varieties from Medela to Dr. Brown's, and finally fell in love with Tommee Tippee. They advertise the bottles as being "closer to nature," and I do believe that's true. They really do resemble the size and shape of the breast. Also worth noting: We use the Medela micro-steam bags to sanitize the bottles and the grass countertop drying rack to dry them.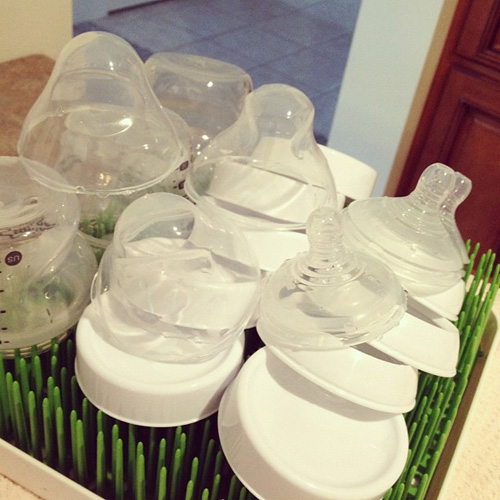 Despite Sam taking to the bottle, I still often nurse him outside the privacy of our home. I've fed him in outlet mall parking lots, at rest stops off the turnpike, in the airport, and in the living rooms of many friends and family members. All of these scenarios were made more comfortable because of my "hooter hider." I have the Nest Ruffle Style from Bebe au Lait.
Now that we have the essentials covered — sleeping and eating — let's move on to a few other favorites.
Munchkin Arm and Hammer Diaper Pail and Refill Bags: Originally, we wanted to avoid a diaper pail that required custom bags. But I'll tell you what, Sam's nursery has never once smelled like a dirty diaper, thanks to this genius contraption. The Arm and Hammer baking soda cartridge absorbs odors and dispenses baking soda each time the lid is closed, and the self-sealing system locks away odors. Each disposable bag holds about 25 diapers, which lasts us about five days.
Munchkin Arm and Hammer Diaper Bag Dispenser and Refill Bags: Another genius product from Munchkin and Arm and Hammer. It's compact and convenient and can always be found in our diaper bag, our car, and the bottom drawer of our media console unit in our living room.
The First Years Newborn to Toddler Tub with Sling: This tub has grown with us since the day we brought Sam home from the hospital. (He's just four days old in the photo on the left.) The detachable sling was convenient for those first few weeks when baby boy was teeny tiny and still so intimidating. And now that he's bigger and stronger, the deep ergonomic design cradles him while still allowing him to kick and splash. (Two months old in the photo on the right.)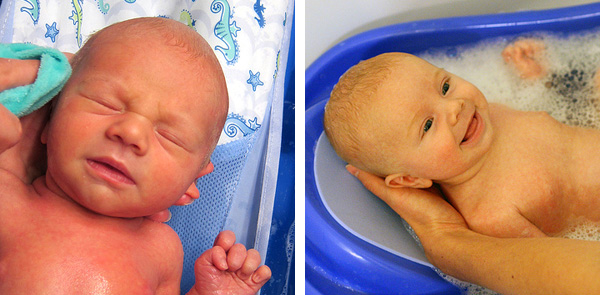 Stretchies PJs from The Children's Place: We discovered these jammies just before Sam turned two months old, and we haven't looked back since. The material is soft and stretchy and comes in so many fun designs. Monsters, dinosaurs, cars and trucks, oh my.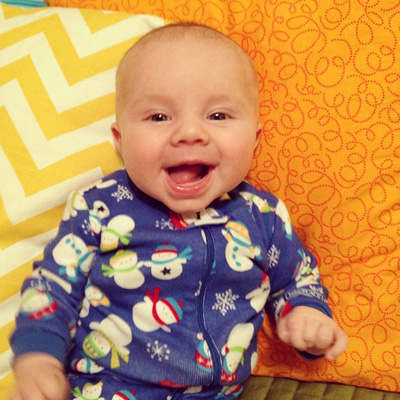 Pajama Time by Sandra Boynton and Little Goose by David Mraz: Two of our favorite books. Really, anything by Sandra Boynton is a favorite in our house. And Little Goose is a necessity for all of you mommas out there.
Skip Hop Treetop Friends Activity Gym: We don't just have forest friends in the nursery, you can find them in our living room, too! When we first laid Sam on this mat, he could barely focus on the owl, the squirrel, and the apple. But now he bats at the animals, grabs the wooden ring, and stares at himself in the mirror. It's fun for him — and us, too! (How has our baby grown SO much in just four months?!)
Lamaze Firefly: This is the first toy that Sam was really attracted to. It's colorful and soft and squeaky and crinkly and has a teething ring that always ends up in his mouth. Actually, who am I kidding, Sam has put anything and everything into his mouth since he turned two months old.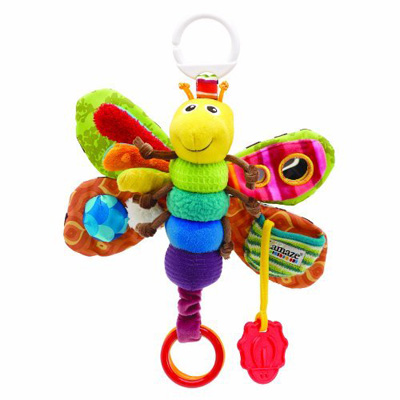 I know every baby is different, but these are the things that worked for us. Do you have anything to add?