Soup is, in my opinion, the most comforting of meals. So now that the weather has turned cool, and we have little to do but wait for Peanut to arrive, I can think of nothing but big bowls of steamy, savory soups.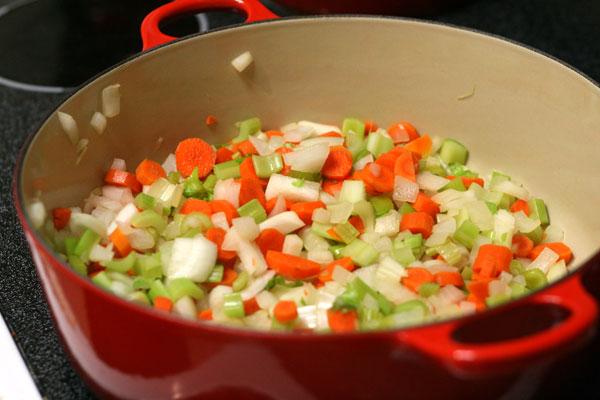 My mother and grandmother and aunt make fantastic chicken corn soups. If they lived closer, I would request a big pot to help us count down the days — and I know they would happily oblige. But since they don't live nearby — and because every true Pennsylvania mother should have this recipe in her repertoire anyway — I figured it was time make a pot of my own.
While I know my grandma would recommend that I boil a whole chicken and make my own stock, I took a shortcut and used a rotisserie chicken from the supermarket. I did, however, use local sweet corn, which I think makes a noticeable difference. Combined with onions, carrots, celery, potatoes, and egg noodles, this soup definitely says "home" to me.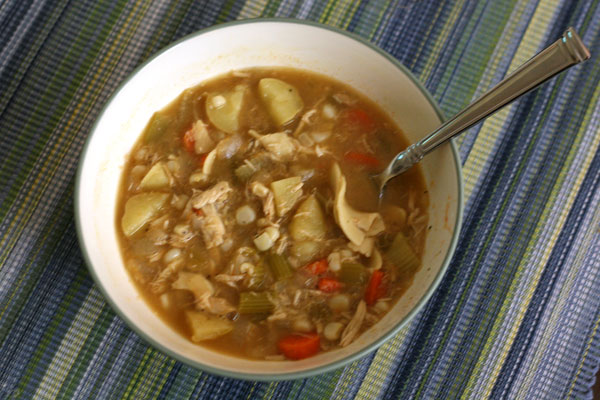 What dish says "home" to you?
Chicken Corn Soup
1 whole rotisserie chicken (or 1 whole chicken boiled with 3 quarts water, onions, carrots, celery, thyme, salt, and pepper), skin removed and shredded
1 onion, chopped
4 carrots, chopped
4 celery stalks, chopped
10 cups low-sodium chicken stock
1 Tbsp thyme
salt and pepper to taste
1 lb baby Dutch yellow potatoes, quartered
6 ears sweet corn, kernels removed
1/2 lb egg noodles
In a Dutch oven or large stock pot, saute onions, carrots, and celery with a bit of olive oil over medium heat, about 6 minutes. Add chicken stock, thyme, salt, and pepper; bring to a boil. Add potatoes and corn, reduce to simmer, and cook for 45 minutes. Add shredded chicken and egg noodles; cook for 15 minutes. Add more salt and pepper to taste.