HER PERSPECTIVE
Best Moment: Our puppy visit! Yes, we want to adjust to a human baby before we bring home a furbaby, but it was definitely fun to cuddle the tiny Goldens. Also, I spent Monday morning making strawberry preserves with my Grandma (details to come). It's something I've wanted to do for years, and it was a really special. Fortunately, I'm still able to stand behind the kitchen sink. How long do you think that will last?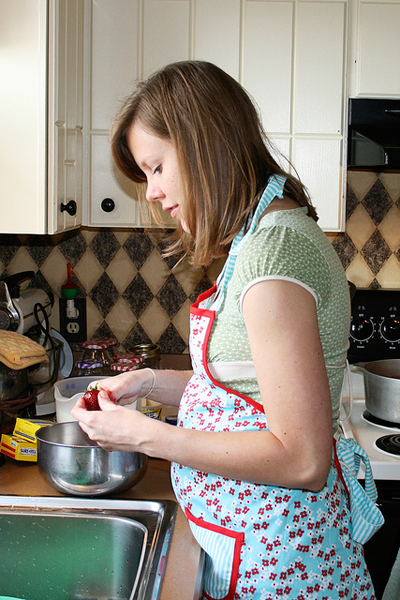 Symptoms: I still have a slight cough — leftover from the cold I caught during week 22. But I can't completely call that a pregnancy symptom. In fact, otherwise, I'm feeling great. Thanks for being so nice to your momma, Peanut!
Cravings/Aversions: Orange juice. Both in an attempt to kick that cough and because it just tastes so good. And I'm pretty sure that the extra Vitamin C is beneficial to Peanut, too.
What I Miss: I am legitimately missing nothing this week. Not coffee or beer or my skinny jeans or sleeping with less than five pillows. Perhaps it's true what they say: the second trimester is the easiest!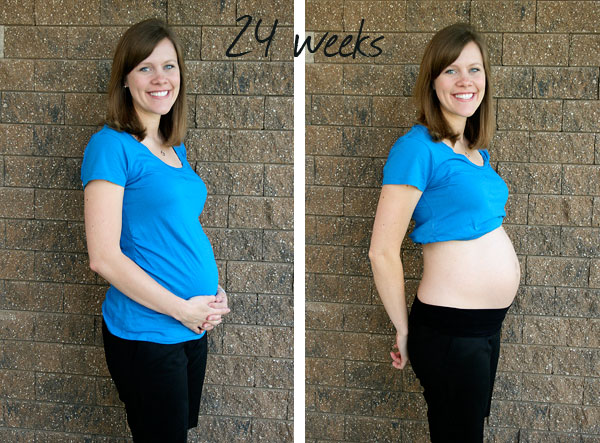 What I Can't Wait For: I may be enjoying the second trimester, but I also can't wait to begin the third … the homestretch is nearly upon us!
Milestones: Peanut is up to a 1 1/2 lbs this week and is expected to gain 6 oz each week from here on out. He/she can now hear all sorts of sounds from inside the womb: my heartbeat, my stomach gurgles, my voice and Nick's voice (so keep singing, daddy!), car horns, and even barking dogs (and puppies?).
HIS PERSPECTIVE
Best Moment: We finally purchased the nursery furniture! Crib… check. Dresser… check. Glider… check. Now that we are rearranging the house, it's starting to feel more real.
Symptoms: Life is good.

Cravings/Aversions: Grandma's strawberry preserves are out of this world. Seriously, we freeze most of our jars and ration them throughout the year. But now that we have a fresh stock, I have eaten PB & Js every day this week.
What I Can't Wait For: The nursery furniture to arrive.

Milestones: Peanut is about the length of an ear of Pennsylvania sweet corn, and almost as skinny. Time to put on some cute baby fat, Peanut.