You don't have to be pregnant to crave chocolate. Yes, I desired a daily dose of sweetness well before Peanut took up residence in my belly. Perhaps it's hereditary? Because my mom is a fan of chocolate, too — especially chocolate of the dark and bitter variety.
So what better dessert to make for her visit than dark chocolate bread pudding?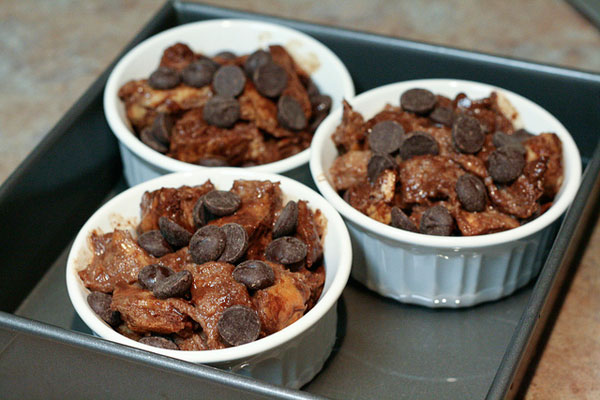 These single serving size desserts can be prepared ahead of time and baked just before serving. Finish with a big dollop of whipped topping to balance the dark chocolate.
Ooey gooey yummy. And you know dark chocolate is healthy, right? It's high in antioxidants and rich in flavonol.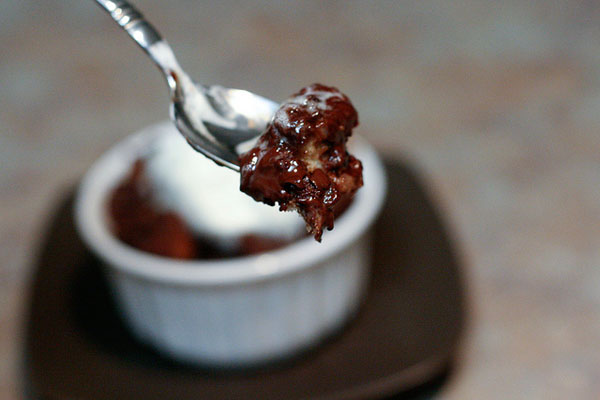 Do you prefer dark chocolate or milk chocolate?
Dark Chocolate Bread Pudding
Makes 4 servings.
Ingredients
1 small loaf Challah bread or brioche, cut into 1/2-inch cubes
1 1/3 cups milk
4  tablespoons sugar
3 tablespoons unsweetened cocoa
1 teaspoon vanilla extract
2 large eggs, lightly beaten
cooking spray
2 oz dark chocolate, coarsely chopped
whipped topping
Directions
Preheat oven to 350°F.
Arrange bread cubes in a single layer on a baking sheet. Bake at 350° for 5 minutes, or until toasted.
Combine milk and next 5 ingredients (through egg) in a medium bowl; stir well with a whisk. Add bread; toss gently to coat. Cover and chill for 30 minutes or up to 4 hours.
Preheat oven to 325°F.
Coat 4 ramekins with cooking spray, and scoop half of bread mixture evenly between them. Sprinkle evenly with half of chocolate. Divide remaining bread mixture between ramekins, and top with remaining chocolate.
Place ramekins in an 8-inch square baking pan. Add 1 inch of hot water to pan. Bake for 35 minutes, or until set. Serve warm with whipped topping.
(Adapted from Skinny Taste)