I first tasted these delicious sweet treats at my bachelorette party. (Thank you, Quinn!) We have since baked them for special occasions and have received requests for the recipe. Here you go, friends! They're a perfect dessert for your spring celebrations, especially Cinco de Mayo!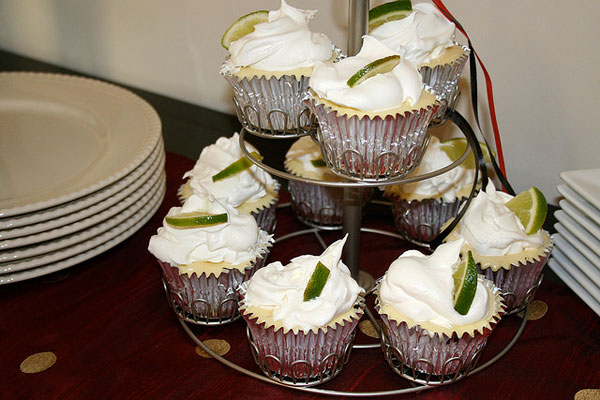 Key Lime Cupcakes
Makes 12 jumbo cupcakes.
Ingredients for Cupcakes
12 jumbo-sized foil baking cups
vegetable cooking spray
1 – 9oz package chocolate wafer cookies
1/2 cup butter, melted
3 – 8oz packages cream cheese, softened
1 1/2 cups sugar
2 teaspoons key lime zest (you may substitute regular limes)
1/3 cup fresh key lime juice (you may substitute regular limes)
3 large eggs
Ingredients for Whipped Topping
(you may substitute store-bought whipped topping)
1 1/2 cups heavy cream
3 tablespoons granulated sugar
1 teaspoon pure vanilla extract
Directions
Preheat oven to 350°F. Place foil baking cups in lightly greased muffin pans; coat foil cups with cooking spray.
In a food processor, pulse chocolate wafer cookies until finely crumbled. Add melted butter to cookie crumbs; stir to combine. Firmly press onto bottom and up two-thirds of each baking cup (about 3 tablespoons crumbs per cup).
In an electric mixer, beat cream cheese and sugar until blended. Add lime zest and lime juice; beat at low speed until blended. Add eggs one at a time; beat just until yellow disappears. Spoon mixture into prepared cups until completely full.
Bake for 20 minutes or until set. Cool in pans on wire racks for 15 minutes. Remove from pans and let cool for an additional 15 minutes. Cover and chill for 4 hours.
To prepare whipped topping: Beat cream with sugar and vanilla until soft peaks form, about 5 minutes.
Garnish cupcakes with whipped topping and lime wedges.