When a recipe starts with this much chocolate and butter, you know it's going to be a good one.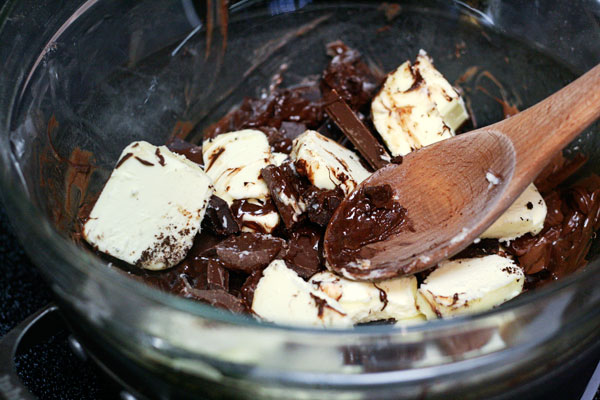 It comes from Baked, a Brooklyn-based bakery. I haven't visited the shop, but I discovered the recipe for their famous brownies from a friend. And I'll tell you what. These brownies make me want to hop on a train to New York City and sample every sweet treat they offer. (Or at least add their new cookbook to my Christmas wish list.)
You should know that Nick and I are big brownie fans. We almost always have a box stashed in our cupboard for that all-too-common late night chocolate craving. We've tried a handful of homemade recipes, too, but have found none that yield the consistency that comes from the box. Until now.
Two types of dark chocolate and a teaspoon of instant espresso create a deep intensity of flavor. Five eggs yield a chewy bite, but leave the top just the right amount of crackly. And think they're good out of the oven? Just wait until the second day.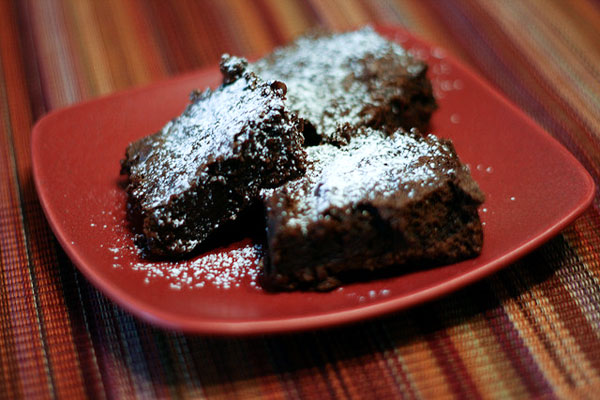 Do you have a favorite homemade brownie recipe?
Brownies from Baked
Ingredients
1 1/4 cups all-purpose flour
1 tsp salt
2 Tbsp dark unsweetened cocoa powder
11 oz dark chocolate, coarsely chopped
1 cup (2 sticks) unsalted butter, cut into 1-inch pieces
1 tsp instant espresso powder
1 1/2 cups granulated sugar
1/2 cup packed light brown sugar
5 large eggs, room temperature
2 tsp vanilla extract
powdered sugar for dusting (optional)
Directions
Preheat oven to 350°F. Butter sides and bottom of a 9×13-inch baking pan.
In a medium bowl, whisk together flour, salt, and cocoa powder.
Put chocolate, butter, and instant espresso powder in a large bowl and set it over a saucepan of simmering water (or use a double boiler). Stir until chocolate and butter are completely melted and smooth.
Turn off the heat, but keep the bowl over the water and add sugars. Whisk until completely combined. Remove the bowl from the stove. Cool mixture to room temperature.
Add 3 eggs to the chocolate mixture and whisk until combined. Add remaining 2 eggs and whisk until combined. Add vanilla and stir until combined. (Note: Do not overbeat the batter or your brownies will be too cakey.)
Sprinkle the flour mixture over the chocolate mixture. Use a spatula (not a whisk) and fold together until just a bit of the flour mixture is visible.
Pour the batter into the prepared pan and smooth the top. Bake in the center of the oven for 30 minutes, rotating the pan halfway through baking time, until a toothpick inserted into the center of the brownies comes out with a few moist crumbs sticking to it. Cool completely, cut into squares, dust with powdered sugar, and serve (with a tall glass of milk).
(adapted from Baked via Playing House)