Yesterday brought the first snowfall of the season. But we didn't mind! We had our Christmas tree and holiday music, NFL, hot chocolate from festive mugs, and chicken and dumplings.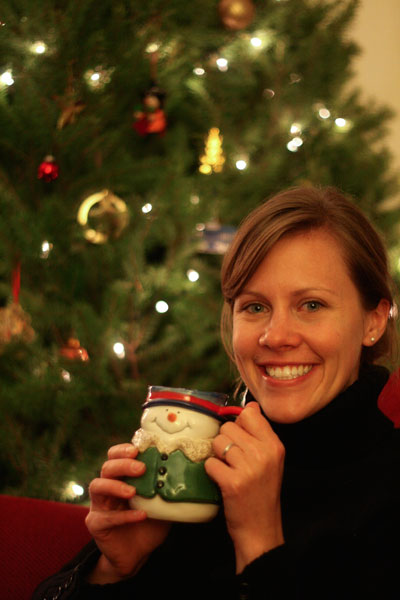 This is the first time I've made chicken and dumplings, but I think my mother and Aunt Esther would be proud. It's a classic dish and one that we included in our family cookbook.
Tender chicken cooks in a simple broth with onions, carrots, and celery. And the dumplings consist of just three ingredients: Bisquick, milk, and parsley. Sure you could fancy it up with peas and chives and vermouth. But comfort food is meant to be simple. And this is comfort food at its finest.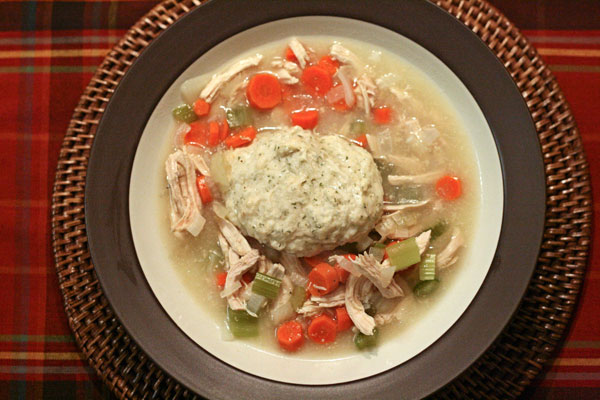 What warms you up on a snowy night?
Chicken and Dumplings
Makes 6 servings.
Ingredients
4 boneless, skinless chicken breasts
4 cups water
4 cups chicken stock
1 tsp salt
1/2 tsp pepper
1 cup chopped onions
2 cups sliced carrots
1/3 cup flour
1/2 cup water
1 1/2 cups sliced celery
2 cups Bisquick
2/3 cup milk
1 Tbsp parsley
Directions
Add water, stock, salt, and pepper to a Dutch oven or stock pot over medium-high heat. Add whole chicken breasts and cook through, about 10 minutes. Remove chicken from pot and place on cutting board to cool.
Add onions and carrots and simmer for 10 minutes.
Mix together 1/3 cup flour and 1/2 cup water; add to pot and stir until thickened. Shred cooled chicken and add to pot, along with celery.
Meanwhile mix together Bisquick, milk, and parsley until soft dough forms. Drop by spoonfuls onto a greased baking sheet. Bake uncovered at 350°F for 10 minutes. Cover with foil and bake an additional 10 minutes.
Add dumplings to chicken and vegetables and serve.
(adapted from Aunt Esther)