When our friends, Nick and Marcy, invited us to a dinner party/box wine tasting earlier this week, I was skeptical. I pictured cardboard boxes with liters of chardonnay and sangria. Because that's the extent of my experience with box wine.
But I should have known better. Nick is quite a connoisseur, after all. (Other Nick, not my Nick. Though we all agreed that they both have equally sizable noses that are well-suited for sniffing libations.)
Box wine has certainly come a long way since the Franzia from my college days.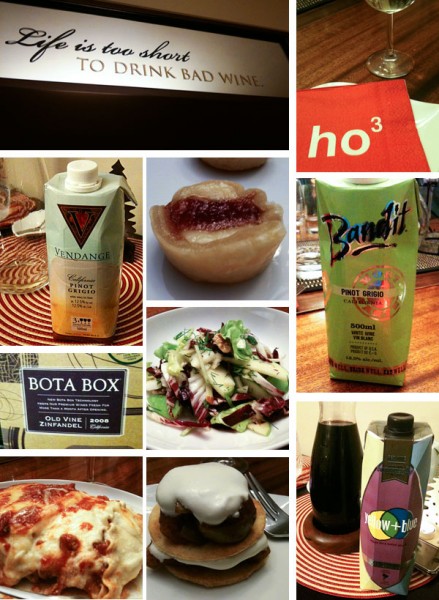 Appetizer Course
We brought brie bites, which are so simple to make. Cut rounds of puff pastry, and place the pieces into a mini muffin tin. (You can also use phyllo cups.) Top with chunks of brie and a dollop of apple butter. Bake at 375°F for 12-15 minutes until cheese has melted. (Also very delicious topped with pepper jelly or cranberry sauce.)
Wine: Vendage Pinot Grigio from California (acidic, but not dry), NV
Salad Course
Anna and Ryan brought a big decorative bowl of autumn salad — including radicchio, Granny Smith apples, fennel, mint, and walnuts — with an orange vinaigrette. (Recipe here.)
Wine: Bandit Pinot Grigio from California (extra dry and luscious), NV
Main Course
Marcy served a fantastic lasagna from the Barefoot Contessa. The Gorgonzola was sharp and rich, and we all cleaned our plates.
Wine before the entrée: Blue and Yellow 2008 Organic Malbec from Argentina (dark, inky, viscous), 2008
Wine with the entrée: Bota Box Old Vine Zinfandel from California (smelled like sweet blackberries with a hint of spice), NV
Dessert Course
Rachael and Casey played off the layered lasagna and brought ingredients to make our own apple pies: small round pie crusts, warm sautéed apples, and whipped cream.
Wine: A treat! Nick pulled out a bottle of 2006 Robertson Old Almond Grove Late Harvest from South Africa. It was similar to ice wine and fitting for the end of our delicious meal.
What's your perception of box wine?