On Saturday, Nick and I ventured out for our first night in our new town. I can't say there's a thriving cultural scene here, but the establishments are quaint and historic and the people are friendly and hardworking. Plus, we have family close by.
Nick's father grew up in nearby Altoona, and his aunt and uncle planted their own roots there years ago. They are very well connected to the community and invited us to a Wine Dinner at the U.S. Hotel in Hollidaysburg on Saturday night.
So are you ready for a history lesson?
The U.S Hotel sits along the Juniata River on the original 1814 homestead of Adam Holliday. The completion of the turnpike in 1818 made Hollidaysburg a convenient stopping place, and the opening of the Pennsylvania Canal in 1832 made it a desirable location to settle. The new canal allowed Hollidaysburg to connect with Philadelphia and two years later the Allegheny Portage Railroad connected the quaint town to the Great American West.
The Hotel opened in 1835 to accommodate westward travelers. Shippers and traders kept the tavern bustling and the rooms occupied. Unfortunately, Hollidaysburg's glory days were numbered. Altoona — about 10 miles northwest — became the new hub of transportation in 1854.
The Hotel was destroyed by a fire in 1871 and was reopened by a German immigrant in 1886. A Bavarian brewmaster by trade, Engelbert Gromiller established a brewery next door. The barroom was added in 1905 and still boasts the original hand-carved mahogany bar, stained glass, and one of the last working spittoons in the state.
The Hotel changed hands many times over the years and is now owned by Karen and Jason Yoder. It offers "the best fine dining in the borough." (AND it hosts Ghost Dinners once a month, complete with an informative session presented by the Allegheny Mountain Ghosthunters.)
I just love to immerse myself in the history of a place, don't you? It makes for a much more meaningful experience.
Now let's get back to present day.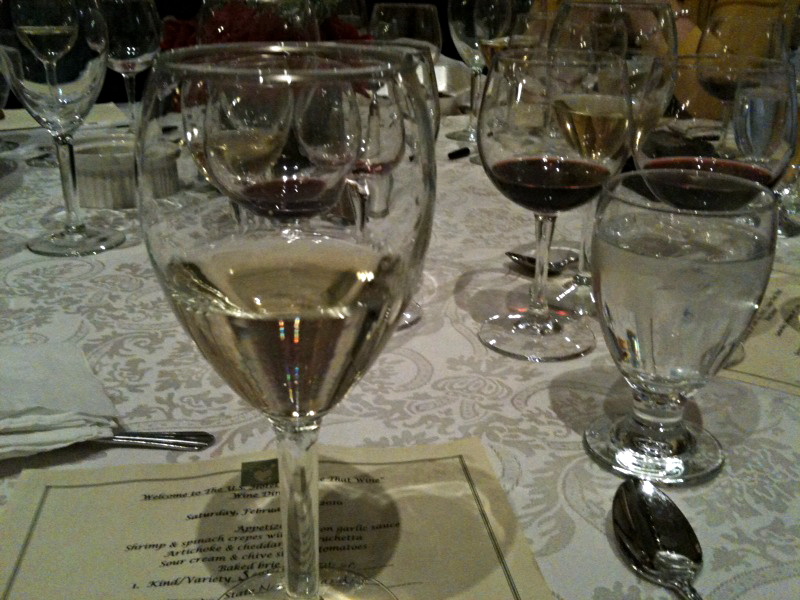 As I said, we joined uncle Frank and aunt Mary, cousin Justin and his girlfriend Lindsey, and new friends Nick and Marcy. We mingled and conversed while juggling appetizer plates and glasses of wine. (Has anyone mastered this party trick? If so, please advise.)
The wine was poured from bottles wrapped in brown Kraft paper and tied with twine. When we were seated we found worksheets to record our guesses for variety of wine and region of origin. Now I am by no means a wine connoisseur. I know I prefer red to white and dry to sweet, but I have a difficult time identifying flavors like banana or oak or chocolate.
I swirled, I sniffed, I sipped, but I was uncertain of all of my guesses. Friend Nick, on the other hand, is quite the accomplished taster (and brewer, apparently) and correctly identified the variety AND origin of three of the five wines. My Nick and I have a lot to learn.
Nevertheless, it was a very enjoyable evening, with the highlight being an absolutely delicious and decadent Peanut Butter Creme Brulee. It was so decadent, in fact, that I wasn't able to finish my serving. But Nick polished off his Ramekin and mine! (It's a Wiley talent, really — the ability to devour every bite of anything involving chocolate and peanut butter. I'm not kidding — both his uncle and cousin cleaned their dishes, too.)
We look forward to exploring much more of our modest little town!
Appetizer Course with Sauvignon Blanc from New Zealand
Shrimp and Spinach Crepes with Saffron Garlic Sauce
Artichoke and Cheddar Jack Bruchetta
Sour Cream and Chive stuffed Tomatoes
Baked Brie Puffs
Soup Course with Cabernet from California
Smoked Turkey Vegetable Soup
Salad Course with Chardonnay from California
Fresh Mixed Greens with Apples, Gorgonzola Cheese, Toasted Pine Nuts, and Dried Cranberries, tossed with Vinaigrette
Entrée Course with Shiraz from Australia
Grilled Angus Tenderloin topped with Sautéed Crabmeat
Scallion wrapped Asparagus with Hollandaise Sauce and Bacon
Chive and Cheddar Jack stuffed Redskin Potatoes
Dessert Course with Riesling from Washington
Peanut Butter Creme Brulee