(I sure hope I'm not boring you all with these vacation recaps. It allows me to organize our photos and document our memories, and I thank you for sticking around! Speaking of documentation, I eventually do plan to finish our wedding recaps. Perhaps before our first anniversary? Only 36 days away!)
We drove from Quebec City to Montreal on Tuesday night and checked into the Hilton Bonaventure. (Thanks to Uncle Jim and Aunt Vicki for hooking us up!) Have you ever noticed that the size and softness of hotel towels is directly proportional to the cost of the room? Let's just say the Hilton had the largest, most luxurious towels of our trip.
It was late by the time we arrived, so we asked the concierge for a nearby dinner recommendation. He suggested Brutopia on Crescent Street. It was perfect. We enjoyed honey beers and shared a "Bru Burger" made with ground beef and ham and topped with aioli and avocado.
I woke up the next morning to Nick's rendition of "Happy Birthday To You." It's the fourth birthday I've spent with him, and I always look forward to his annual serenades.
We showered, took advantage of the continental breakfast, and headed to our first destination: Notre-Dame Basilica. We've both visited European churches and agreed that this North American one ranks as a favorite.
The construction of the sanctuary was completed in 1830, and the interior was finished 40 years later. The decor is dramatic and colorful, and the Gothic architecture is among the most elaborate in the world.
It's awe inspiring.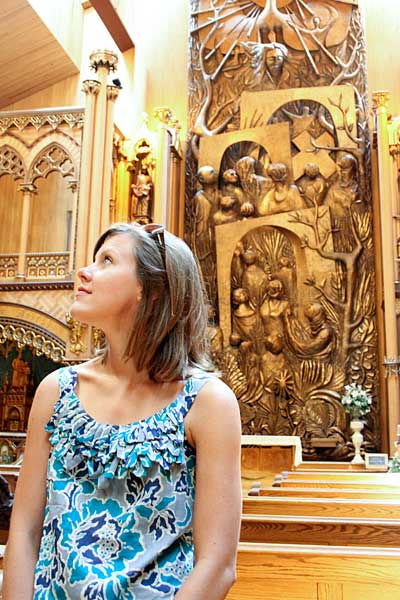 We continued our tour of Old Montreal — the part of the city that dates back to New France in the 1600s — with a stroll along Rue Saint Jacques and Rue Saint Paul.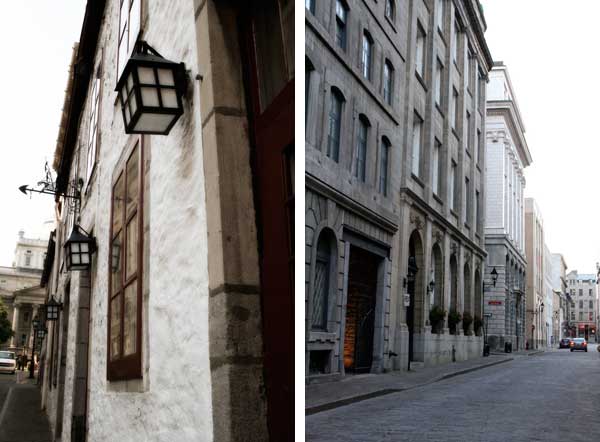 And at this point, I need to acknowledge the heat wave that overwhelmed Montreal during our two-day visit. Temperatures reached record highs of 38°C, which equals 100°F — and that doesn't even include the humidity factor. Some employees were instructed not to come to work due to the unbearable heat, and cooling stations were set up around the city.
We did our best to see the sights, but were forced to take indoor breaks almost every other hour. One such break was taken at Les 3 Brasseurs.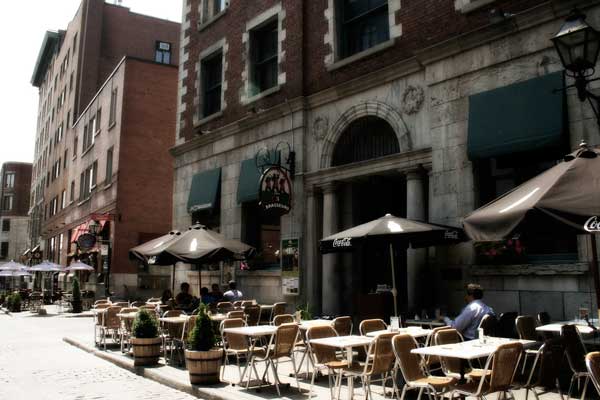 The microbrewery has 28 locations in France and several in Quebec. I drank the smooth, refreshing blond, and Nick had the aromatic brown. To eat, we had the fish and chips (2/5 stars) and the homemade flamm (a.k.a. pizza) with onions, bacon, mushrooms, and grated gruyere (3/5 stars). The food was not stellar, but the beers were satisfying.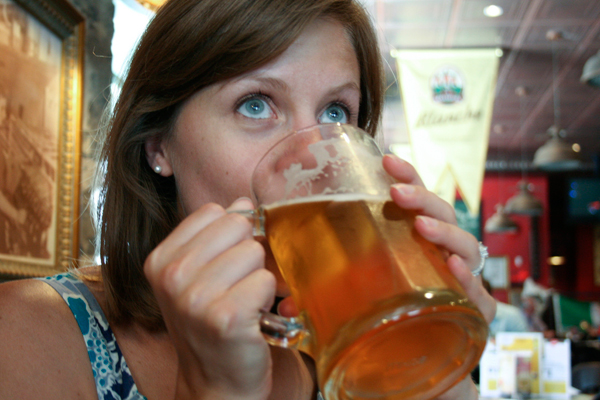 Next we wondered around Marché Bonsecours where local artists — from painters to sculptors to wood carvers — set up shop.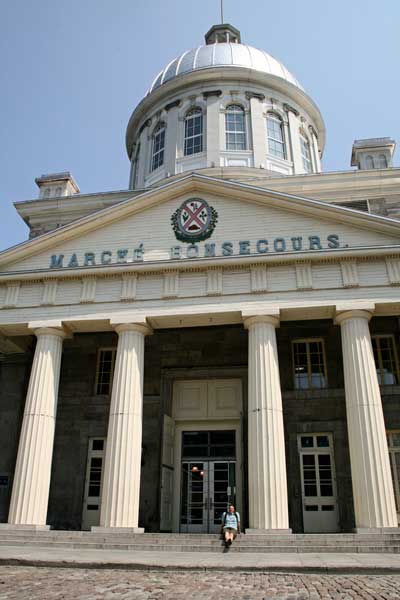 And then it was time for another break. We were in desperate need of a dip in the hotel pool, but instead of walking the hot pavement back to our abode, we decided it was the perfect opportunity to explore what lie beneath.
Montreal's Underground City is the largest underground complex in the world with close to 20 miles of tunnels. The first connection was constructed in 1962 and expanded drastically throughout the 90s. The labyrinth is as aesthetically appealing as any above ground space and most halls are wide enough to host shops on both sides. There are clothing boutiques and art galleries and sushi restaurants and gelato stands, even banks and dentists.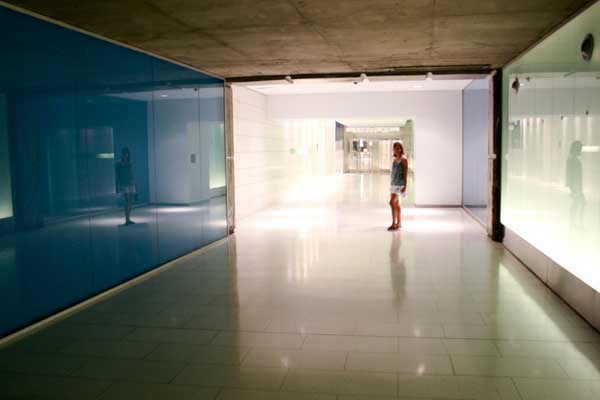 Now it should be noted that I am not a swimmer. Nor am I a wade in the pool with twenty strangers type of person. But, wow, I have never felt so refreshed by a public pool. We easily could have stayed in the cool water for the remainder of the evening, but we knew there was more exploring to do. So we dragged ourselves out and back into dry clothes and onto the Metro en route to the Latin Quarter.
The original plan was to get drinks and an appetizer at one location and move to another for my birthday dinner. However, after sharing a pitcher of Boréale and finishing less than half of a platter of poutine (never, ever again shall we eat poutine), we were both rather uncomfortable. French fries with cheese curds and gravy? Foolish us for thinking when in Canada, we should do as the Canadians do — they must have stronger stomachs. And did I mention it was hot? And that we were sitting on the terrace?
And so rather than searching for a trendy restaurant, we attempted to "walk out our bellies" along the eclectic Rue Saint Catherine. It runs through the Gay Village and is located near five universities. It's hip and artsy and full of vibrant life — very good people watching.
Despite the poutine that was still sitting heavy, I insisted we find dessert. I couldn't let my birthday end without consuming something sweet! Reuben's Deli it was — for chocolate cake and decaf coffee.
Next up: The birthday celebration continues