Sister-in-law Megan spoiled us with these breakfast goodies over the holidays. They are melt-in-your-mouth delicious, as only The Pioneer Woman can create. They also freeze well. Megan suggests freezing each puff in an individual plastic bag and nuking it (in the bag) in the microwave for 15 seconds. Instant hot and yummy breakfast on the go!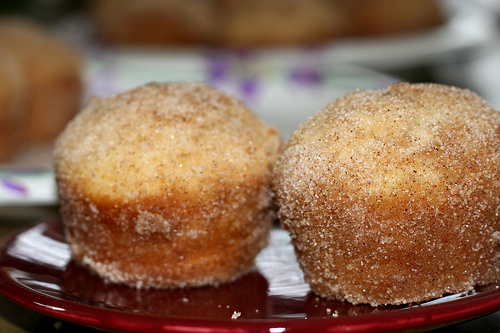 French Breakfast Puffs
Makes 12 muffins.
Ingredients
3 cups flour
3 tsp baking powder
1 tsp salt
1/2 tsp ground nutmeg
1 cup sugar
2/3 cup shortening (Crisco)
2 whole eggs
1 cup milk
1 and 1/2 cups sugar
3 tsp cinnamon
2 sticks butter
Directions
Preheat oven to 350°F. Lightly grease muffin tin.
In a large bowl, stir together flour, baking powder, salt, and nutmeg. Set aside.
In another bowl, cream together 1 cup sugar and shortening. Then add eggs and mix again. Add flour mixture and milk alternately to creamed mixture, beating well after each addition.
Fill prepared muffin tin 2/3 full. Bake for 20-25 minutes, or until golden.
In a bowl, melt 2 sticks butter. In a separate bowl, combine remaining sugar and cinnamon. Dip baked muffins in butter, coating thoroughly, then coat with cinnamon-sugar mixture.
(adapted from The Pioneer Woman)