What do you make for a Thursday morning potluck? Something simple and sweet, of course. And this recipe shared by Amy I fit the bill. It requires very little prep work, it transports easily, and it smells like something you want to wake up to on a cold November morning.
Yesterday my colleagues held a potluck breakfast in our lobby. There were egg casseroles, potato tortillas, and banana breads. My contribution was something so decadent it could only come from the kitchen of Paula Deen.
If you're looking for something to bake for house guests over the holidays, I'd highly recommend this dish. Enjoy!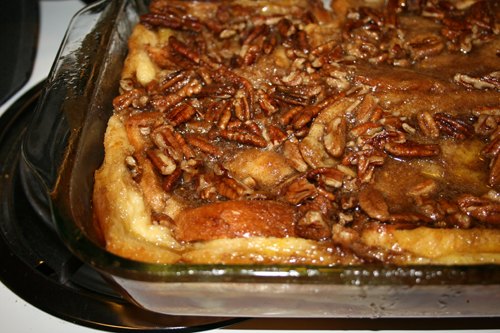 Baked French Toast with Praline Topping
Makes 12 servings.
Ingredients for Casserole
1 loaf French bread
8 large eggs
2 cups half-and-half
1 cup milk
2 Tbsp granulated sugar
1 tsp vanilla extract
1/4 tsp ground cinnamon
1/4 tsp pumpkin pie spice
Dash salt
Ingredients for Praline Topping
1 1/2 sticks (12 Tbsp) unsalted butter, room temperature
1 cup packed light brown sugar
1 cup chopped pecans
2 Tbsp light corn syrup
1/2 tsp ground cinnamon
1/2 tsp pumpkin pie spice
Directions
Slice French bread into 20 slices, about 1 inch each. Arrange slices in a generously buttered (or sprayed with non-stick baking spray) 9×13 baking dish in 2 rows, overlapping the slices.
In a large bowl, combine eggs, half-and-half, milk, sugar, vanilla, cinnamon, pumpkin pie spice, and salt, and beat or whisk until blended, but not too bubbly. Pour mixture over bread slices, making sure all are covered evenly with mixture.
Cover with foil and refrigerate overnight.
The next day, preheat oven to 350° F. Bake for 25 minutes.
While baking, prepare praline topping (combine all ingredients in a medium bowl and blend well).
Remove baking dish from oven and spread topping evenly over bread.
Return to oven and bake 15-20 more minutes, or until custard is absorbed and casserole is puffed and golden.
Let cool for at least 20 minutes before serving.
(adapted from Paula Deen)