Apple season may be over, but we haven't stopped eating Nick's favorite fruit. Ever since reading The Botany of Desire by Michael Pollan, he has been obsessed with trying every variety of apple he can get his hands on: juicy Braeburns, crisp Cortlands, aromatic McIntoshes, tart Granny Smiths. But his very favorite is the bright, sweet Gala. And that's what we used in this recipe from Aunt Brenda.
Ingredients
1 cup brown sugar
1 cup rolled oats
1 cup all-purpose flour
1/2 cup butter, melted
3 cups apples, peeled, cored, and chopped
1/2 cup sugar
2 tsp cinnamon
vanilla ice cream (optional)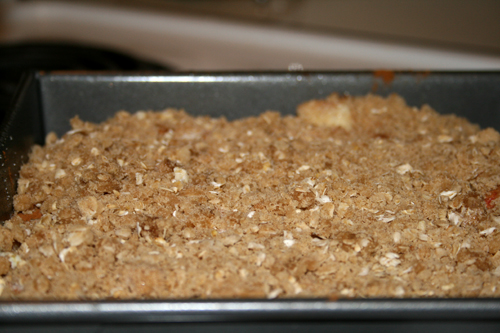 Directions
Preheat oven to 350 degrees. Lightly grease an 8-inch square pan.
In a large bowl, combine brown sugar, oats, flour, and butter. Mix until crumbly. Place half of crumb mixture in pan. Spread the apples evenly over crumb mixture. Sprinkle with sugar and cinnamon and top with remaining crumb mixture.
Bake in the preheated oven for 40 to 45 minutes, or until golden brown.
Serve with vanilla ice cream!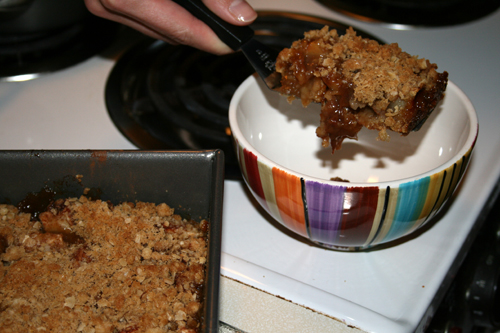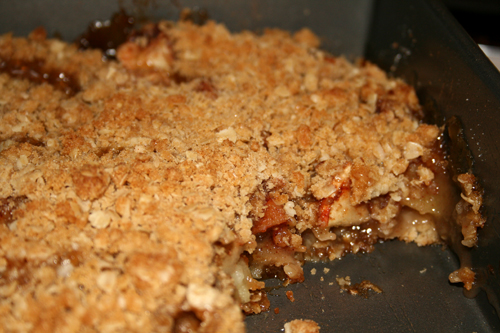 I'm happy to bake an apple dessert for you anytime, husband!
(recipe adapted from allrecipes.com)