Nick and I enjoyed a (much needed) long holiday weekend in Massachusetts with our lovely hosts, Kristen and Eric. We arrived late Thursday night and rose early Friday morning to take the T into Boston. The sky was clear and the sun was bright; it was the perfect day to walk the Freedom Trail!
We snapped photos of Boston Common and the Massachusetts State House on Beacon Hill before wandering through the Granary Burying Ground behind the Park Street Church. Founded in 1660, this burial ground is the final resting place for three signers of the Declaration of Independence and the five victims of the Boston Massacre. We saw the tombs of Paul Revere, Samuel Adams, Benjamin Franklin's parents, and others.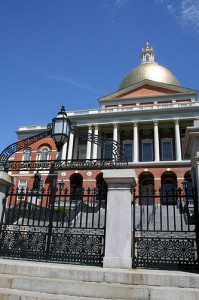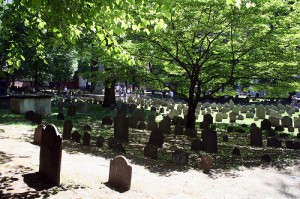 Next we saw King's Chapel and the nation's first public school. We passed by the Old South Meeting House where the Boston Tea Party was organized in 1773. And then we arrived at the Old State House — quite possibly my most favorite building in Boston. It was built in 1713, making it the oldest public building in the city, and is now nestled between the tall buildings of the financial district. The first public reading of the Declaration of Independence took place here on the east balcony.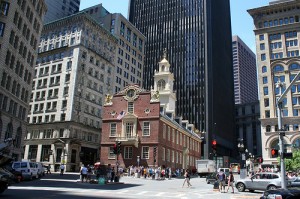 We wandered through Faneuil Hall and Quincy Market and enjoyed a lobster roll and a bowl of New England clam chowda' (we had to have chowda' despite the hot weather!). After taking a break along the waterfront we walked to the North End to check out the Paul Revere House and the Old North Church. This is the location of the famous, "One if by land, and two if by sea."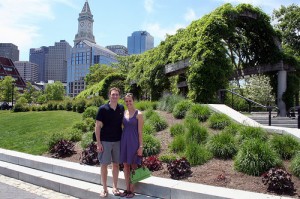 We piggybacked onto a student tour group and heard the story of how Paul Revere and William Dawes rode from Boston to Lexington to warn John Hancock and Samuel Adams and others that "the British are coming!" (Dawes arrived just a half hour after Revere making him less known for the famous "midnight ride.")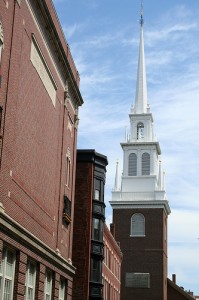 From the Old North Church we followed the Freedom Trail past Copp's Hill Burying Ground and onto the bridge leading across the Charles River to the USS Constitution. We didn't make it quite far enough to see the oldest commissioned naval vessel up close; we were just too thirsty. So we went back to the waterfront and enjoyed Samuel Adams Summer Ales (of course!) in the shade.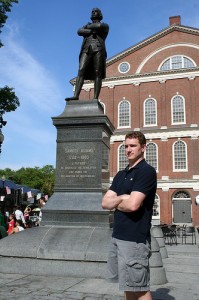 We arrived back at K's & E's apartment in Leominster just in time to start grilling. The home seasoned chicken wings were delish! And it was so relaxing to sit on their back porch and catch up.
We were up early on Saturday for a LONG run. We couldn't forgo our training program just because we were on vacation, right? Kristen mapped an 8-mile route that took us through rolling country roads past beautiful Cape Cod homes and apple orchards. I emphasize the word "rolling." But, hey, it was good practice for the Double Creek Half Marathon that we'll be running in just 3 1/2 weeks!
After finishing the run K & E took us to Wachusett Brewing Company where we rewarded ourselves with blueberry beers. Yes, blueberry — and boy were they tasty! Then it was back to the apartment to prepare an AMAZING mussels dinner. (Did I mention that they really spoiled us?!)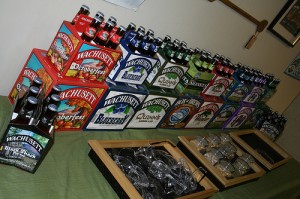 The New Englanders taught us Pennsylvanians how to clean mussels by rinsing the shells and removing the "beards." Also it's very important that the shells are completely closed, otherwise the little guys are already dead … and inedible.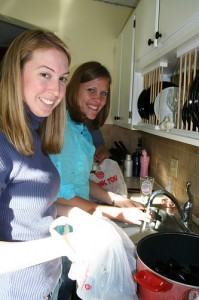 The broth that we used to steam the mussels included garlic, shallots, butter, lemon, thyme, and clam juice. It was so fragarant and decadent. And the mussels were even yummier when pulled out of their shells and soaked in the broth. The broth was also perfect for dipping bread.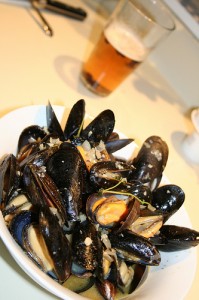 Oh yeah, and this was just the appetizer! After eating 7 1/2 lbs. between the four of us, we had little room for the marinated steak tips and mushrooms stuffed with Gorgonzola cheese. But not to worry, we didn't let it go to waste! We went to bed that night early and sufficiently stuffed.
Kristen woke us up at 6am on Sunday to pack the car for our fishing excursion. We had no idea we were going with professionals! Eric has a different rod, bait, and strategy for each fish.
We docked from Weymouth, just south of Boston. The day started out gloriously with calm waters and warm sun. The boys "jigged" for cod a few miles off the coast. Eric caught the first one, but it was just short of the necessary 24 inches, so he had to toss it back in. After several false alarms (i.e. Nick shouting, "I got one!" and then promptly discovering he was only caught on the bottom), Nick caught a cod! This one was slightly larger than Eric's, but still not quite big enough. After Eric caught two more and Nick caught a baby (yes, he caught both the biggest and smallest fish of the day), we took off for another location.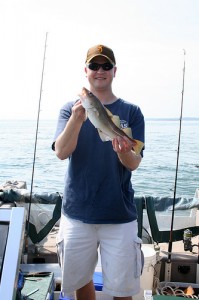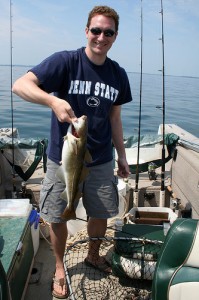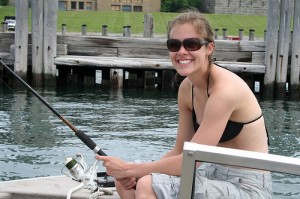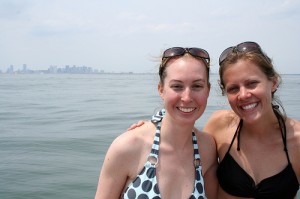 We unsuccessfully fished for flounder for about two hours before following a crowd of boats to a supposedly sweet spot. We had just dropped anchor and finished lunch when huge storm clouds rolled in over the city skyline. And boy were they moving fast! We quickly put up the roof and moved ourselves and all of our belongings under it. But we still had about a 45-minute ride back to land. It was a race! Every time I turned to look at Nick, the rain was dripping from his hood and the lightning was streaking behind him. But he had a huge smile plastered to his face. I think he was actually enjoying himself! But I was most definitely not. I could not wait to get back to shore. And we finally did — just as the rain slowed. We learned later that night on the news that a house in Weymouth had been struck by lightning, and golfball sized hail had fallen just south of us. So, despite not returning with any fish to fry, it was quite the adventure!
Thanks again to Kristen and Eric for hosting such a fantastic weekend!