Valentine's Dinner 2008 (we adjusted the ingredients to yield 2 large cakes)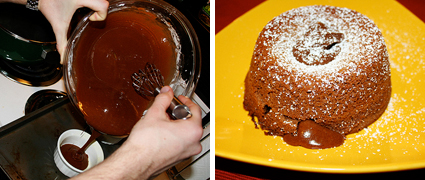 Ingredients
4 heaping tablespoons semisweet chocolate chips
1/4 stick butter
1 cup powdered sugar (plus more for sprinkling)
2 eggs
6 tablespoons flour
1/2 tablespoon hazelnut liqueur (or extract)
nonstick spray
Nutella
Directions
Spray 2 large custard cups with nonstick spray. Place on baking sheet.
Heat chocolate and butter in large glass bowl over a pot of simmering water. Stir with wire wisk until both are completely melted.
Blend in sugar. Add beaten eggs one at a time so they do not cook. Stir in hazelnut liqueur and flour.
Divide batter evenly into custard cups, about 3/4 full.
Bake at 400 degrees for 12-14 minutes until sides are firm but centers are soft. Let stand 1 minute.
Invert cakes onto dessert dishes and top with a dollop of Nutella and powdered sugar.
Serve immediately.
*recipe from food network