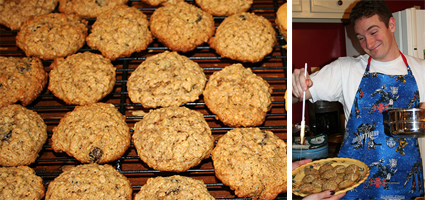 Ingredients for Cookies

1/2 cup (1 stick) butter, softened
1/2 cup vegetable shortening
1 1/2 cups brown sugar
2 eggs
1/2 cup buttermilk
1 3/4 cups all-purpose flour
1 teaspoon baking soda
1/2 teaspoon salt
1 teaspoon ground ginger
1 teaspoon ground nutmeg
1 teaspoon ground cinnamon
1/4 teaspoon ground cloves
1/2 teaspoon ground allspice
2 1/2 cups quick-cooking oatmeal
1 cup raisins
1 1/2 cups chopped walnuts
1 teaspoon vanilla
Directions for Cookies
Preheat oven to 350 degrees.
Cream butter, shortening, and sugar until fluffy. Add eggs and beat until mixture is light in color. Add buttermilk and mix.
Sift together flour, baking soda, salt, baking powder, ginger, nutmeg, cinnamon, cloves, and allspice. Mix into wet ingredients.
Fold in oatmeal, raisins, walnut, and vanilla. Blend well.
Drop by teaspoons onto greased cookie sheets. Bake 12-15 minutes.
Drizzle (splash) with icing.
Ingredients for Icing
1/2 cup butter
3 cups powdered sugar
1 teaspoon vanilla
3 to 4 tablespoons water
Directions for Icing

In a small saucepan, heat butter over medium heat until golden brown, stirring occasionally. Remove from heat.
Stir in powdered sugar and vanilla.
Add enough water to make an icing of drizzling consistency.
Drizzle over warm cookies
*recipe from food network