Prepared for Battle Apples.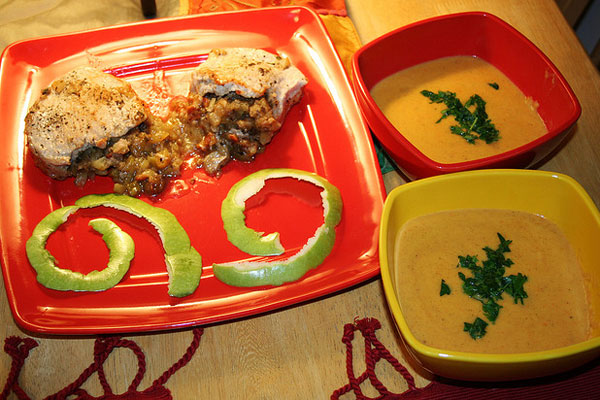 Sweet Potato and Apple Soup
Servings: 6
Ingredients
2 large sweet potatoes, quartered
2 large tart apples (we like Ginger Gold), peeled and cored
2 tablespoons extra-virgin olive oil
1 onion, chopped
2 stalks celery, chopped
1 large carrot, chopped
1 bay leaf
5 cups chicken broth
1 cup cream
1 lemon, zested and juiced
salt and pepper to taste
cinnamon to taste
handful of parsley
Directions
Preheat the oven to 400°F. Place the sweet potatoes and apples on a greased baking sheet, sprinkle with cinnamon, and roast for about 40 minutes, or until tender. Cool and peel sweet potatoes.
Heat olive oil in a large soup pot over medium heat. Add the onion, celery, bay leaf, and carrot. Sauté until tender. Remove the bay leaf and discard. Pour in the chicken broth and add the sweet potatoes and apples. Puree in batches using a regular blender, or (if you're so fortunate) use an immersible blender to puree in the pot.
Add cream, lemon zest, and lemon juice. Taste and season with salt, pepper, and cinnamon. Heat through, but do not boil. Ladle into serving bowls and garnish with parsley.
(Adapted from AllRecipes.com)