Originally prepared for Battle Apples.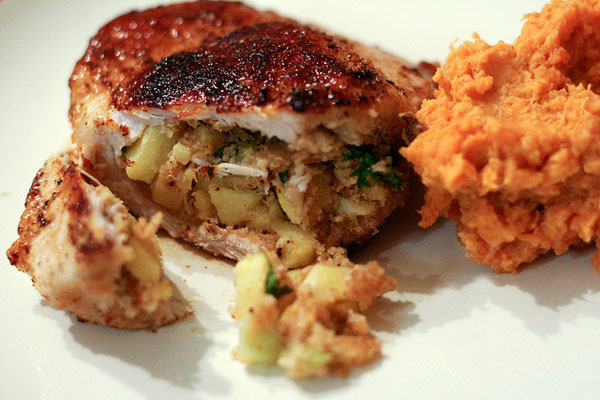 Pork Chops with Apple Stuffing
Servings: 4
Ingredients
2 teaspoons chopped onion
2-2/3 tablespoons butter or margarine
2 cups fresh bread crumbs
1-1/3 cups chopped apples
2-2/3 tablespoons chopped celery
1-1/4 teaspoons chopped fresh parsley
1/8 teaspoon salt
2 teaspoons vegetable oil
4 pork chops (> 1 inch thick)
salt and pepper to taste
Directions
In a large skillet, sauté onion in butter or margarine until tender. Remove from heat. Add the bread crumbs, apples, celery, parsley, and salt. Mix together.


Cut a large pocket in the side of each pork chop; season inside and out with salt and pepper to taste. Spoon apple mixture into pockets until stuffed!

In skillet, heat oil to medium high and brown chops on both sides. Cover skillet and simmer chops on low heat for 15 minutes.
(Adapted from AllRecipes.com)