bartender: another round
Sunday (6/25)
What better way to start our final day in the Pacific Northwest than with a hearty breakfast of coffee, asparagus and spring onion omelettes, crab eggs benedict, and corn beef hash? After filling our bellies, we walked to the market. A turquoise ring, several Starbucks souvenirs, and a few pounds of cherries later … We headed to Pier 51 to check departure times for Bainbridge Island. We'd just missed the ferry (the theme of the day), so figured why not grab a beer (another theme of the day). We expanded our horizons and tried Hale's Extra Blonde Ale. Good!
The trip across Puget Sound to Bainbridge Island was just 30 minutes. The island is only five miles wide and ten miles long. The quaint country roads and storefronts and gardens were a welcome change from the city. (And at the complete opposite end of the spectrum from our trip to Capitol Hill the previous day!) We browsed an eccentric candle shop and sampled homemade fudge before settling onto the deck of Harbour Public House. We ordered a selection of beers … Mac & Jack's Wheat, Dry Pear Cider, Manny's Pale Ale. (Did I mention that we became quite the beer connoisseurs during this trip?) After a shared appetizer and a pint each, we faced a decision: Order another round or head back to the ferry? The waiter said it was a good 20-minute walk … But we're fast-walkers! Order another round, it is.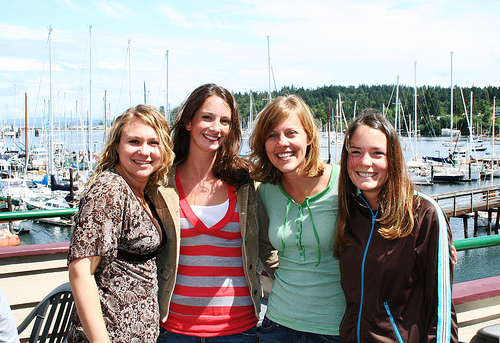 Hmmm … Turns out the waiter was right. We broke into a brisk jog after 10 minutes of walking … Beer gurgling, bags swinging, and lots of laughing, of course. As we approached the dock, shouts came from the cars in line to board: You're not going to make it! … And … We didn't. But boy was that second beer — not to mention laughing till our stomachs hurt — well worth it!
Upon our return to Seattle, we settled into yet another restaurant. And this was the meal I'd been waiting for! We ordered Hefs and shared calamari with aioli. Our dinners consisted of Alaskan King Crab Legs, Grilled King Salmon with avocado crème fraiche, Honey-Glazed Prawn, and Alaskan Halibut. Bon Appètit!!!
Seattle offered the best espresso, the best seafood, and the best cherries. And I couldn't have imagined a better trip than with my best girls! We decided that we need to take a trip every year for the next 25 years. Upcoming destinations include, but are not limited to: Austin, Miami, Denver, New Orleans, San Francisco. We welcome ideas!