Dear Evelyn,
I took your photos on the day that you turned four months old. But it has taken me almost three weeks to write your letter. Such is this season of life.
You surprise me daily with new tricks. You have discovered your hands and your feet and your tongue. You are constantly sucking on your fingers and your toes and blowing bubbles and raspberries. Sometimes during dinnertime, Sam and Nora will imitate you and try to put their feet in their mouths or blow saliva bubbles across the table.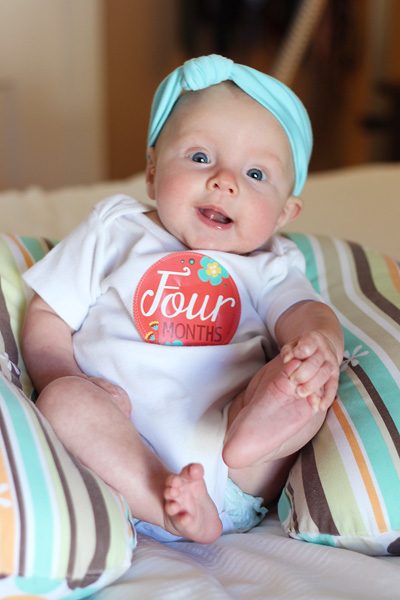 You can roll from back to belly and back again. One night, while we were all watching a movie in the basement, you rolled right off the blanket and ended up under the train table. The big kids thought it was hilarious.
This newfound skill means that diaper changes have become pretty challenging. And bedtime is even more difficult. As soon as I lay you down on your back in bed, you flip over. This means that I can no longer swaddle you at night. Along with natural changes in sleep patterns that occur at this age, you are waking every 2-3 hours, and are not able to fall back asleep unless I rock you and nurse you. I know this is a bad habit that we will eventually need to break. But I can't stand to hear you cry for more than a few minutes. Especially because your crib is just a few feet from my bed! Oh, sometimes I miss the newborn days when you would sleep soundly for 5 hours.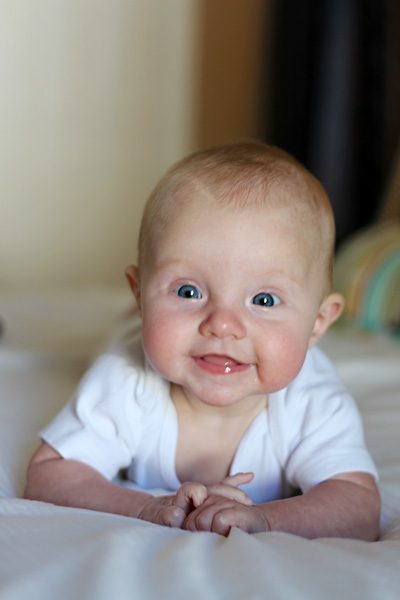 Naps are hit or miss right now, too. If you can get past the 30-minute mark, than you will typically sleep for a glorious two hours. Otherwise, it's cat naps throughout the day. I know it doesn't help when I'm constantly interrupting you to run errands or pick up the kids from school or meet friends at the playground.
Even though I really don't think you're sleeping enough, you are still a pleasant baby.
You love to kick in the bathtub and sit at the dinner table. You bounce in your jumperoo and reach for the animals that hang above your activity mat. You love the o-ball and toys that make crunchy sounds. You are fascinated by anything that lights up and plays music. You will sit in your bumbo and what the big kids play, and you especially love when they include you. Nora reads books to you and piles stuffed animals around you. Sam flies his Star Wars ships in front of your face and examines you with his doctor's kit.
At your 4-month check-up, you weighed 12 lbs 12 oz and measured 24 inches long. I scheduled your visit at the same time as Sam's 5-year check-up and, of course, Nora was along, too. That made for an interesting hour sitting in the exam room. Between the three of you, you had five shots. Yikes!
I moved you into size 2 diapers this month, and mostly 6-month clothing. You've gotten lots and lots of new clothes since Nora was wearing summer clothes at this age. We sure didn't plan that right!
I still mostly nurse you on demand because it's what works with our schedule. This turns out to be between 6-8 times during the day and 3 times during the night. You have also recently showed interested in the food that we eat. When I hold you in my lap during meals, you follow the fork from my plate to my mouth and often try to yank my place mat off the table.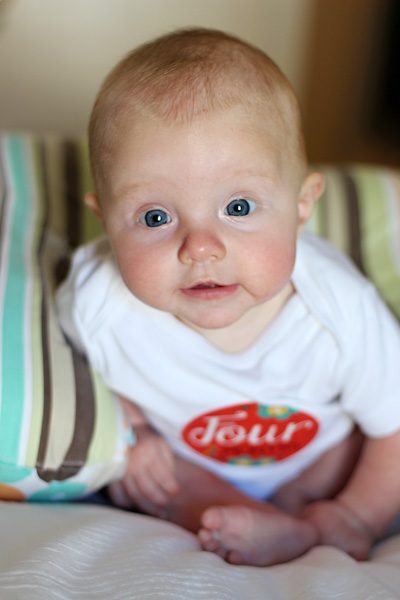 We took our first big family vacation with you this month … to Disney World! The drive down and back was not easy. I spent most of it sitting in the middle seat between you and Nora: entertaining you with books and toys, soothing you with the light from your pink giraffe, shhhhing and singing you to sleep. And I even figured out how to nurse you while we were driving. Let's not even talk about how confusing it was for you and how uncomfortable it was for me!
But our week in Disney World was really magical. You were completely fascinated by the rides (It's a Small World and The Voyage of the Little Mermaid) and the shows (Beauty and the Beast, Frozen Sing-a-Long, and The Lion King). You especially loved Minnie Mouse and Doc McStuffins. You spent a lot of time sleeping in the Ergo — through fireworks and live music and meals. And you were carried all over the parks by Oma and Opa. I promise we will take you back again in a few years when you can enjoy all of the rides with Sam and Nora!
Evie, I love to cradle you and cuddle you. I love the sound of your voice and your little laugh. I love to watch you interact with Sam and Nora and Lucy. Little one, you complete our family in a way that I didn't even know was possible. Love you!
Save