Sam requested a "super party" months before his birthday.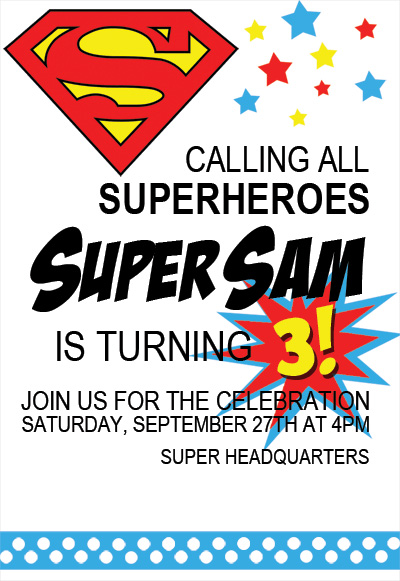 He asked for super capes for his friends, pizza, popcorn, and blue cupcakes. Easy enough!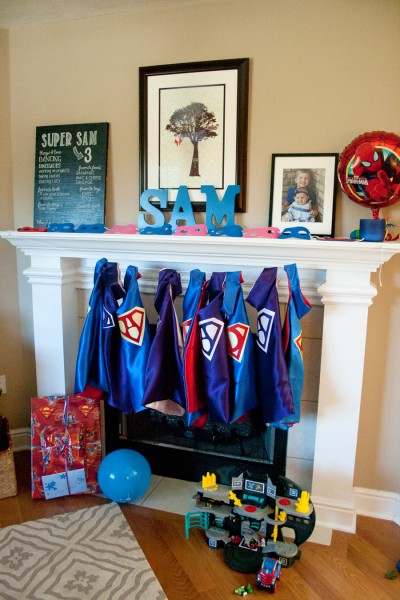 I spent every evening for about a month working on the capes. But they were well worth the time and effort! In fact, they are the coolest thing to come out of my new sewing machine thus far. (I will post a full tutorial soon.)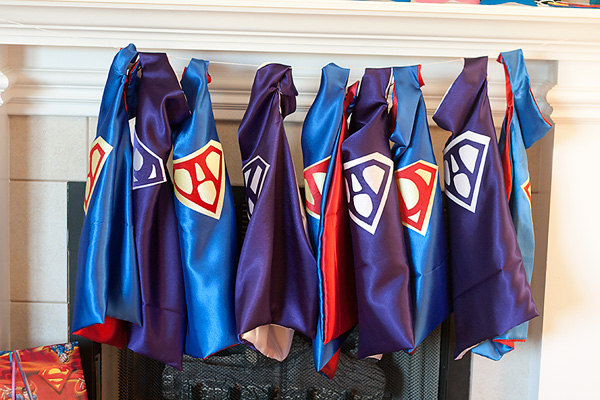 And, of course, you can't have a cape without a mask. These were easy to make from felt and elastic. (Painted letters from his nursery!)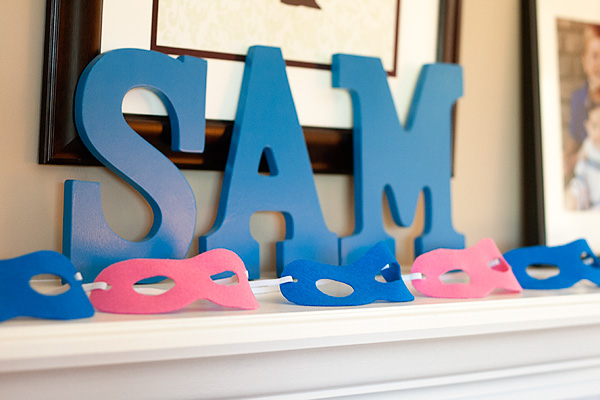 I pulled a few quotes from my interview with Sam and wrote them on a scrap piece of wood turned chalkboard. Simple decoration for the mantle.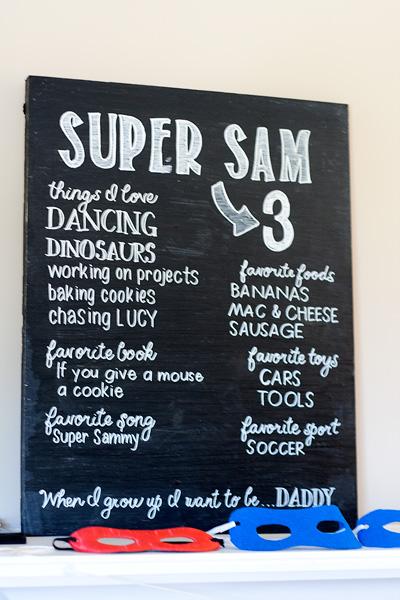 I designed a pennant banner and used leftover table runners from his first birthday party to spruce up the dining room.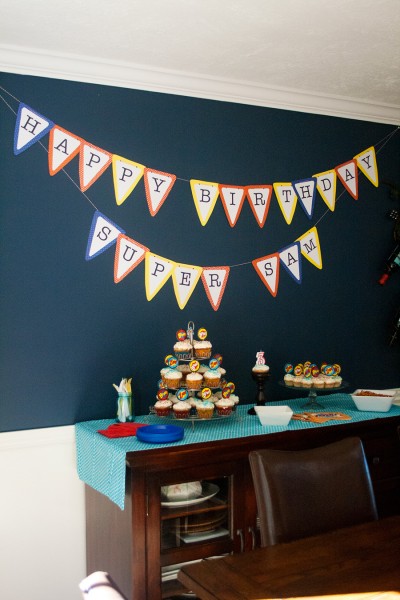 I baked (the best!) funfetti cupcakes — both big ones and mini ones because kids only eat the frosting anyway. And I bought festive baking cups and picks from Amazon.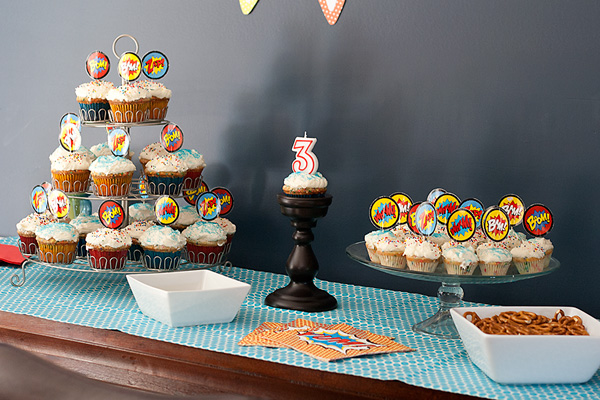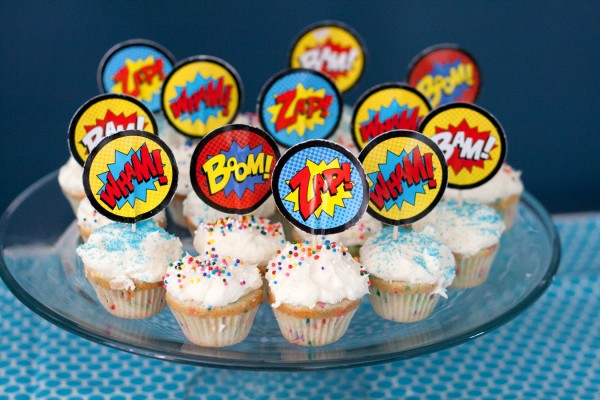 Since Sam requested popcorn — one of his favorite snack foods — I picked up some cute paper boxes to serve it. We also ordered pizzas and served veggies with dip and fruit salad.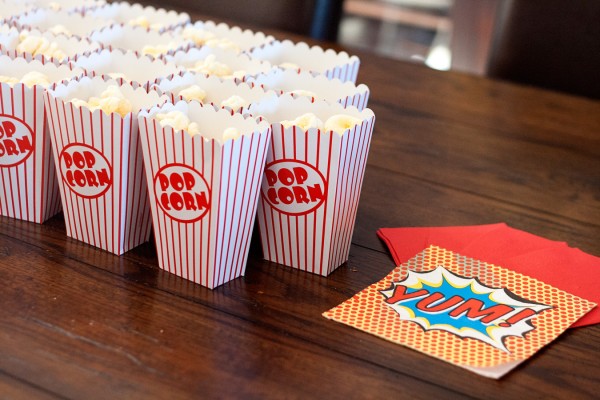 For the big surprise … a bounce house! We decided to buy one rather than rent one because I anticipate using it for many future parties. The birthday boy loved it!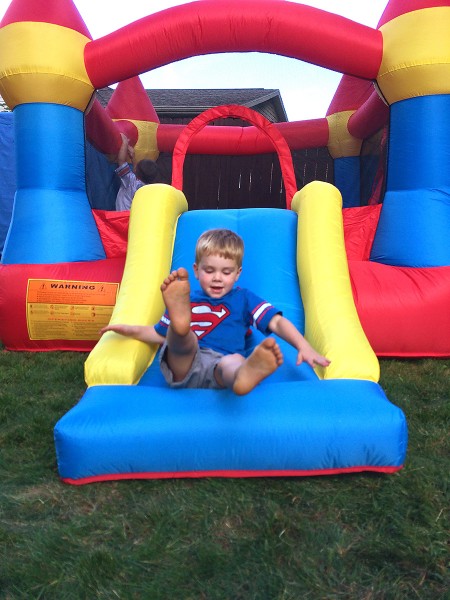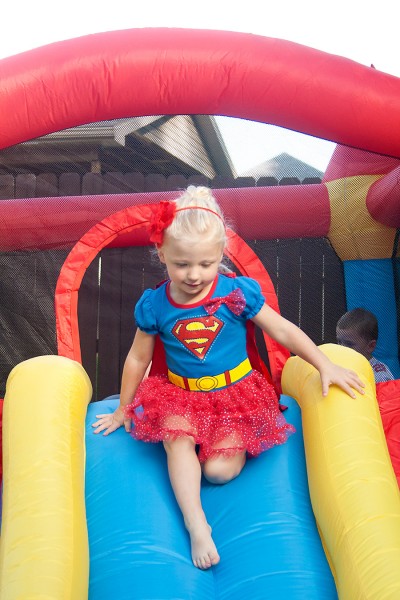 As always, the sand box was a big hit with the kids.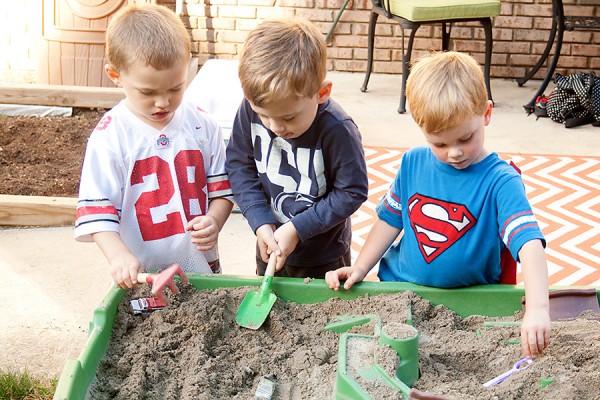 And the dirt box. Give kids some shovels and a few dump trucks, and they can entertain themselves for an entire afternoon.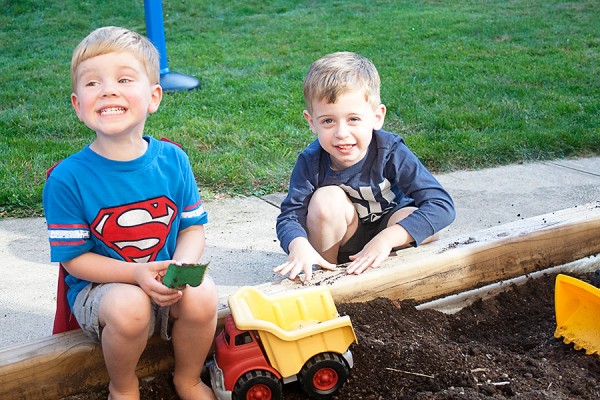 I really wanted to get photos of the kids in their capes and masks, so I created a little "Gotham City photobooth" using blue fabric and cardboard boxes that I spray painted. And you can download the signs here.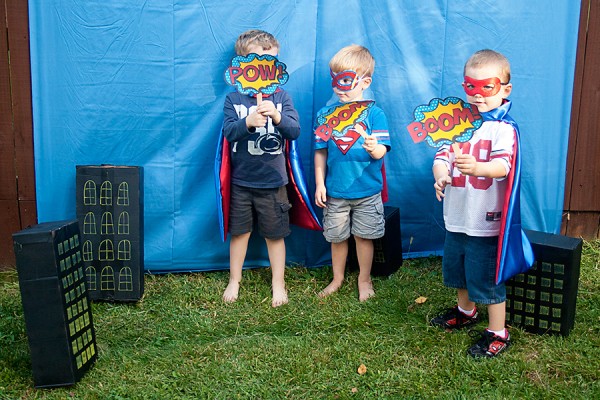 A few of the kids were a bit camera shy. But not my kid!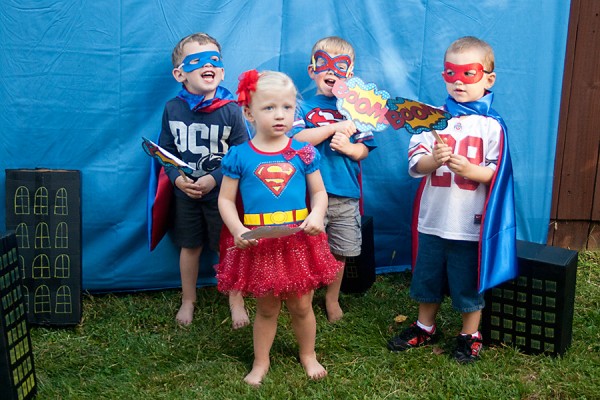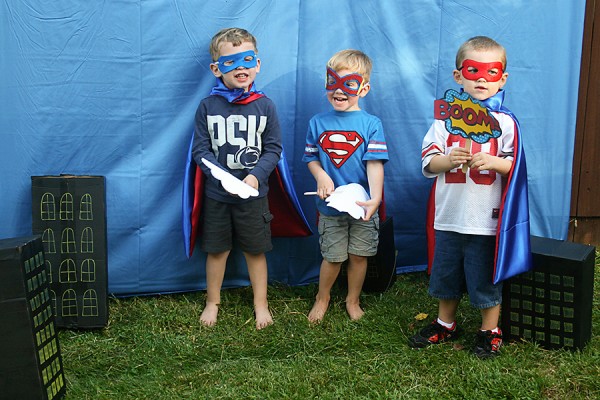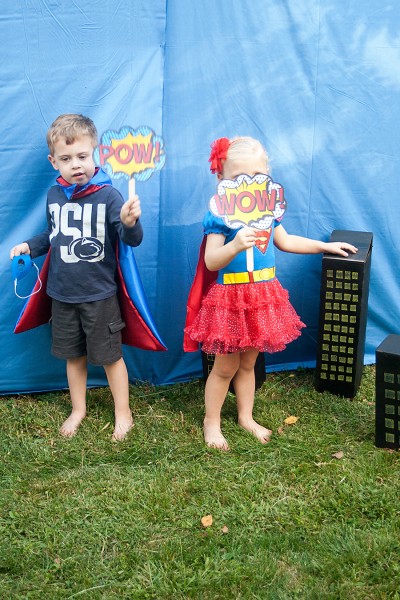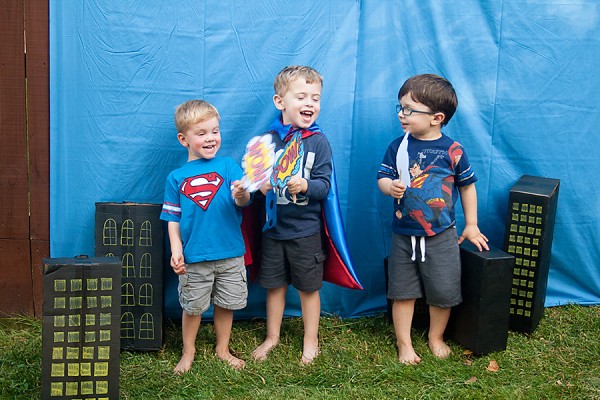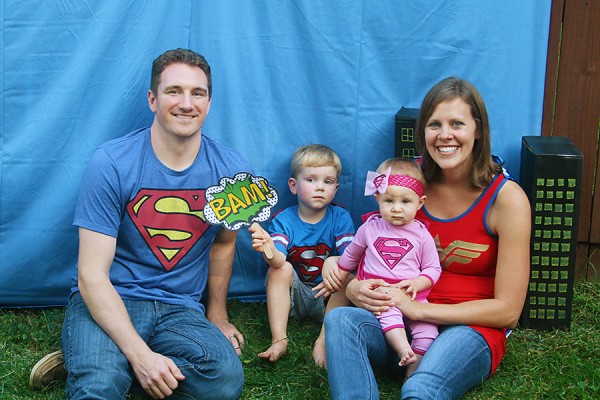 I convinced the grown-ups to get in on the action, too.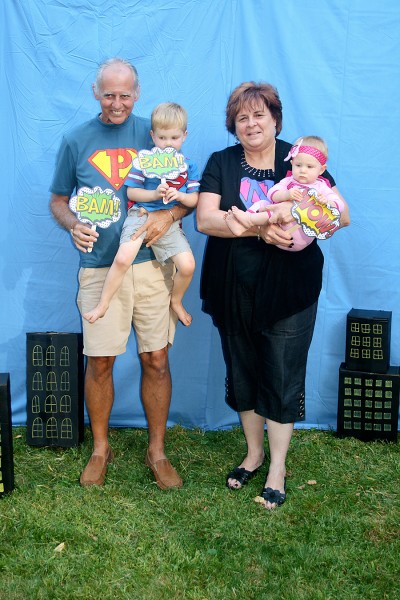 Don't you love the super shirts that my mom made??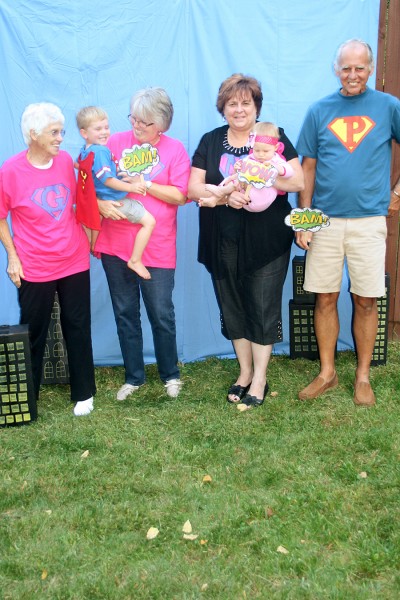 It's not a party without cupcakes. The more sprinkles, the better.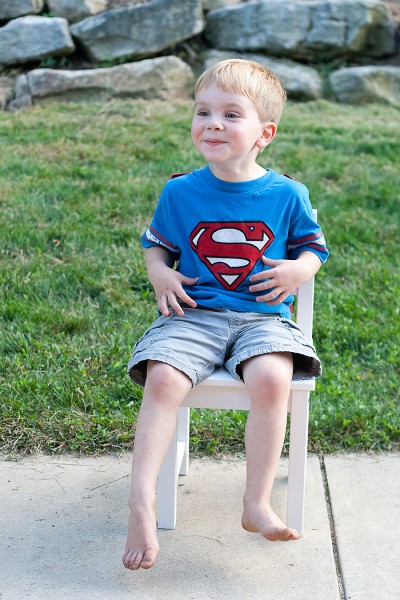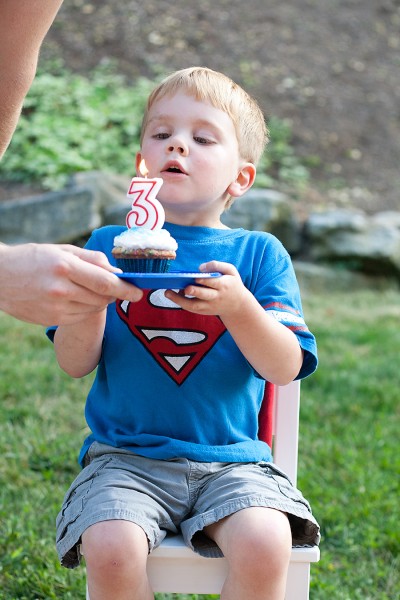 Most of Sam's gifts were superhero themed. And he couldn't have been happier.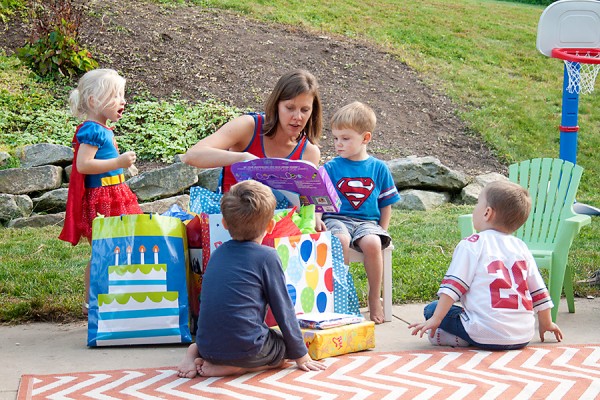 Boys and their toys!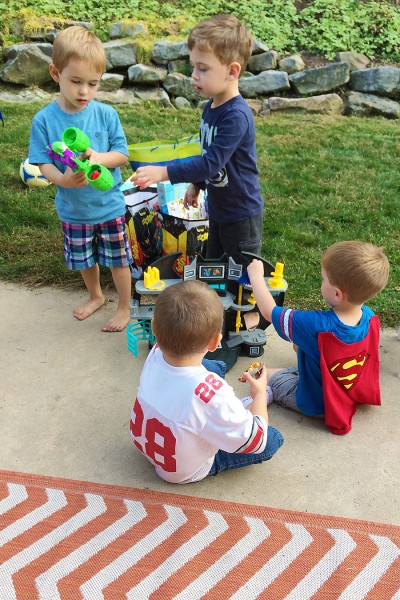 Sam may have been the guest of honor, but I think Nora may have stolen the show with her cute super sister outfit. I found my Wonder Woman shirt and cape at our local Halloween store, and I picked up Nick's Superman t-shirt at Old Navy.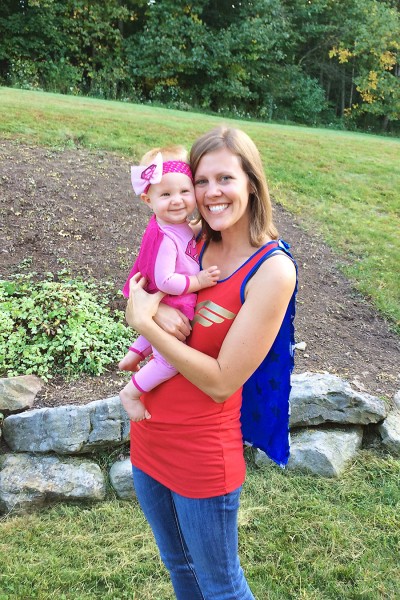 I love that some of the kids dressed in their superhero best!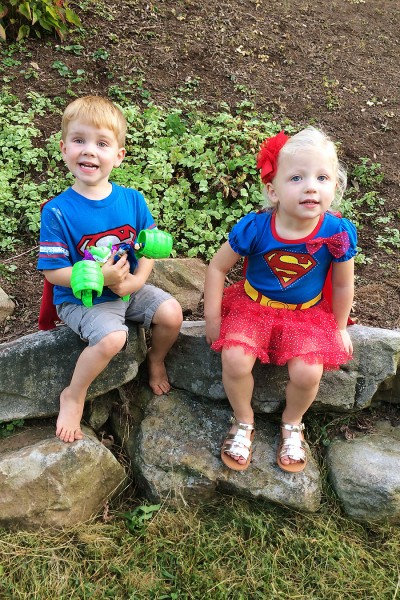 We had such a wonderful afternoon celebrating our Super Sam with family and friends!
Sam's First Birthday: Polka Dot Party
Sam's Second Birthday: Construction Party