This pasta dish is a favorite weeknight meal of ours. It's hearty and tasty and comes together in less than 30 minutes. I've had four requests for the recipe since I posted it on Instgram, so I figure that makes it blogworthy. Enjoy!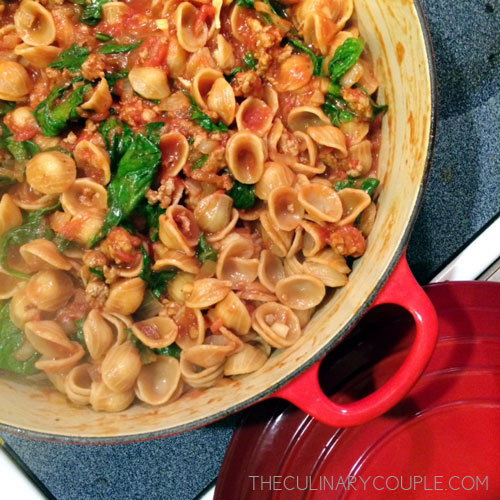 Orecchiette with Sausage Sauce
Serves 6.
Ingredients
1/2 lb sweet Italian sausage
1/2 lb hot Italian sausage (or just use 1 lb sweet)
olive oil
1 onion, chopped
4 cloves garlic, chopped
28 oz crushed tomatoes
1/2 cup beef broth (or red wine)
salt and pepper
1 lb orecchiette
1 big bunch spinach
Parmesan cheese for topping
Directions
Remove sausage from casing, crumble, and cook over medium heat until brown, about 5 minutes. Remove cooked sausage from pan and place on a separate plate lined with a paper towel.
Add olive oil, chopped onion, and chopped garlic to pan. Saute for about 5 minutes.
Add sausage back to pan, plus tomatoes and broth/wine. Season with salt and pepper. Set heat to low and simmer sauce.
Meanwhile, cook orecchiette according to package directions, about 11 minutes. Add spinach to sauce when you have about 4 minutes left on the pasta.
Toss pasta with sauce and serve with cheese.