I love fall for so many reasons. Sweaters and boots; pumpkin pecan waffles and apple crisp with vanilla ice cream; crunchy, colorful leaves; college football; and soup. Yes, soup season is here, and I want to share with you one of our favorites.
In my opinion, a good soup is thick and hearty, a little bit spicy, and leaves you feeling warm and full. This White Chicken Chili is all of those things and more. I got the recipe from blog friend Sarah, and I have made it at least a dozen times since she shared it with me last year. (Side note: Sarah's husband is assistant brewer at Gunpowder Falls Brewing in New Freedom, PA. And Nick has been thoroughly enjoying the case of Dunkel I bought for his birthday!)
Now back to the chili. The list of ingredients is simple: chicken, smoked sausage, two types of beans, onions and garlic, spices, and corn starch for thickening.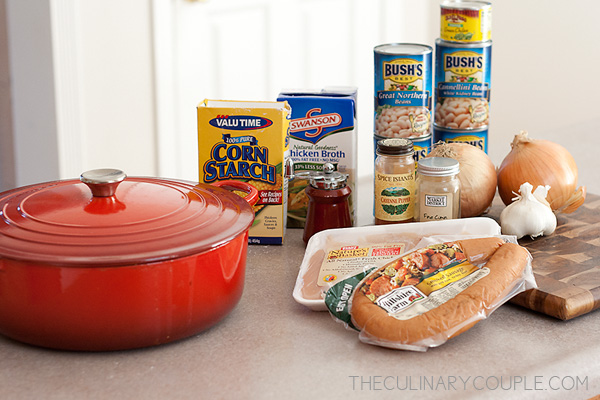 You can cook the chicken in advance, and chop the sausage, onions, and garlic. Then store it all in a big Ziploc bag. I do this if we are expecting company, and I don't want to spend too much time in the kitchen after they arrive.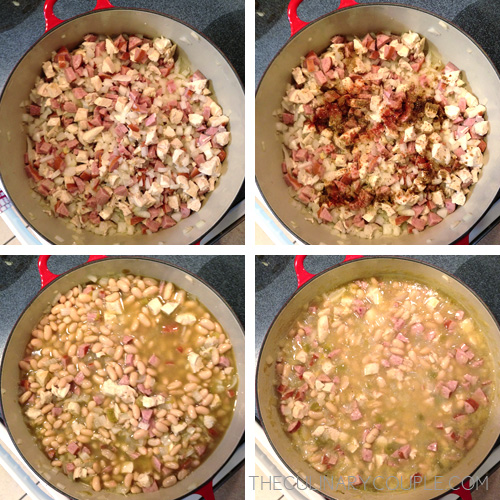 Once everything is prepped, it takes less than 30 minutes to simmer and thicken. Topped with Monterrey Jack cheese and a big dollop of sour cream and served with a side of tortilla chips, it's a perfectly comforting fall dinner.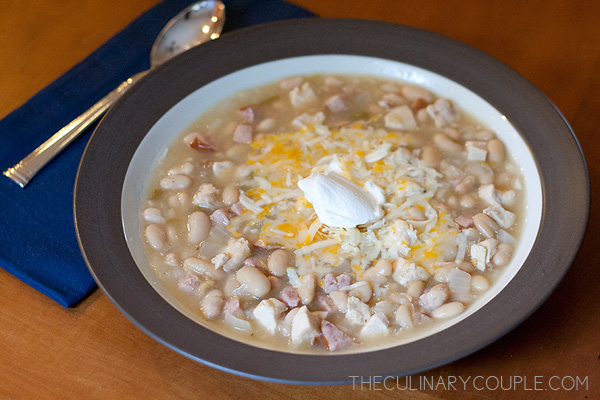 White Chicken Chili
Serves 8.
Ingredients
1 lb boneless skinless chicken breasts

1 lb smoked sausage, diced

2 large onions, chopped
6 cloves garlic, chopped
2 cans (15 oz) great northern beans
2 cans (19 oz) cannellini beans
1 can (4.5 oz) diced green chiles
3 tsp ground cumin
2 tsp pepper (preferably white, but black will work)
1/4 tsp cayenne pepper
1 Tbsp extra-virgin olive oil
2 cans (14.5 oz) chicken broth
4 Tbsp cornstarch
4 Tbsp water
Monterrey Jack cheese, sour cream, and tortilla chips for garnish
Directions
Add olive oil to a heavy pot or dutch oven and cook the chicken over medium heat, about 5 minutes per side. Remove from the pot and set aside.
Add onions to the pot and cook until they start to get translucent, about 5 minutes. Add garlic and diced smoked sausage; cook 3-5 minutes more.
Add chicken back to the pot, along with the diced green chiles, cumin, white pepper, and cayenne pepper; stir and cook 1-2 minutes.
Raise the heat to high and add chicken broth and beans. (Drain and rinse the beans before you add them.) Bring the pot to a boil.
In a separate small bowl, mix together cornstarch and water. Add to the chili and simmer until it reaches desired thickness, about 20 minutes.
Garnish with cheese and sour cream and serve with tortilla chips for dipping.