Nick has been enjoying a very wonderful spring break from school. Actually, we've all been enjoying it. No class on Tuesdays and Thursdays means leisurely dinners with glasses of red wine. It means no late night homework sessions and no group project meetings on Saturday mornings. It means he has more time with Sam and Lucy, and I have more time to … organize the office, paint the laundry room, convert the basement into a playroom. You know, stuff that's impossible to do while chasing a toddler and a puppy.
But it's back to class next week. Back to reality. And back to crock pot meals. Fortunately we've found a few favorites that we don't mind making over and over and over again. Here is one.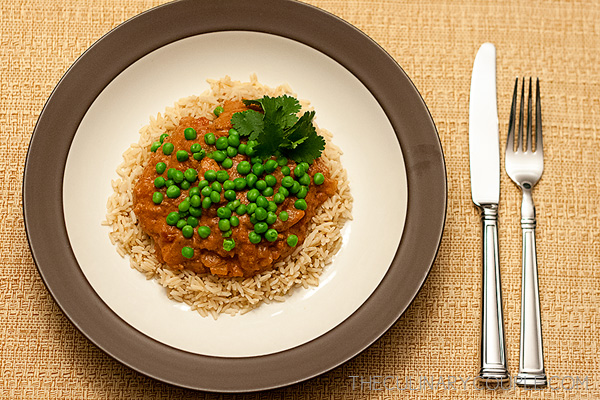 This recipe comes from Jenna of Eat, Live, Run. It's spicy and comforting. It's simple to make and perfect for Nick to eat on his way out the door. I like that he can enjoy a hearty home cooked meal before a full night at school. It's Indian food made easy. Though, we are anxiously awaiting an authentic Indian meal prepared by Nick's classmate and friend, Rajesh, and his wife, Ayantika!
Do you have a favorite crock pot meal to share?
Chicken Tikka Masala in the Crock Pot
Serves 6.
For the Chicken
1 lb boneless, skinless chicken breasts
1 Tbsp ground coriander
1 Tbsp ground cumin
1 tsp kosher salt
1 cup Greek yogurt
4 Tbsp butter
1 whole jalapeno pepper, stem removed and pierced several times with a sharp knife
For the Sauce
4 Tbsp butter
1 onion, diced
6 cloves garlic, minced
1 Tbsp kosher salt
3 Tbsp Garam Masala
1 piece fresh ginger, about 2-3 inches, peeled and grated
28-ounce can crushed tomatoes
1 Tbsp raw sugar
2 tsp cornstarch
1 1/2 cups heavy cream
To Serve
Hot buttered rice and peas
Chopped fresh cilantro
Directions
Cut the chicken into 1 – 1 1/2 inch pieces. Sprinkle the coriander, cumin, and salt over the chicken, then stir in the yogurt until all of the pieces are evenly coated. Cover lightly and let sit for 10 minutes before proceeding.
Melt 2 tablespoons of butter in a large saute pan over medium heat. Raise the heat to medium high and quickly brown the chicken. Transfer browned chicken to the crock pot, and throw the pierced jalapeno in on top.
Return the pan to the heat and melt remaining 2 tablespoons of butter over medium high heat. Add the onions, garlic, and kosher salt, then stir. Cook, stirring frequently, until the onions begin to lightly brown around the edges.
Stir in the garam masala and ginger and cook until fragrant (about 1 minute) before raising the heat to high and adding the crushed tomatoes and raw sugar. Stir well, scraping the caramelized bits from the bottom of the pan, and bring to a boil. Pour over the chicken in the crock pot.
Cook on LOW for 5 hours, or until the chicken is very tender.
Whisk the cornstarch into the heavy cream until smooth. Pour into the crock pot, and stir until combined. Cook for 10 minutes more, or until bubbly around the edges.
Serve over hot rice and peas, topped with a generous amount of chopped cilantro.
(Adapted from Eat, Live, Run)