The reason for our trip to Clearwater was to celebrate the marriage of Greg and Whitney! Nick has known Greg since grade school, and we all knew when we met Whitney that he would one day call her his wife. That one day was 07-21-12!
On Friday night, I joined Nick at Beachcomber for a fantabulous rehearsal dinner. We enjoyed cocktails, crab cakes, and lobster tail, followed by key lime pie for dessert. And I got all teary when Greg gave a toast to the soon-to-be Mrs. H. I really love it when these boys get all sweet and sentimental.
Nick's parents and Sam joined us later for the welcome party at the Hilton. Fortunately, Sam had a late nap and hung with us until almost 9pm.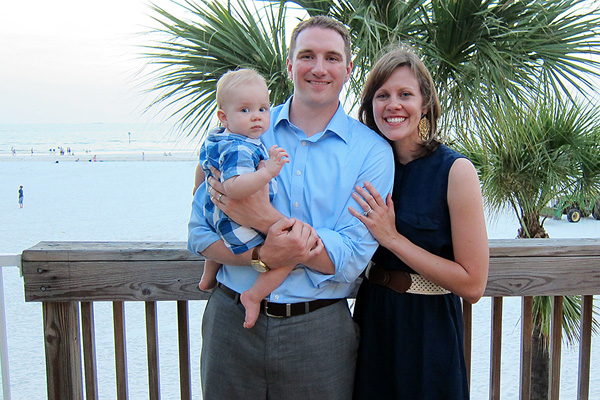 He even had enough energy for storytime when we returned to our hotel.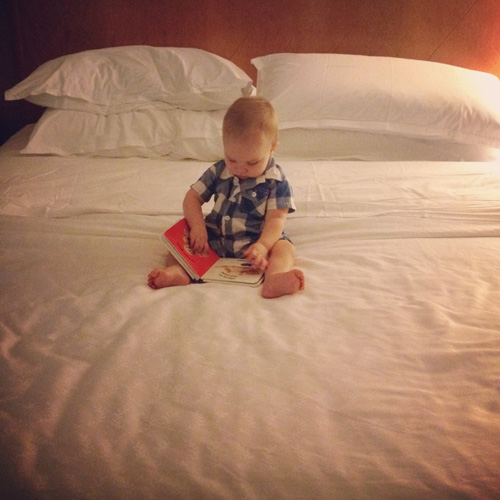 The boys golfed on Saturday morning while the girls brunched (and the babies slept). Then it was time to get all fancy for the main event! And my Sammy in his plaid bow tie? Most definitely the cutest thing ever.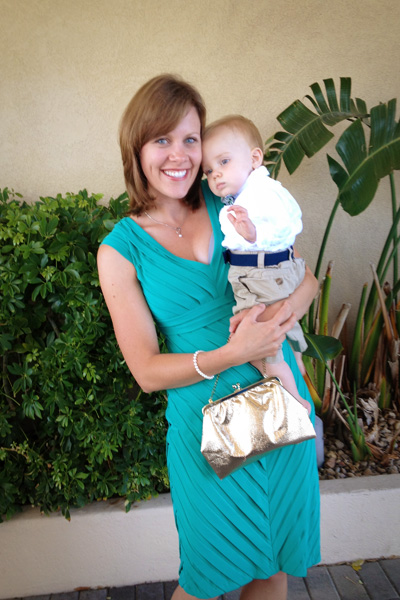 Sam was such a doll during the ceremony. He waited patiently for the beautiful bride to make her entrance, then occupied himself with graham crackers, bangle bracelets, and Daddy's boutineer. (We may have left a few rose petals behind.)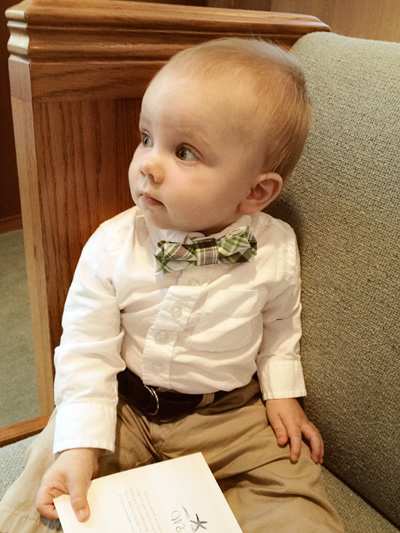 The ceremony was short and sweet, and my favorite moment was when Whitney's dad walked her down the aisle to a song he wrote just for her — and that nobody had ever heard. (He's in the country music biz in Nashville.)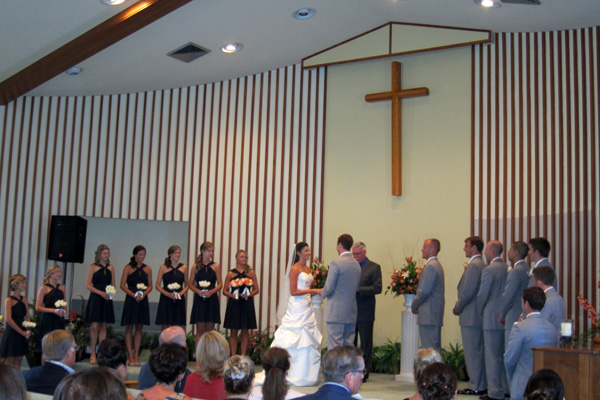 Then it was off to the Yacht Club to party! (Yes, Nick and Sam are wearing matching ties. My dapper gentlemen.)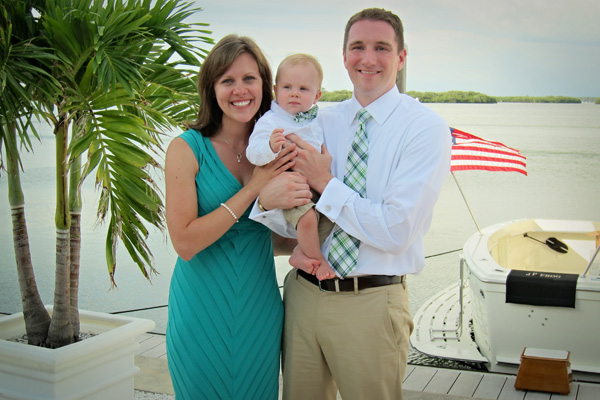 The setting was beautiful — just the right amount of class and color.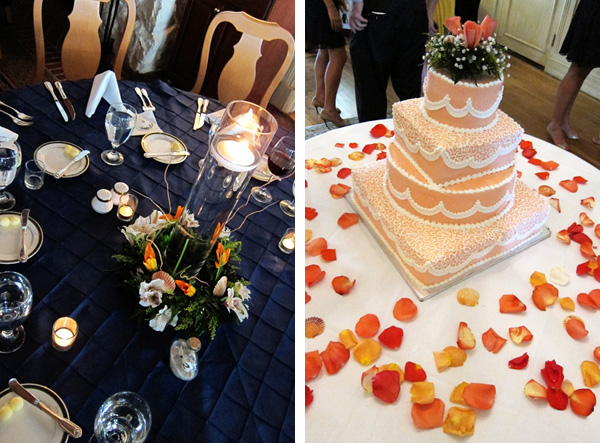 They even had a cigar roller!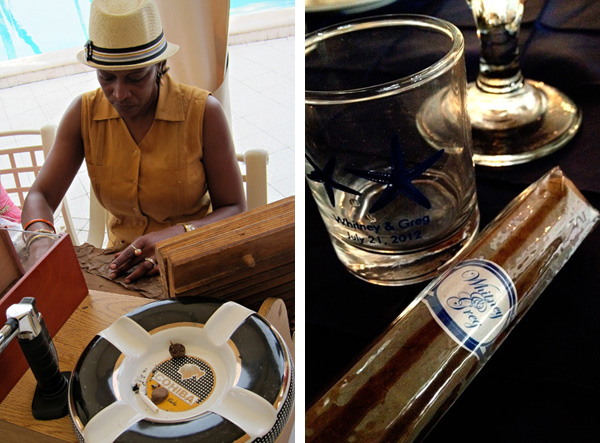 The lovely couple could not stop smiling during their first dance as husband and wife.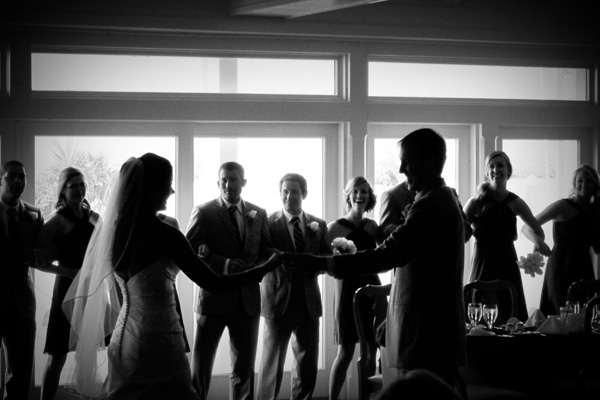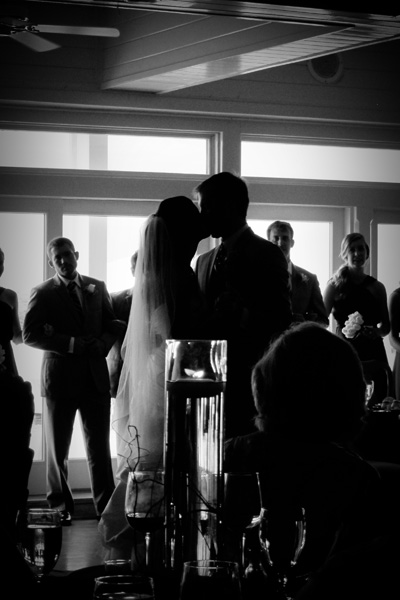 And the toast by Greg's two younger brothers was certainly the most entertaining wedding toast I've ever heard. Those three are quite the comedians!
Just after cocktails and before dinner, the sky turned from bright blue to an ominous shade of gray. Then … it let loose! Rain, wind, waves crashing on the dock. It was pretty spectacular. And brought back such fond memories.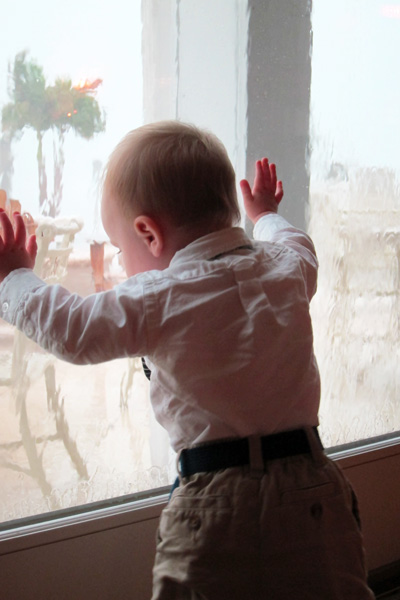 Baby boy was such a trooper that night. No matter that it was more than two hours past his bedtime, he wanted to dance! He was quite fascinated by the loud music and lights circling the ceiling.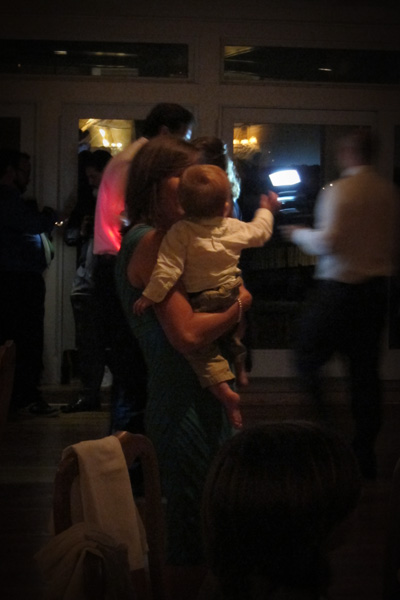 But, finally, our little party animal passed out in Daddy's arms. And we called it an early night. Gone are the days of after parties and cigars and celebratory shots. But we're okay with that.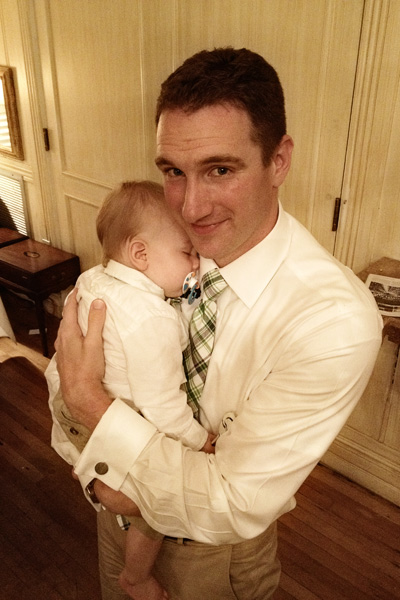 We were thrilled to share the day with some of our best friends. (P.S. Isn't the bride's party dress ah-mazing?!) Congratulations, Greg and Whitney!