My favorite thing about our recent trip to New York City? (Besides seeing my brother, of course.) The sweets! We seriously indulged, but it was worth every calorie.
Magnolia Bakery
I have wanted to visit Magnolia Bakery since watching Sex and the City marathons in college. We stumbled upon it by accident, really, during our Monday morning walk with Sam. So I grabbed an Apple Walnut Muffin to go, which we enjoyed with a cup of coffee back at Andrew's apartment while Sam napped. The chunks of apple were seriously huge! And sweet. The muffin was moist and delicious and the best way to start our day.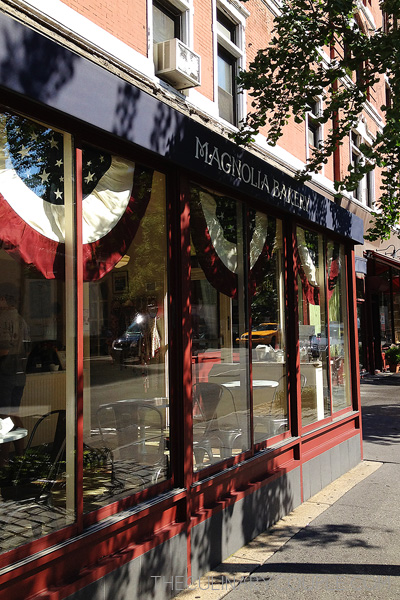 During our visit, the Upper West Side bakery (the original location is in the West Village) was decorated appropriately for July 4th festivities, and the red, white, and blue perfectly complimented the rustic charm of the shop.
I shall return some day to sample their cupcakes.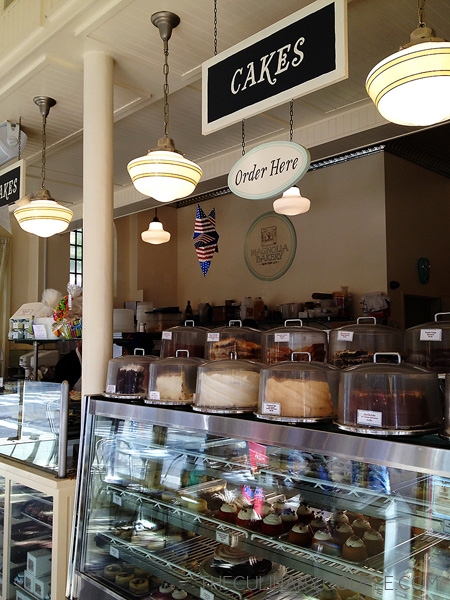 Crumbs Bake Shop
Andrew has raved about Crumbs since first visiting it last fall. In fact, he prefers it over Magnolia Bakery. And so I went in with high expectations.
The ambiance is not nearly as charming at Magnolia's, but — wow! — the selection of cupcakes is impressive. Red Velvet, Cookies and Cream, Blueberry Swirl, Butter Pecan, Cookie Dough, Mudslide, Milkshake, and S'mores, to name a few.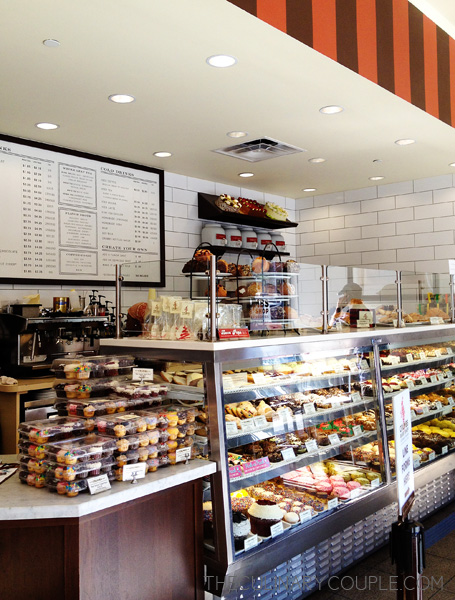 We selected the Peanut Butter Cup to share. And it did not disappoint. Chocolate cake filled and frosted with peanut butter buttercream and topped with peanuts, chocolate chips, and peanut butter cups.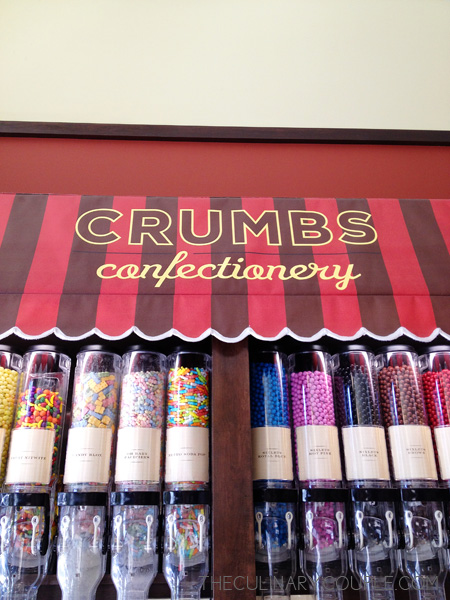 Momofuku Milk Bar
Another shop on my "must try" list: Momofuku Milk Bar. Solely for its Crack Pie — an oatmeal cookie crust topped with a sweet, gooey, buttery filling. Apparently, people go insane for this pie. I must admit, though, I wanted to like it so much more than I did. It was just too sweet for me. I much prefer chocolate for dessert — dark and slightly bitter.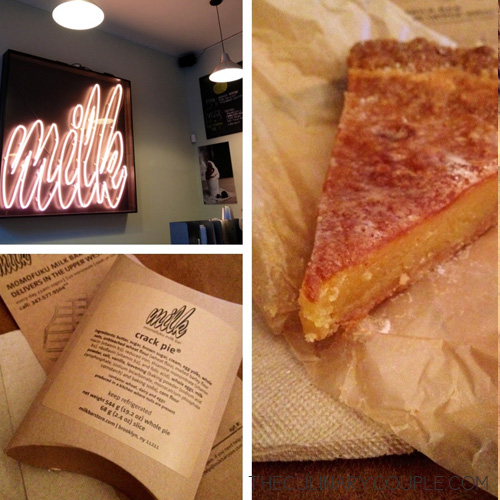 Bouchon Bakery
And the winner is … Bouchon Bakery! Our favorite sweet stop of the trip. We visited the location in the Time Warner Center, which overlooks Columbus Circle. (Also the location of Thomas Keller's incredibly exclusive Per Se. We went upstairs just so I could drool over the menu.)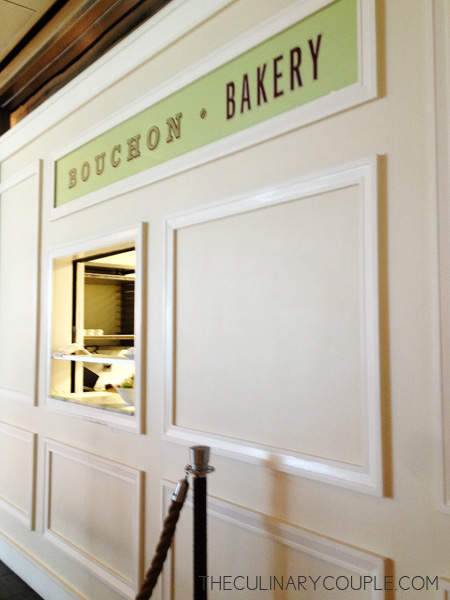 Inspired by the boulangeries of Paris, Keller's bakeshop offers a selection of macarons, croissants, tarts, cookies, and chocolates.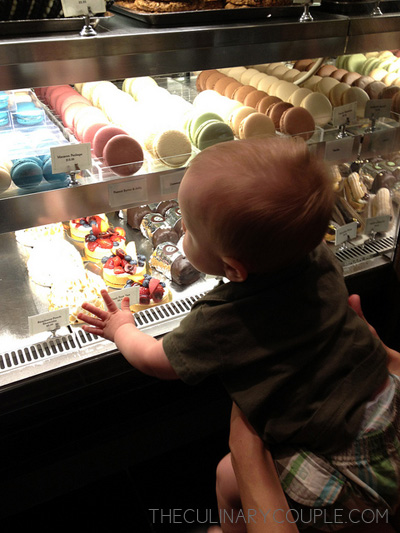 I chose two petite and absolutely perfect macarons: chocolate and pistachio. Light and crisp on the outside and soft and chewy on the inside. I could have eaten at least four more.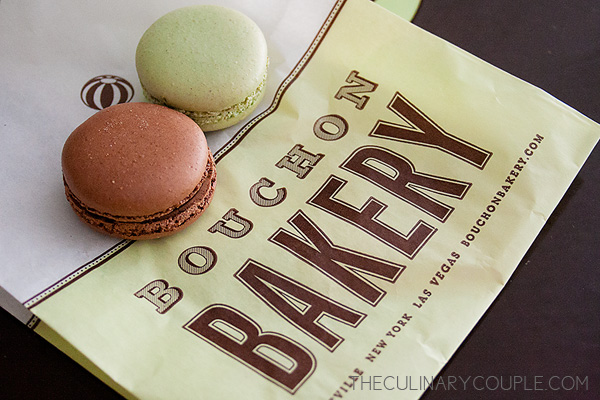 Nick and Sam went the more traditional route and chose a giant chocolate chunk cookie. Oh, man, was it good!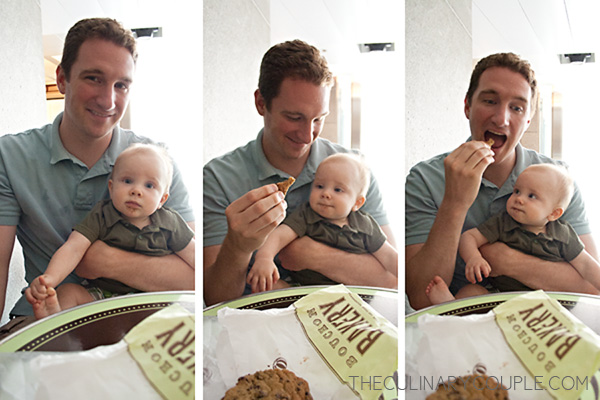 Sam could not stop saying "mmm mmm mmm."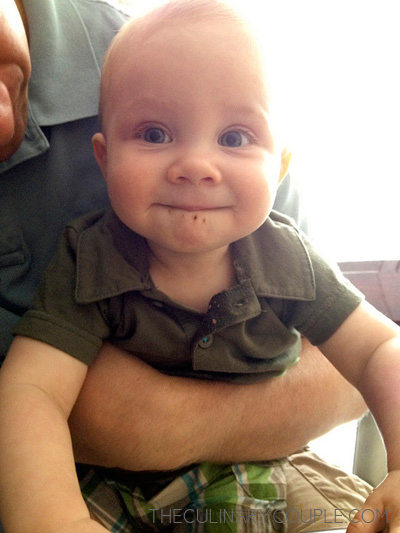 Good company. Great view. And incredibly tasty treats.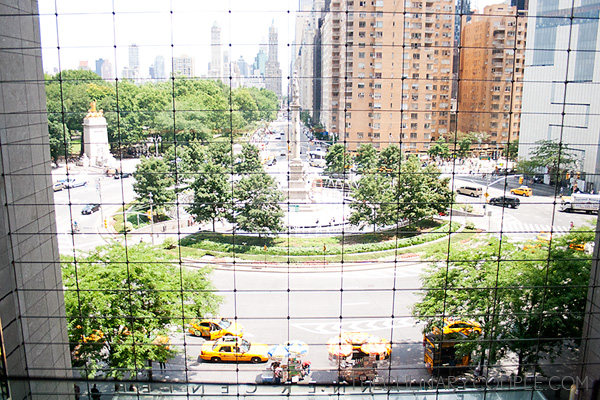 Financier Patisserie
Finally, a surprise dessert! And a very close second to Bouchon. Andrew brought home the Frasier cake from Financier Patisserie for an early birthday celebration. Layers of fresh strawberries, vanilla biscuit, and almond macaron with a mousseline topping and a touch of Grand Manier. Divine.
Nick and I agreed that this trip to New York City was our favorite thus far. Thank you, Andrew, for your fabulous hospitality! And thank you, Sammy, for being such a good little traveler.