(Thank you all SO much for your sweet comments on yesterday's post!)
Want to know how confident I was that Nick would get into CMU? I baked this decadent and celebration-worthy dessert before he received confirmation of his acceptance.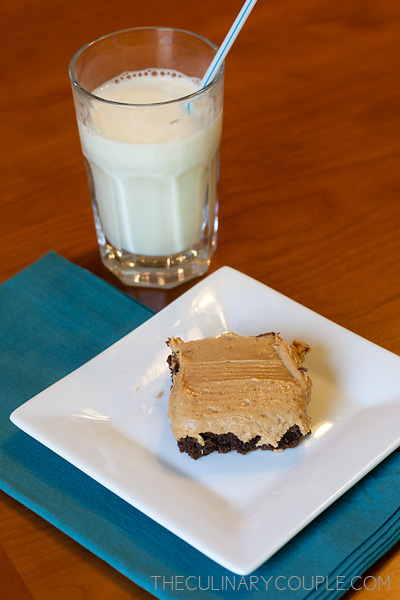 Thankfully, he got the good news at 3:30pm, just as I finished spreading peanut butter frosting onto these fudgy homemade brownies. Because Nick loves brownies, but this occasion called for something a bit more special than a boxed recipe. And what's more special than melted chocolate, three types of sugar, and creamy peanut butter?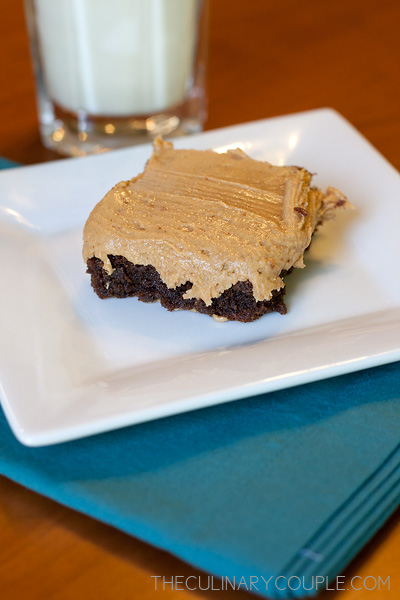 Congratulations, Nick! Thanks, as always, for giving us a reason to indulge.
Fudgy Brownies with Peanut Butter Frosting
Makes 24 brownies.
Ingredients for Brownies
1/4 cup unsweetened cocoa powder

1 cup all-purpose flour
1 tsp salt
1 tsp baking powder
6 oz semi-sweet chocolate
2 sticks unsalted butter
1/2 teaspoon espresso powder
4 large eggs
1 cup light brown sugar
1 cup sugar
1 Tbsp vanilla extract
Ingredients for Frosting
6 Tbsp unsalted butter, melted
3/4 cup powdered sugar, sifted
1 cup + 1 Tbsp smooth peanut butter
1 tsp vanilla extract
1/2 tsp salt
Directions
Preheat the oven to 350°F. Line a 9×13-inch pan with tinfoil, letting the foil hang over the edges. Coat foil with non-stick spray.
Place chocolate, butter, and espresso powder into a heat proof glass bowl set over a pot of simmering water, about 2-3 inches deep. (Do not let the bottom of the bowl touch the simmering water.)  Melt chocolate and butter together, stirring occasionally, then remove the glass bowl from atop the pan and set aside to cool.
Meanwhile, in a medium bowl, sift together cocoa powder, flour, salt, and baking powder. Set aside.
In another mixing bowl, whisk together eggs, brown sugar, white sugar, and vanilla. Whisk until mixture is pale in color and thick. Add cooled chocolate mixture and whisk until incorporated. Whisk in dry ingredients.
Pour batter into prepared baking dish and bake 30-35 minutes until a toothpick, when inserted, comes out clean with a few moist crumbs attached. Remove from the oven and let cool for 10 minutes. Then lift brownies from pan and transfer to a wire rack to cool completely. (Unless you're using a glass pan, then remove immediately.)
For Frosting: In a medium bowl, combine melted butter, peanut butter, powder sugar, salt, and vanilla; beat until smooth. Spread onto cooled brownies and enjoy! Store brownies in an airtight container in the refrigerator.
(Adapted from Fork vs. Spoon)