The past six weeks with our sweet son — and with each other — have been so wonderful. That's right. Nick was very fortunate to receive six weeks paid paternity leave from his company. Have you ever heard of something so awesome? And let me tell you — he took advantage of each and every minute.
From snuggling with Sammy and dancing with him around the living room to taking walks through the park and reading books at bedtime, he is such an amazing father. He's a pretty amazing husband, too. He brewed our coffee every morning, brought me countless glasses of water while I was nursing, and prepared dinner almost every night.
But today he had to return to work. Needless to say, we missed him a whole lot. And not just because he was our chauffeur for the past month-and-a-half. Or because while he was home, I was able to shower every morning … and dry my hair and put on makeup. (I know not all new mommas have that luxury.) No, we missed him most because he makes us laugh with silly songs and stories and goofy faces. He's that kind of dad. And I think he really missed us today, too. So much so that he came home for lunch. Which he never did before, but I won't take it personally. I'd drop everything just to see this smile, too.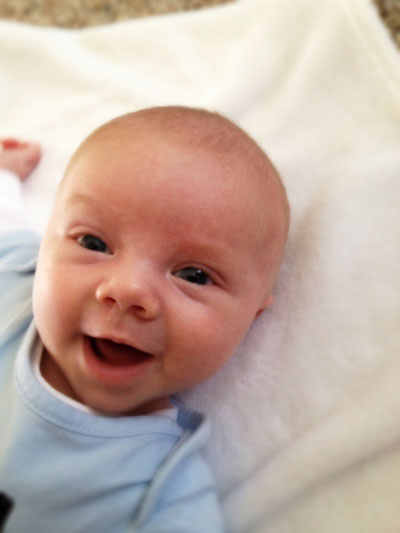 I know we won't be so lucky to see Daddy every day during lunch, but a certain little someone really enjoyed the treat today.