While Nick and I are spending time with our Peanut, I would like to introduce you to a few of my lovely blog friends.
Elizabeth blogs about food and life in Texas at Musings of The Waspy Redhead. She doesn't just cook, though, she hosts Royal Wedding viewing parties and judges local food competitions and bakes wedding cakes. Yes, she's a woman of many talents.
Hi there Culinary Couple readers, it's Elizabeth, the Waspy Redhead here. I couldn't be more pleased to contribute a guest pots for Emily & Nick as they focus on welcoming the precious peanut. With Fall starting to assert itself, this recipe is the perfect seasonal treat. I first made this last September, and it was one of my favorite new recipes of 2010. The full recipe (below) bakes up two loaves. You'll want to make two so you can share one with your friends, family or coworkers – but you can easily halve the recipe if you just want one.
This recipe is great for entertaining, great for a simple dessert, and the perfect thing to give as a gift. If I were neighbors with Emily & Nick, and not just a "good friend from the internet," I would definitely pop by with a full batch of this bread to keep them sated and sane as they enjoy having a new bundle of joy around.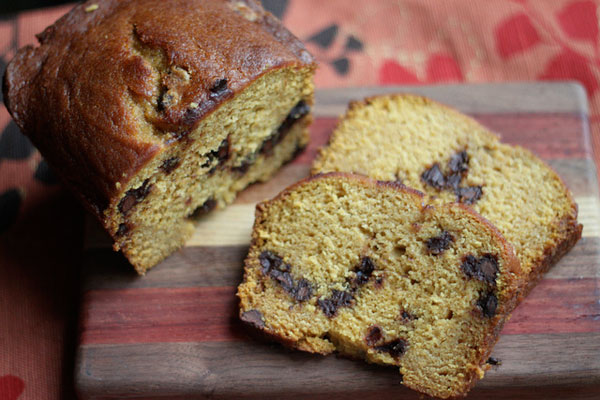 Chocolate Chip Pumpkin Bread
Adapted from Tasty Kitchen User: callimakesdo
Ingredients
3 1/3 cups all-purpose flour
2 teaspoons cinnamon (I used pumpkin pie spice instead)
2 teaspoons baking soda
1 teaspoon baking powder
1 1/2 teaspoon salt
2 2/3 cups sugar
2/3 cups softened butter
4 whole eggs
1 can pumpkin puree (not pumpkin pie filling!)
2/3 cups water
1 1/2 cups semi-sweet chocolate chips
Directions
Preheat oven to 325 degrees. Sift together dry ingredients and set aside. Cream sugar and butter until well incorporated. Add eggs one at a time and then add the mashed pumpkin. Alternate adding dry ingredients with water. Fold in chocolate chips.
Pour into two large greased bread pans and bake at 325 degrees for 55 to 60 minutes or until a cake tester comes out clean.