While Nick and I are spending time with our Peanut, I would like to introduce you to a few of my lovely blog friends.
Anna and I are blog friends turned real-life friends, and we certainly had some fun times together while she and her husband lived in Pennsylvania. Now they're in Alabama, and Nick and I both miss seeing them on a regular basis. Plus they recently announced that they're expecting their own bundle of joy this spring! I only wish we were still neighbors so we could properly celebrate — virgin cocktails for the ladies and homebrews for the boys.
Hello, Culinary Couple friends!
My name is Anna, and I blog about my own eating adventures over at On Anna's Plate. Emily and I connected through the blog world, but I've had the privilege of counting Emily and Nick as real-world friends as well. My husband and I recently moved to Alabama, but when we were living in Pennsylvania, we were lucky to sample many of the culinary offerings of the Culinary Couple — like home-brewed ales, chocolate salted cake, and butternut squash chili! Emily and Nick are very talented in the kitchen, so when she asked me to create a guest post for their blog, I knew the recipe would have to be good.
While they're spending time with their Peanut, I figured…what better time to make a peanut stew!? Okay, it's actually an almond butter stew…but you top it with peanuts! That counts, right?
Fall is one of my favorite times of year — the pumpkins, the crisp weather, the crunchy apples…the list goes on and on. And topping the list for me is comforting soups and stews. I love nothing more than digging into a warm bowl of stew on a chilly fall night, and this stew is absolutely perfect for doing just that. Another nice thing about soups and stews is that they're almost always relatively impossible to screw up. You don't have to follow the recipe as closely as you might with other dishes — a little of this…a little of that…it's all going into the same pot! Although I will say, if you decide to make this stew, I'd follow the recipe…because it's pretty darn tasty!
In honor of Peanut's arrival…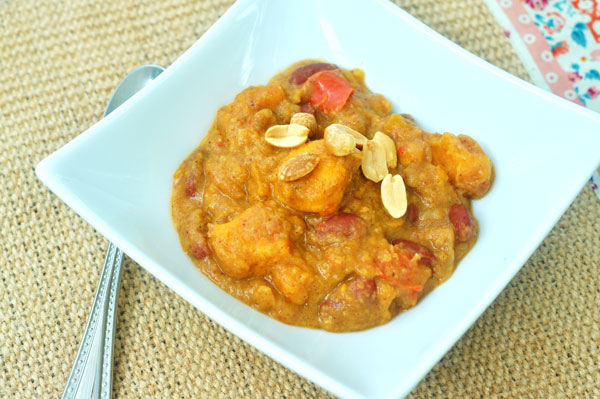 Nutty Sweet Potato Stew
Ingredients
1 tbsp. olive oil
1 onion, chopped
3 cloves garlic, finely minced
2 medium-to-large sweet potatoes, peeled and chopped into 1-inch cubes
½ red bell pepper, chopped
1 can kidney beans, drained and rinsed
½ tsp. cinnamon
½ tsp. paprika
½ tsp. cardamom
salt and pepper to season
6 cups chicken or vegetable broth
½ cup almond butter (I use Maranatha raw almond butter — it's pricey, but is so creamy and delicious, I think it's worth it.)
peanuts to garnish
Directions
In a heavy-bottomed soup pot, heat olive oil. Add onion and cook for about 10 minutes, until beginning to soften. Add garlic and cook for another 3 minutes. Add bell pepper and sweet potatoes, plus ½ cup broth. Cook for about 10 minutes. Add beans and spices, seasoning with salt and pepper as well. Add remaining broth, and bring to a boil. Boil for about 2 minutes, then reduce heat and cover. Simmer, covered, for about 20 minutes, until sweet potatoes have softened. Uncover and simmer for another 15 minutes or so, until desired thickness is achieved. If you want the stew to be more "broth-like," you can leave it as is. If you want it to be thicker and chunkier, you can mash up some of the sweet potato chunks with the back of a wooden spoon, leaving however many chunks whole as you'd like. Add in almond butter and stir to blend. Garnish with peanuts, and enjoy!
There you have it…peanuts for Peanut!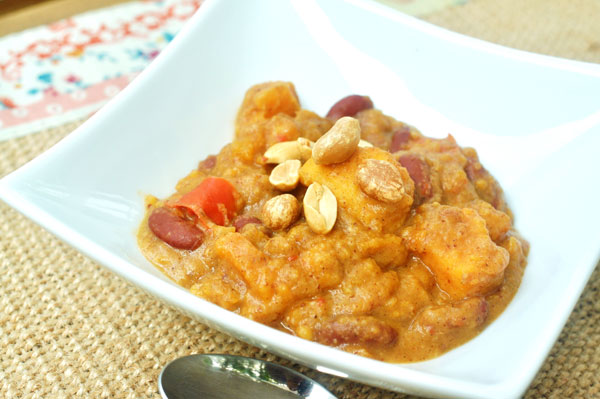 Truly delicious. The sweet potatoes balance nicely with the combination of spices, and the whole stew has a delicious nuttiness from the almond butter. Perfect for a brisk fall night!