Well, nobody — including Mommy and Daddy — predicted that our Peanut would arrive more than a week past his due date. Another surprise? That Sammy is a tiny Peanut. In fact, we had to buy more newborn onesies and pants — in little boy colors and stripes, of course — to get us through the next few weeks.
And now onto the Target Giveaway winner! Sam would like to congratulate …
… Danielle!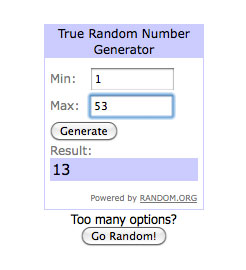 Thank you all for playing; it was so much fun to read your guesses. And as I've said a million times already, we are so in love with our baby boy and look forward to sharing stories from the past week. It has been both the most exhausting and the most exhilarating time of our lives.
Now please excuse me while I go stare at this sweet face. I just can't get enough.