While Nick and I are spending time with our Peanut, I would like to introduce you to a few of my lovely blog friends.
Tara and I first met through EAD Living where we both contribute stories about married life, cooking, and nesting. Tara is quite talented both in the kitchen and behind the camera. I admire her simplistic and beautiful photography, which you can find on her blog In This Instance. Her and her husband also share a passion for cooking (sound familiar?), which they chronicle at Two Cooks One Kitchen.
Hello Culinary Couple readers!
I was so honored when Emily asked me to visit over here with a guest post. I am a huge fan of The Culinary Couple and am so happy for them during this exciting time. It is pretty cool how they decided to wait to find out the gender of their first born – such patience! Congrats again to Nick, Emily, and Baby!
When a friend has recently had a baby I like to make a tasty treat to bring them. A homemade dinner frozen and ready for a night when delivery is less than novel and yet cooking is just not in the cards is always nice; manicotti is my favorite to give. And along with that dinner I like to bring a cake – something that smells homey and nourishes with each slice. With the recipes for both to add to their collection.
The type of cake I take changes based on the season. We are coming up on apple season and fall, so for today I had to make something that would showcase the flavors of this time of year. The other thing that makes a great cake for a family with a little one is the potential of the recipe. I imagine that a new mom won't have a lot of free time for fussy recipes so a super simple recipe that she can make in a matter of moments is the perfect kind recipe to have on hand.
This Afternoon Applesauce Cake smells cozy and homey. It couldn't be easier to make; the ingredients are all basic pantry items and it requires a minimal number of utensils making clean up a snap. I could imagine this recipe being an excellent one for a kid just learning to bake… That is the type of recipe potential that I look for when picking out a cake to bake for new mom.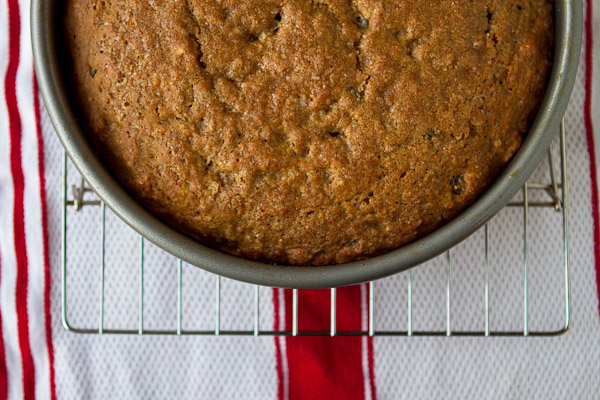 What recipes with potential do you like to take when visiting a family with a fresh little addition?
Afternoon Applesauce Cake
Makes one 9″ cake.
Source: Canning for a New Generation by Liana Krissoff
Ingredients
2 1/2 cups all-purpose flour
3/4 cup packed light brown sugar
1 tsp ground cinnamon
1/2 tsp freshly grated nutmeg
1/4 tsp ground cloves
1 1/2 tsp baking soda
1/2 tsp kosher salt
1 cup applesauce (homemade if you have it!)
1/2 cup vegetable oil
1/2 cup water
1 tsp vinegar
1/2 tsp vanilla
1/2 cup walnuts, toasted and chopped
1/2 cup raisins, optional (golden raisins go nicely)
Directions
Preheat the oven to 350 degrees.
In a medium bowl, use a fork or whisk to combine the flour, brown sugar, spices, baking soda, and salt. Add in the remaining ingredients and stir until the dry ingredients are just moistened (careful to not overmix!).
Scrape the batter into a 9-inch cake pan and smooth the top. (I like to use a round cake pan when taking the cake to someone.) Sprinkle the top with turbinado sugar, approximately 1/8 to 1/4 cup, if desired.
Bake in the middle of the oven for 30 to 35 minutes, until a toothpick inserted in the center comes out clean. Cool on a wire rack for at least 15 minutes before cutting and serving.