If you've been following our pregnancy posts, you know that we chose to keep Peanut's gender a surprise. I believe we're in the minority, and perhaps we'll choose to find out for future Peanut(s), but we're so glad we've waited. We figure there is no bigger thrill in life than the jubilant announcement of "It's a boy!" or "It's a girl!" in the hospital delivery room. I also bet it will encourage me to "push harder" when the time comes.
As you can imagine, though, we are incredibly anxious to find out if we're going to have a baby boy or a baby girl. Daddy's little princess or Momma's little man?
I've remained mostly neutral for the past nine months, and Nick has teetered back and forth between boy and girl. Most of our family and friends suspect Peanut will be a boy because boys dominate the Wiley family. But if we have a girl, she will be the sixth generation first-born female in my family.
Also, we can't help but fantasize … Will Peanut have our blonde hair and blue eyes? Nick's prominent ears? My pudgy nose?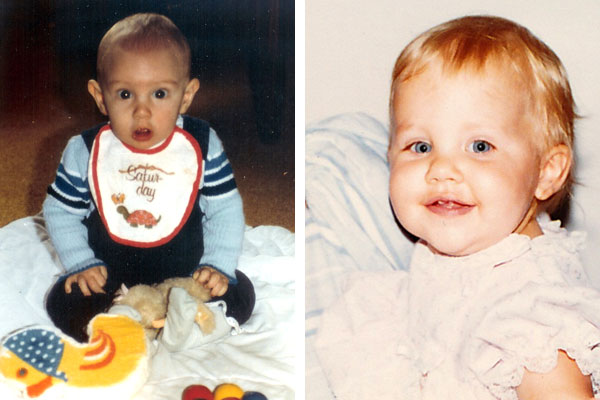 So what do you think? It's time to make your predictions! Share your guesses in the comments section below, and you'll also be eligible to win a $25 gift certificate to Target. Use it to buy either baby or non-baby items (Missoni, perhaps? Or maybe a boppy or diapers or a swaddle blanket?).
Either way, we hope to hear from you!
Share your guesses for gender, birth date, height, and weight in the comments section below.
A few other tidbits you may want to consider. Peanut is due on September 17th. Heartbeat was in the 130s at our 39-week appointment, and I seem to be carrying low and narrow. I was born three days before my due date and measured 7 lbs 7 oz, 19 1/2 inches. Nick was born two weeks early and measured 7 lbs 6 oz, 21 inches.
Terms of the Giveaway
This giveaway is self-hosted and open to all.
Share your guesses for gender, birth date, height, and weight in the comments section below.
Contest ends Saturday, Sept. 24th at midnight (because the doc won't let Peanut go more than a week past his/her due date).
Winner will be selected by a random number generator.
Make sure to include your e-mail address with your entry so we can contact you if you win.
Thanks for playing!