I love the details in life. They turn moments into memories. I inherited this appreciation from my mother, and my sister got it from her, too. So it came as no surprise that the two of them planned the perfect baby shower for me, full of so many creative and personal touches.
They hosted the shower in my parents' home — warm and welcoming and trimmed with festive turquoise and lime green decorations.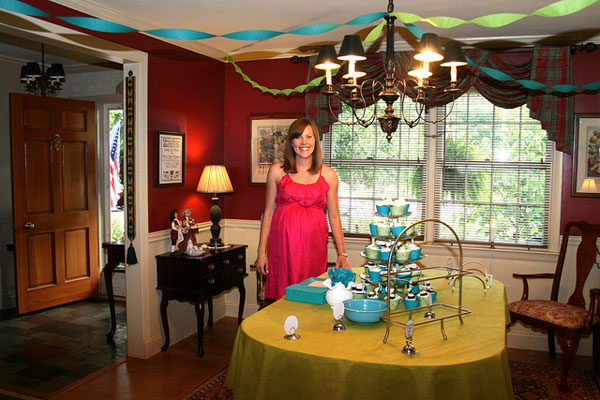 This was the sign that greeted guests as they walked in the front door. And there was a matching "Mommy To Be" sign strung across the bookcase in the family room.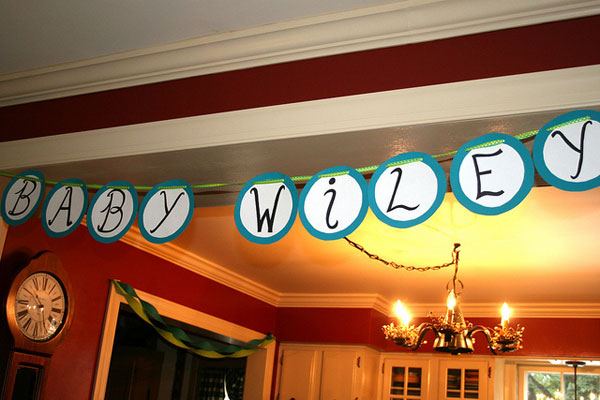 Like I said, Mom and Laura didn't miss a thing! There were bowls of colorful candies placed around the house. Personalized paper straws that we used to sip a delicious lime sherbet punch. Diaper pin bracelets. Water bottles labeled with a sweet saying: "Tiny hands and tiny feet, it's not too long until we meet!"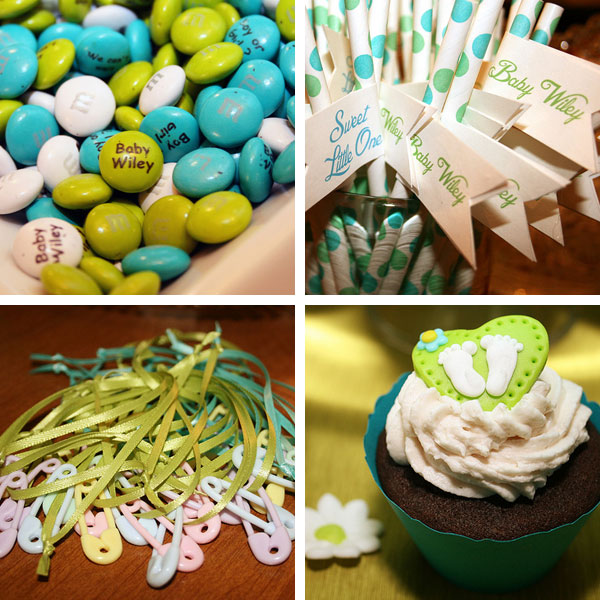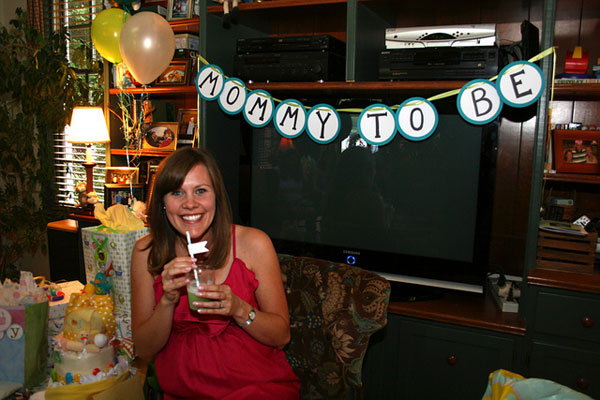 Favors in the form of yummy smelling bars of soap: "From Emily's shower to yours." And an absolutely fantastic book of games designed by my mother.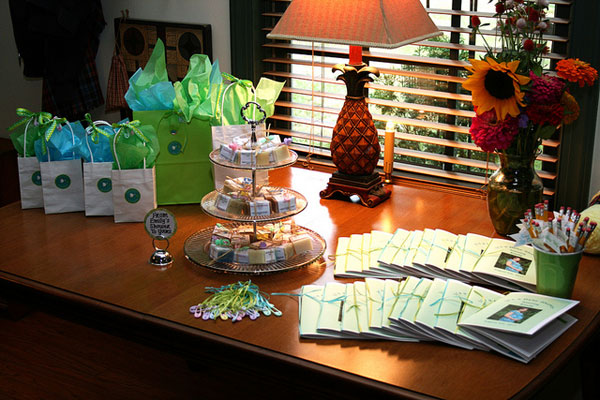 Typically I'm the graphic designer of the family, which is why I was so impressed that Mom created this surprise without having to make a single call to me for technical support! The centerfold included a series of photos of my growing belly, with quotes pulled from our blog posts like "I almost have a legitimate bump" and "Craving coconut chocolate chip ice cream" and "Looks like someone swallowed a basketball!"
I was also impressed with Laura's game coordination and management skills. She stepped into the center of the room and led us through a series of games: Name the Baby Animal, Guess Mommy's Tummy Size (which was 39, by the way), Nursery Rhyme Quiz, and Guess the Sweet Mess. So fun!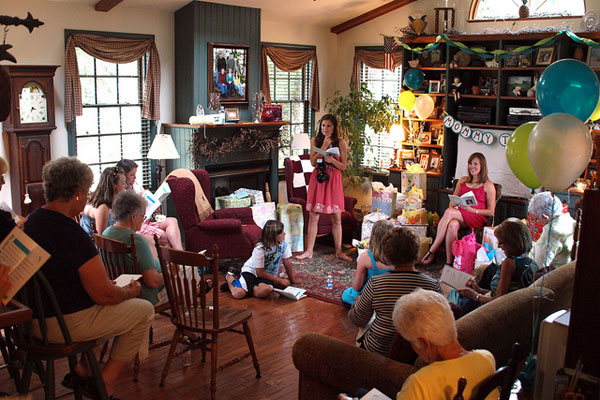 Then it was time to eat. After snacking on cheese and crackers, pretzel sticks with key lime dip, and fruit, it was time for lunch. Check out this spread! Ham and cheese stuffed inside cute little pretzel rolls from one of our favorite local bakeries. Chicken salad sandwiches cut into triangles. Seven-layer salad, Italian pasta salad, Watergate salad. Deviled eggs. Fruit kebabs with cream cheese dip and neatly stacked veggies. Potato chips with Mom's tasty green pepper dip. And cupcakes. Oh, the cupcakes! Mom baked her very delicious chocolate cupcakes with fluffy white frosting, and I am so glad she did!
After the ladies got through the line, we let the boys in to fill their plates.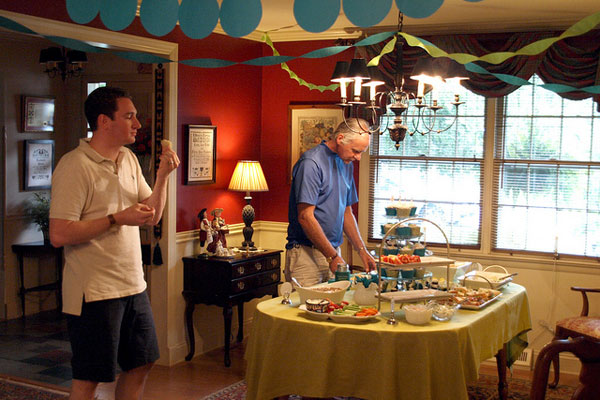 And then it was back to the family room for gifts. We were so lucky to receive so many generous gifts from our registry. A car seat, a pack 'n' play, a bouncer, and a highchair. A gorgeous wooden child's rocking chair from a local Amish craftsman. Stroller toys, bath toys, and books. Aveeno bath products, towels, and washcloths. A boppy, a diaper pail, a piggy bank. And, yes, several onesies, bodysuits, and sleepers. But I know as well as anyone that it's difficult/not as much fun to shop for gender-neutral clothing. I suspect, though, that Peanut will have plenty of outfits to model after he/she is born!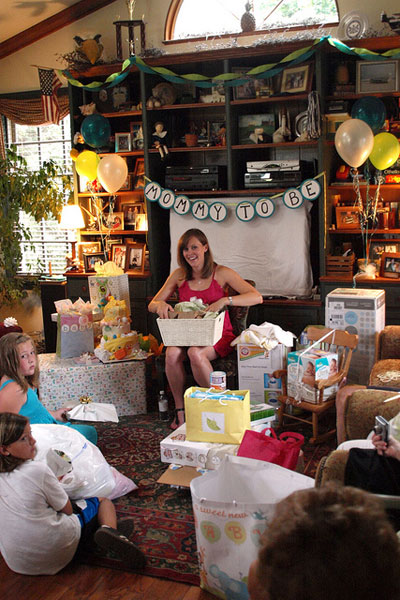 And what's a baby shower without a diaper cake? Well, we got two! One from my cousin and one from my mom.
The father-to-be couldn't resist sitting in the sidelines while I opened gifts. He even threw in a few surprises of his own. A Gyro bowl (just in case Peanut is a messy eater like his/her mother) and two books: Kisses for Daddy and Daddy and Me. Yeah, he's going to be a pretty incredible father.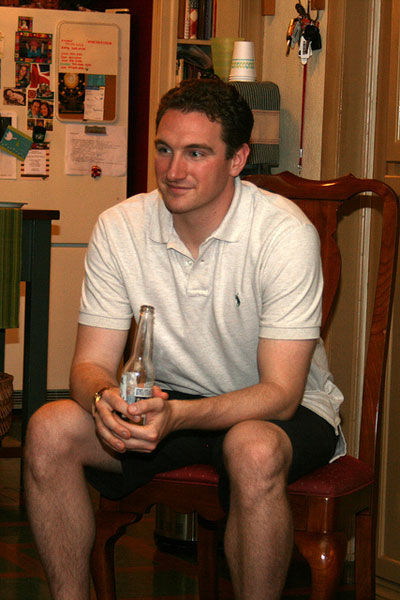 I seriously could not have imagined a more perfect afternoon! And I have these two ladies to thank. What a wonderful Auntie and Nana they will be in a few weeks!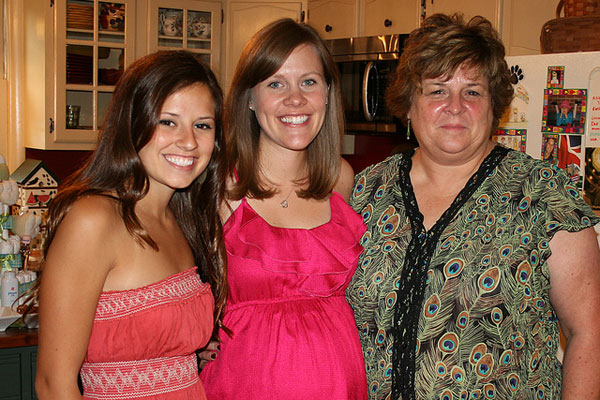 The day was also made incredibly special by the family and friends who were there with me. Grandmothers from both sides, cousins from Maryland, an aunt from Delaware, best girlfriends including one who flew in from Massachusetts, and my mother-in-law who came all the way from Alabama. Nick and Peanut and I are so lucky and so loved!
Thanks to everyone for celebrating with us! Peanut can't wait to meet you.