Following our weekend in Virginia, we continued south to North Carolina. Neither of us had been to Asheville, so it seemed like an ideal next stop on our road trip. Plus after reading your restaurant recommendations, we couldn't wait to indulge in the local goodness that this artsy Southern town has to offer.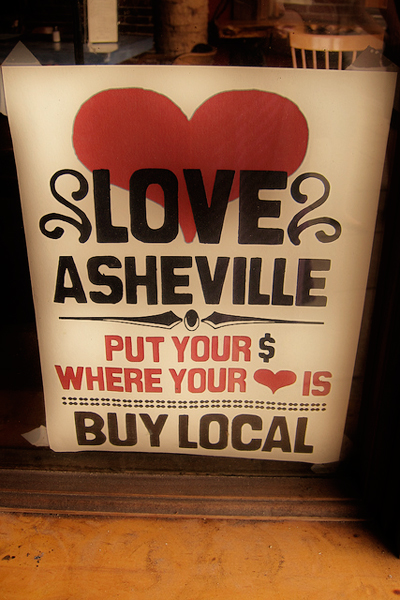 Before dinner, though, we wanted to check out the Biltmore. We certainly did not have a sufficient amount of time to explore the 9,000-acre estate, but we thought we might be able to at least sneak a peek from the road. No such luck. It costs $15/person just to access the 10-mile road that loops around the mansion and the gardens. Next time, perhaps?
And so we drove a few miles back into Asheville, parked at our hotel, and headed to dinner.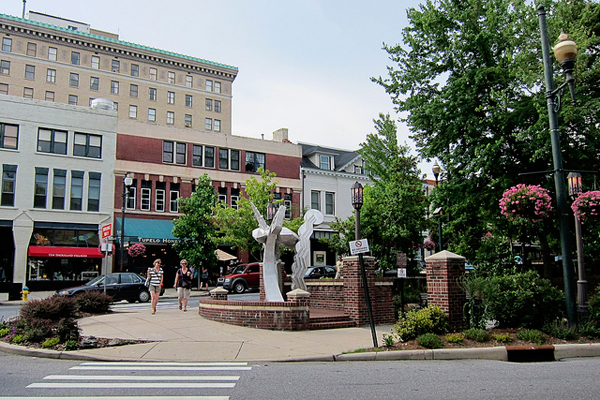 Several of you recommended Tupelo Honey Cafe, and did not disappoint! In fact, it was one of the highlights of our entire trip.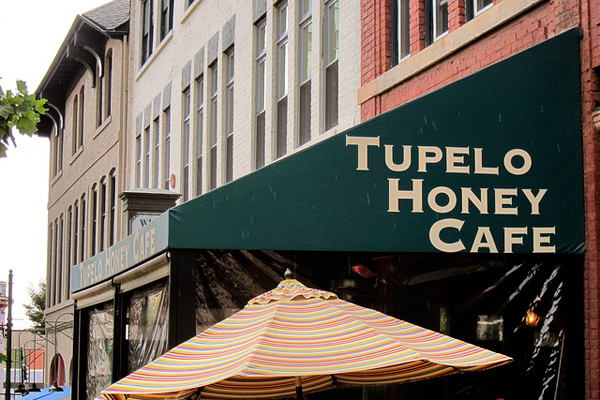 We waited about 45 minutes before snagging seats on the patio, and Nick promptly ordered the microbrew flight. It included Gateway Kölsch, Pisgah Pale, Green Man IPA and Wee-Heavy-er Scotch Ale.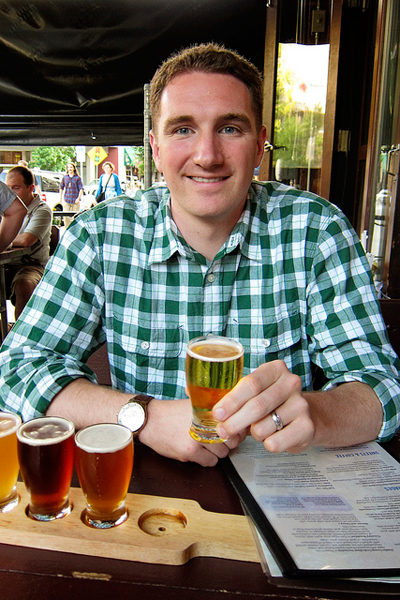 My beverage of choice? A sweet tea, of course. Or three.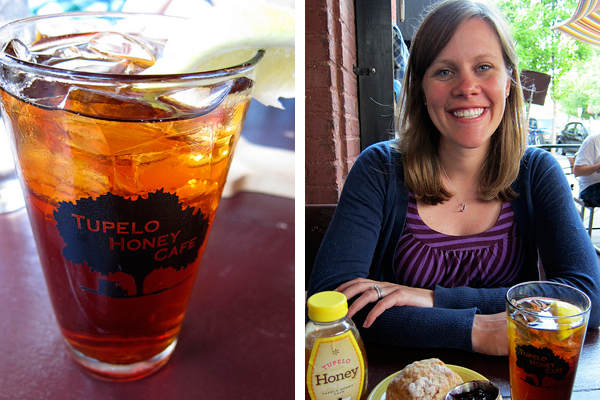 They also served the most delicious (and complimentary) large biscuits with honey and blueberry preserves. So perfectly Southern.
For my main course, I ordered the meatloaf. Now meatloaf is not typically a dish I would choose to order, but the description won me over: Hickory Nut Gap Farm's hormone-free mountain-raised beef topped with rosemary tomato shallot gravy and served with a side of scratch-made mac and cheese. Speaking of that mouthwatering description, Tupelo Honey Cafe sources from at least 15 farms in the Blue Ridge Mountains. And its Southern-inspired fare is as unique and spirited as the art galleries and eclectic shops that surround it.
Nick and I both agreed that it was the best meatloaf we have ever eaten.
But Nick had a meal of his own to finish, too. He got the BBQ plate with slow-cooked, hand-pulled pork tossed with smoked jalapeño barbecue sauce and served with fried Parmesan corn on the cob, jicama-apple-cabbage slaw, and grilled rustic bread. He especially enjoyed the slaw its tart, crunchy apples.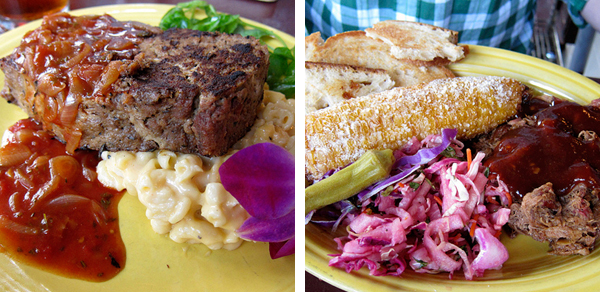 And for dessert? (Oh, yes, we ordered dessert. It was my idea, but Nick did not argue.) Brown butter pecan pie with vanilla bean ice cream and caramel sauce. Oh. My. Goodness. This was seriously the best pecan pie I have ever tasted. We both decided we would return to Asheville just for another slice of this sweet Southern delicacy.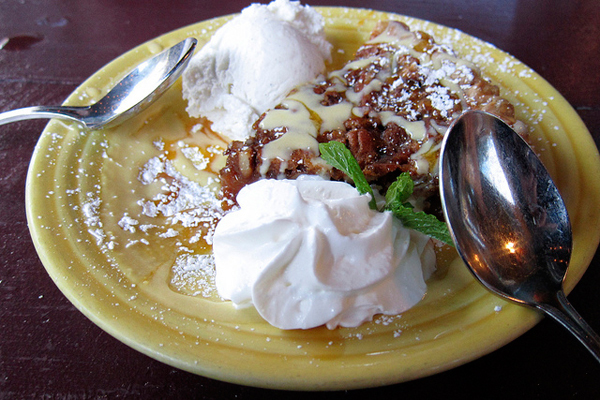 We liked Tupelo Honey so much, in fact, that we left with a copy of their cookbook. Can't wait to try Southern fried chicken with cremini sweet onion gravy, the root beer molasses-glazed pork tenderloins with smoked jalapeno sauce and apple salsa, and the maple sweet potato pudding. Yum!
With extremely full bellies, we decided we were in need of a long stroll. We walked up College Street …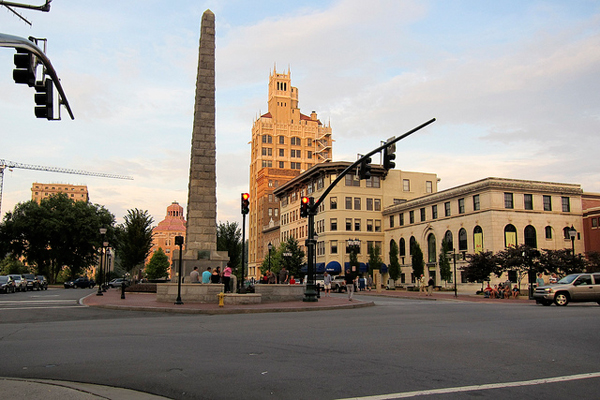 … and joined a crowd of people gathering at Pack Square Park. It was July 4th, after all, and we guessed there would be a fireworks show at dusk. However, we gave up after an hour, walked back to our hotel and got into our PJs, and watched the rebroadcast of the Capitol Fourth.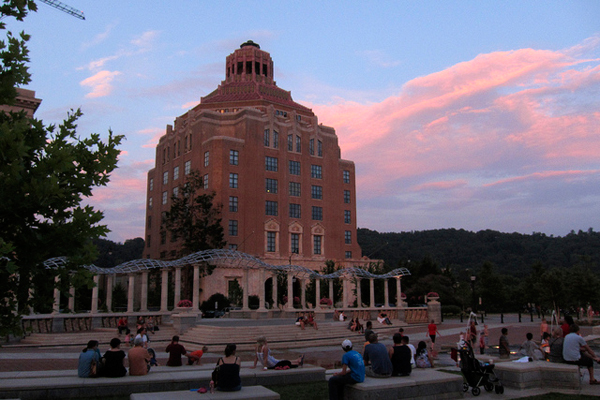 The next morning we headed to another local establishment recommended by so many of you: Early Girl Eatery.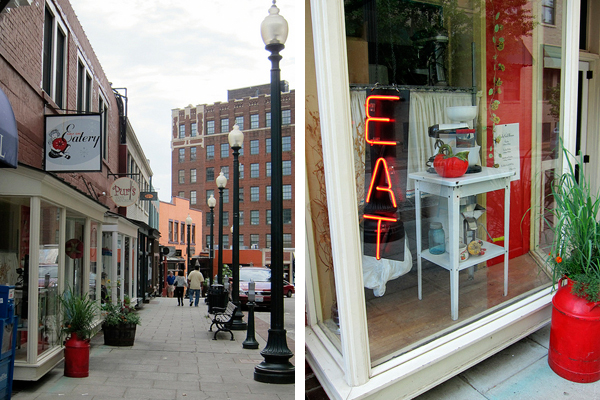 The atmosphere was cozy and kitschy. The wait staff was cheerful. And the menu featured farm-to-table cuisine.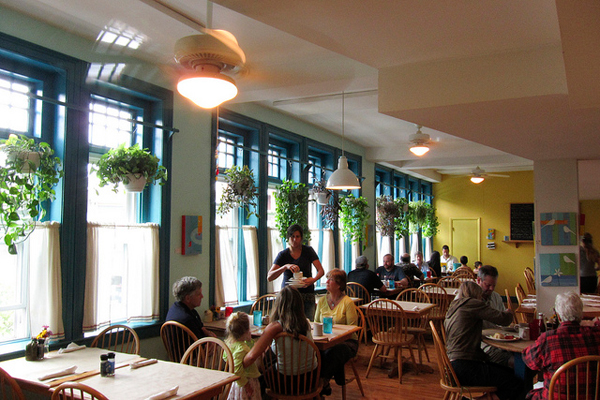 The coffee was strong and hot. The pancakes were stuffed with berries and bigger than my head. And the sausage and sweet potato scramble was savory and satisfying. It was just what we needed before jumping back into the car for the six-hour drive to Alabama.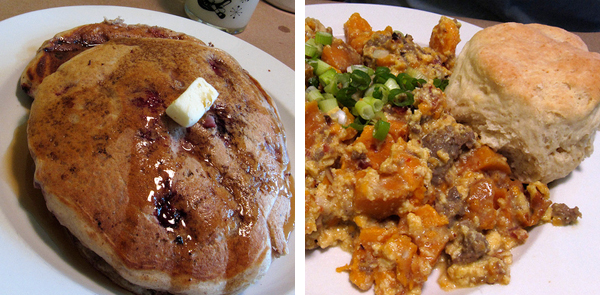 Next Stop: Huntsville