There are few summer activities I enjoy more than sitting around the campfire.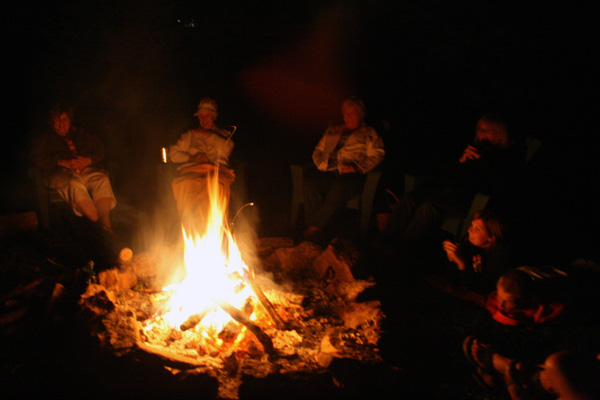 Except perhaps eating strawberries and sweet corn and napping in the hammock. But this is about the campfire.
Dad starts the fire as the sun sets. I tuck a flannel blanket beneath my thighs and watch the flames start to dance. Nick sharpens a slender stick with a knife, and we roast hot dogs. We tell tall tales of snipes that grow like gremlins when car lights hit them. (Seriously, snipes were the source of my nightmares for at least four years.) We laugh and leaves rustle and crickets chirp. And then we toast marshmallows for s'mores. Because no campfire is complete without a burnt marshmallow and milk chocolate sandwiched between two crisp graham crackers.
Oh, sweet summertime.
Some day we hope to have our own yard with a fire pit (and a flagstone patio and a tiki bar and a vegetable garden, while we're at it). But until then, at least we can recreate one of my favorite lazy summer night treat indoors.
This recipe comes from Baked (as in the creator of these amazing brownies), and it couldn't be easier.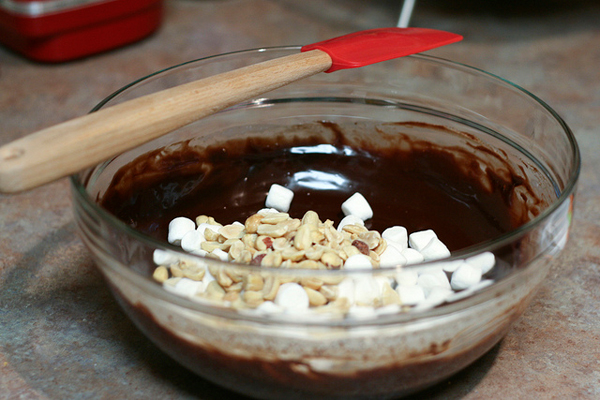 It combines a classic s'more — marshmallows, chocolate, and graham crackers — with salty peanuts.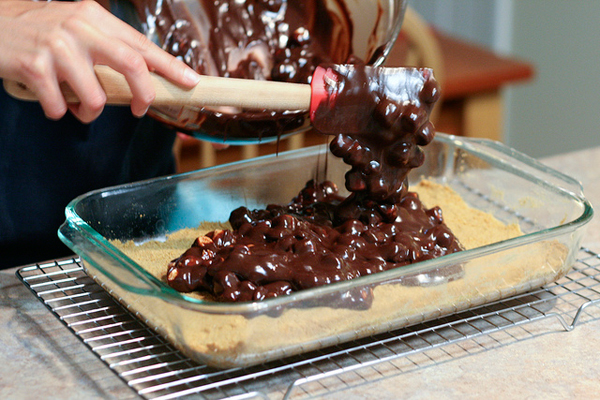 This is a very rich dessert! But it would make a nice treat for your Memorial Day picnic. Just plan ahead — the bars need at least 3 hours to set in the refrigerator.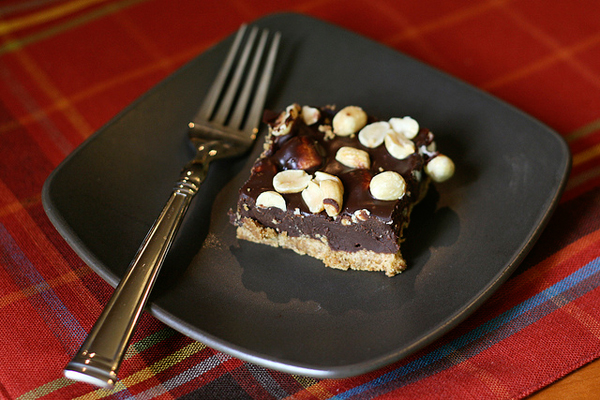 Admittedly, though, I missed the taste of toasted marshmallows, and Nick would have preferred more milk chocolate and less dark chocolate (always a debate in our house). Other variations to try: S'Mores Brownie Bars and S'More Cupcakes.
What's your favorite lazy summer night treat?
S'More Nut Bars
Makes 24 bars.
Ingredients
2 1/4 cups graham cracker crumbs
1 tablespoon dark brown sugar
2/3 cup unsalted butter, melted
7 1/2 ounces milk chocolate, coarsely chopped
7 1/2 ounces dark chocolate, coarsely chopped
1 1/2 teaspoons light corn syrup
1 cup heavy cream
about 40 mini marshmallows, or 10 marshmallows cut into quarters
1/2 cup lightly salted whole peanuts
1/2 cup chopped lightly salted peanuts
Directions
Preheat the oven to 300°F. Butter the sides and bottom of a 9×13-inch baking pan, or spray it with nonstick cooking spray.
In a large bowl, stir together graham cracker crumbs and brown sugar. Add butter. Combine the mixture, then turn it out into the prepared pan. Press the crust into an even layer along the bottom and up the sides of the pan. (Use the bottom of a measuring cup to create a perfectly even crust.)
Bake the crust for 10 to 15 minutes, or until it is golden brown. Remove pan from oven and place on a cooling rack.
In a large heatproof bowl, toss chocolates together. Drizzle corn syrup over chocolate and set aside.
In a medium saucepan, bring cream just to a boil. Remove from heat and pour cream over chocolate mixture. Let stand for 2 to 3 minutes. Starting in the center of the bowl and working your way out to the edges, whisk chocolate mixture in a circle  until completely smooth. Fold in marshmallows and whole peanuts. Pour mixture over prepared crust and use an offset spatula to spread it as evenly as possible. Sprinkle the top with chopped peanuts.
Refrigerate for at least 3 hours, or until set. Cut into squares and serve. The bars will keep in the refrigerator, covered, for up to 3 days.
(Adapted from Baked)