(Thanks to everyone who left encouraging comments on my previous post. Wish me luck with the doctor tomorrow!)
Last weekend Nick and I invited our dear friends and their sweet little girl for dinner and dessert. We were dog sitting for my British bound parents, and the canines enjoyed the extra company, too.
Within minutes of their arrival, it became very apparent that my parents' house is not baby proof. Kennedy is curious and energetic and fast! She discovered my dad's guitars and my mom's Williamsburg dishes, and she continually tried to climb the stairs to explore the second floor. She wasn't very interested in momma's bag of toys; instead she wanted to play with the itty bitty porcelain tea set on the dining room hutch. I couldn't blame her — it was the perfect size for her tiny hands!
For dinner we enjoyed two Pioneer Woman pizzas: tomato-basil pizza with pesto and BBQ chicken pizza. (Although we cheated and picked up pre-made dough from a local pizza shop.) Dessert was Ree's irresistible chocolate cupcakes with "the best frosting I've ever had." Indeed, it was pretty close to the best. And in honor of little girl Kennedy and baby girl Turocy on the way (!!!), I turned the frosting pink.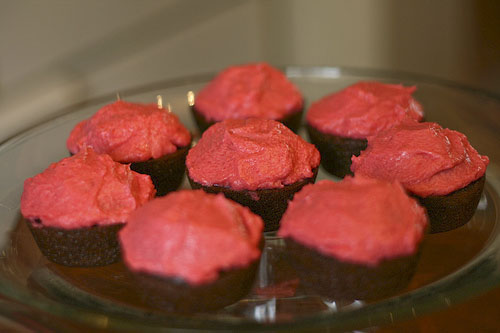 After dinner and before dusk, we took Kennedy outside to meet Lizzie, my sister's pet bunny rabbit. She giggled when Lizzie nibbled strands of hay from her hands.
We then followed our friends back to their house to put the little lady to bed and share some adult social time. As usual, Nick and I left the Turocy's chatting about the little girl we might have some day. But until then, we'll enjoy spoiling Kennedy and her baby sister. We can't wait to meet her in August!