I like the sound of that: "All of our belongings are under one roof." We haven't been able to say that for … ever. It only took two professional movers and one moving van, one generous father, one U-Haul, and a very determined newly wedded couple. We made it.
Let me share with you some snapshots and stories from the past few days. (All photos were taken with my iPhone, which I am thankful for, since we won't have Internet access until Friday. This also means we won't have cable until Friday and are missing the first week of the Olympics. Terrible timing.)
Wednesday: Last Day on Locust Lane
Nick braved Snowmageddon to bring back pad thai for our final night in apartment 3. We will certainly miss Cozy Thai Bistro. We will also miss our proximity to carnitas burritos and margaritas from Mad Mex, gianetto pizza and chicken marsala from Faccia Luna, mango habanero wings and pints of apricot wheat from Otto's, and coconut chip ice cream from Meyer Dairy.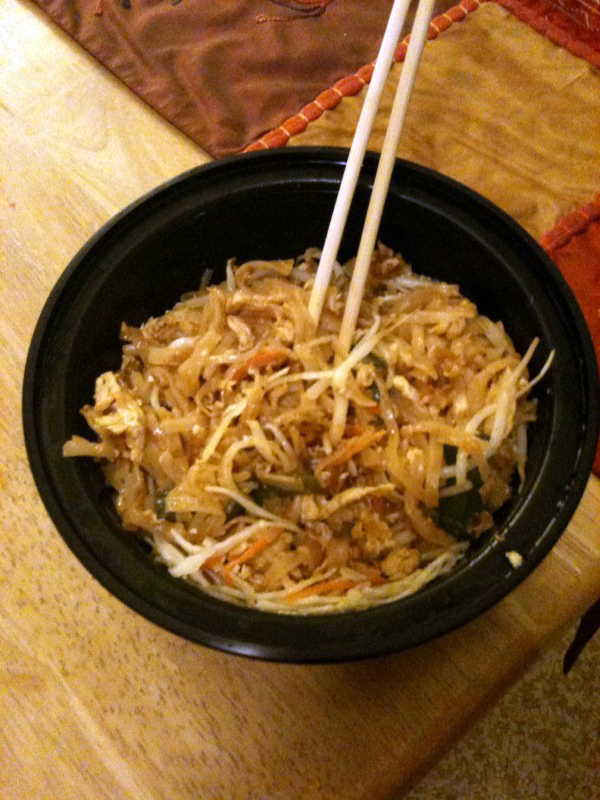 Thursday: Moving Day 1
The movers arrived just before noon on Thursday. (It took them six hours to drive to Pennsylvania from New Jersey due to snowy road closures — we're just glad they made it!) Not only were these two professional movers incredibly efficient, they were also quite entertaining. Not to stereotype, but they were so obviously from New Jersey — from their appearance to their dialect to their mannerisms.
While they methodically wrapped, packed, taped, and piled — and told stories about third wives and Italian hoagies — Nick and I sat on an empty bin in the corner, and I snapped photos of the transformation.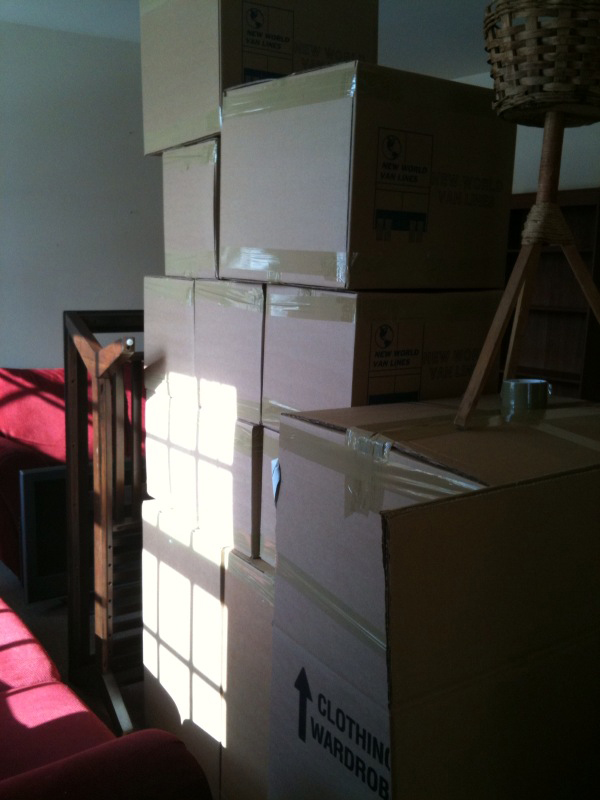 They labeled the boxes "KIT stemware, vases" and "LR knicknacks, books" and "HW CLOSET coats, tents" and "MBR shoes, jeans." My favorite descriptions were "straw hat" and "basketball" and "cuff links." Then they stacked the boxes from the floor to the ceiling.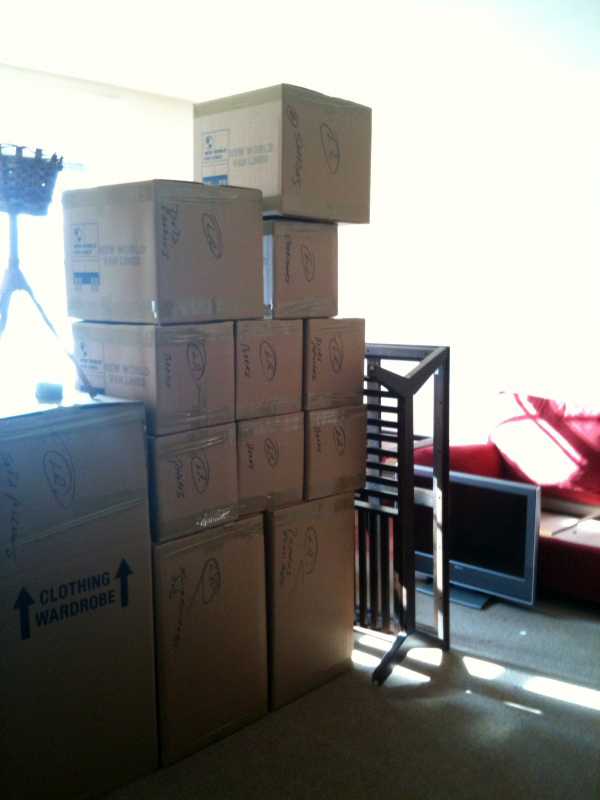 I missed the mastery that was the couch wrapping because I had to leave to pick up the keys to our new house. Nick gave me the rundown later — they placed the couches on top of wide, shallow boxes and wrapped the entire pieces in plastic from top to bottom and from left to right. I'm telling you, these guys left nothing untouched.
I met with our realtor in Duncansville at 5pm. I handed a check to her, and she handed the keys to me. It was unfortunate I was alone when I walked into our new place for the first time, but I busied myself until Nick's arrival. I peeked in every cupboard and every cabinet. I tested each faucet and each toilet. Everything smelled new — the refrigerator, the bathroom, the hall closet.
And I found a basket of "Welcome Home" goodies on our kitchen counter top. There were coffee mugs screen printed with "Parkway Acres," microwaveable popcorn, and two super sweet cookies.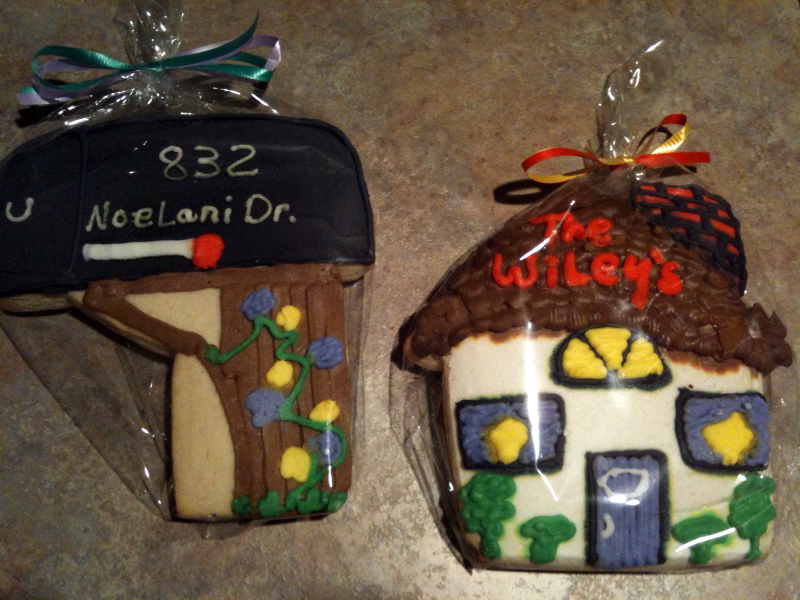 Nick rang the doorbell about three hours later, and we shared a frozen pizza on the living room floor. We had no knives, so we pulled apart the pieces with our fingers. He piled the extra cheese onto my slices, and I gave the fallen pepperonis to him. That is love.
We slept in our sleeping bags on the floor of our new bedroom that night — fortunately the carpet is much cushier than the one that lined our old place.
Friday: Moving Day 2
Nick's phone rang at 7:30 on Friday morning — the movers had arrived (early)! They filled our tiled and carpeted floors with fabric mats and cardboard boxes, and they slipped off their sneakers to carry boxes up the stairs. It was much easier to stay out of their way in a townhouse that is at least four times bigger than the apartment was.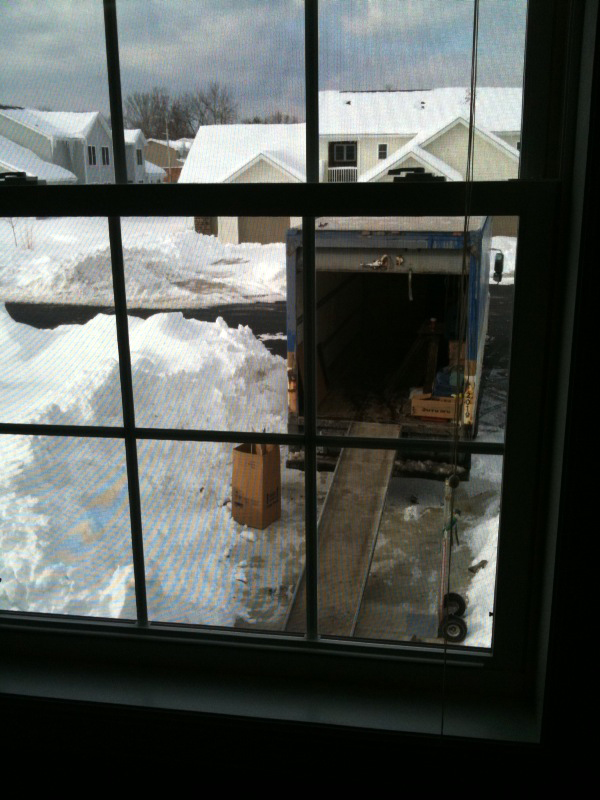 No sooner had they finished unloading and wished us luck than we grabbed an overnight bag and headed to my parents' house. Did I tell you before that my wonderful parents have been storing our wonderful wedding gifts for the past six months? Not to mention a bed, a kitchen table, a desk, and more.
We picked up a U-Haul and, with my dad's help, loaded the truck just in time to settle in front of the fire to watch the Opening Ceremony of the Olympics.
Saturday: Moving Day 3
Both Nick and I woke bright and early on Saturday — we were so anxious to finish the last lag of our move. We drove the U-Haul 2 1/2 hours back to Duncansville, and while we waited for the rest of our unpacking crew to arrive — Dad, Mom, Laura — we went to Bed Bath & Beyond and Home Depot for a few necessities. We joked that we felt like homeowners, thought we aren't quite yet.
As Nick and Dad carried boxes from the U-Haul to the garage door, I intercepted in my slippered feet and deposited them in the kitchen, the living room, or at the bottom of the stairs. (Most went into the kitchen, which should come as no surprise to you.)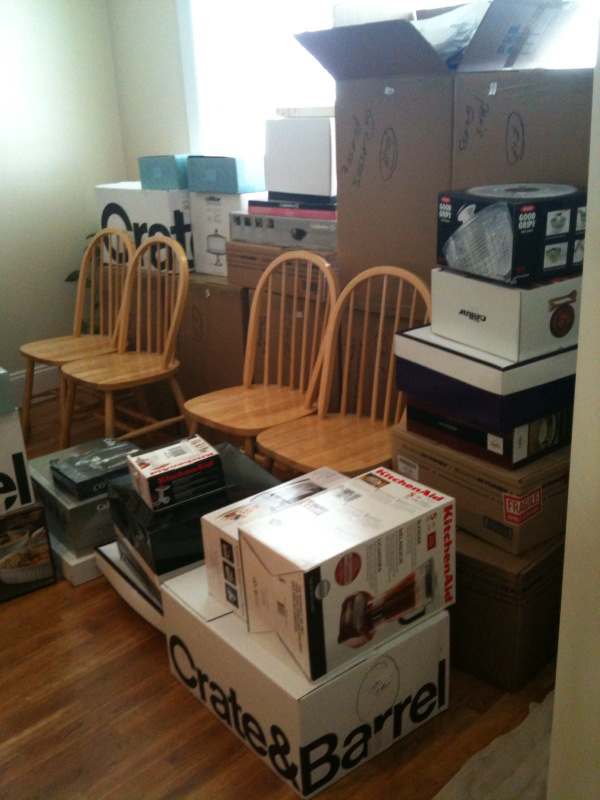 After the truck was unloaded and returned, the real fun began. Mom and Laura washed wooden spoons and flatware and casserole dishes in the sink. I arranged Noritake dishes and Crate and Barrel glassware in the cupboards. Nick and Dad assembled commercial grade wire shelving (one of our most functional purchases to date) and stacked KitchenAid appliances and toolboxes in the garage.
And then we quickly realized our need for more storage space. We need a hutch for our barware and stemware, a bookcase for our 6+ boxes of books, and a medicine cabinet for the bathroom. These things will come in due time.
As a break from the boxes, we made our first (and definitely not our last) visit to Marzoni's. Nothing will ever replace our beloved Otto's, but this restaurant may soon rank among our favorites. Brick oven pizza and microbrews. Check and check.
Sunday: Settling In
Despite not hitting our (extraordinarily comfortable) bed sheets until after midnight, we were up by 7:30 on Sunday. (Does anyone else have a difficult time sleeping then there are boxes to unpack?)
Nick couldn't wait to use our new waffle maker, and (after tossing the first two attempts, in accordance with the instructions) we sat down to our first homemade meal in our new home.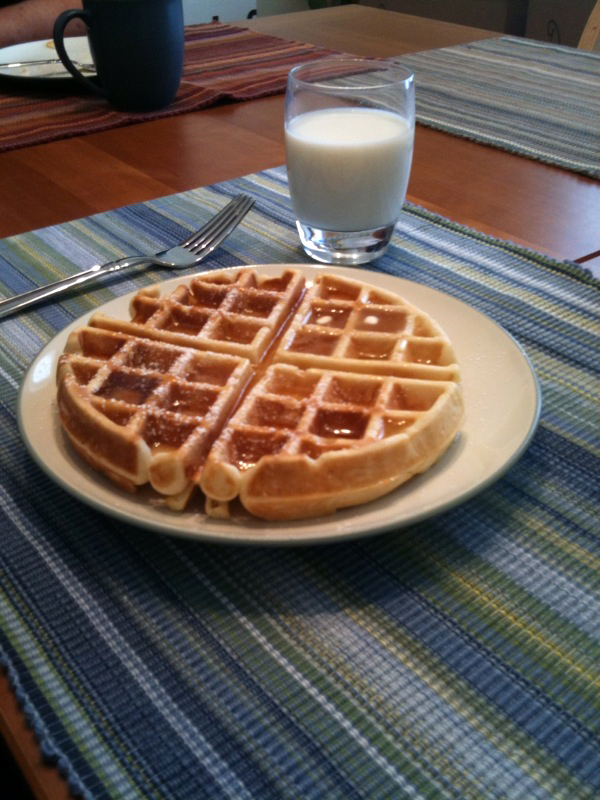 We still feel a bit disoriented in our new kitchen — we can't help but reach for a garbage can that is no longer under the sink and knives that are now on the counter top instead of in a drawer — but we are in love with the extra space.
And so we continue to unpack and organize and settle in. Stay tuned!