A few weeks ago we visited family in Ann Arbor, and BJ and Megan were the perfect hosts. They recently moved to Michigan from Alabama and brought their sweet, Southern hospitality with them.
Megan treated us to home cooked dinners and delectable desserts every night. And after BJ took us to the Penn State vs. Michigan football game — where it was very cold and very rainy — we returned home to a cozy fire, mugs of hot chocolate, and delicious chocolate eclairs.
Unfortunately, we don't have a photo of the sweet, flaky eclairs, but we do have one of Megs and our favorite nephews.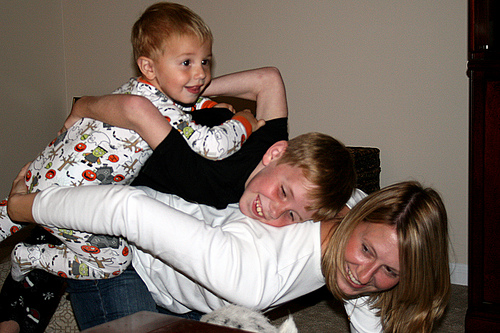 Thanks, BJ and Megan, for a wonderful weekend. We can't wait to visit in December!
Ingredients
1 cup water
1/2 cup butter
1 cup flour
4 eggs
1/3 cup sugar
3 Tbsp cornstarch
1/8 tsp salt
2 cups whole milk
2 egg yolks, slightly beaten
2 Tbsp butter, softened
2 tsp vanilla
1 oz unsweetened chocolate
1 tsp butter
1 Tbsp hot water
1 cup confectioner's sugar
Directions for Pastry
Heat oven to 400 degrees.
Bring water and butter to a rolling boil. Add flour and mix vigorously for about 1 minute, or until mixture forms a ball.
Using an electric mixer, beat in eggs one at a time, and continue beating until smooth.
Shape dough by 1/4 cupfuls into "fingers," 4.5 by 1.5 inches wide and place onto ungreased cookie sheets. Bake 35-40 minutes.
Directions for Vanilla Cream
Blend sugar, cornstarch, and salt in a 2-quart saucepan.
Combine egg yolks and milk, gradually stir into sugar mixture.
Cook over medium heat, stirring constantly until mixture thickens and boils. Once boiling stir an additional minute.
Remove from heat and stir in butter and vanilla. Cool.
Directions for Chocolate Frosting
Melt unsweetened chocolate and 1 tsp butter over low heat. Remove from heat and stir in 1 cup confectioner's sugar. Add 1 Tbsp hot water until it reaches the right consistency.